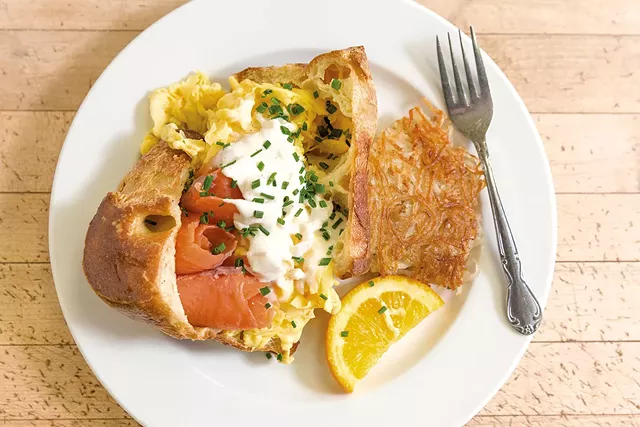 Oliver Parini
Popover breakfast with scrambled eggs, lemon-shallot crème fraîche and smoked salmon
When Alison Lane and Andrew Silva opened Mirabelles Café in 1990, it was the only gourmet bakery in Burlington. Early menus from the two New England Culinary Institute grads (both of whom taught at NECI's Essex campus) offered pastries, cakes and café fare such as sandwiches and soups. Guests would order and pay at the counter; there was no waitstaff.
In the mid-2000s — Silva doesn't recall exactly when — he and Lane knocked down a wall and expanded into an adjacent storefront. They added table service and full breakfast shortly thereafter, to the glee of many locals. For more than a decade, the friendly downtown café has earned perennial nominations for "best bakery" in Seven Days' annual Daysies readers' choice awards. In 2015, Mirabelles won the category for "best sweets bakery."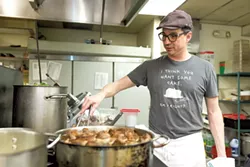 Oliver Parini
Co-owner Andrew Silva
And those sweets are outstanding. In tiered trays and glass cases just inside the door, croissants are scattered with thin-sliced almonds, dusted with powdered sugar or drizzled with molten chocolate. Cinnamon buns glisten with translucent glaze; sugar cookies, coconut macaroons, meringues and macarons invite visitors in from the street.
The charms of a Mirabelles breakfast can't be overlooked, either — the café is one of few in Burlington to consistently draw brunch lines on weekends.
But sometimes we need a reminder to return to a place we know we love. Late last week, I woke up yearning for a popover — that light, air-filled pastry that falls somewhere between a cream puff and Yorkshire pudding (minus the meat drippings). That craving was excuse enough to return to a café I hadn't visited in a long, long while.
Mornings — even relatively cloudy ones — fill the storefront's dining room with a warm and gentle glow, thanks to a wall of windows along the Main Street side. Upon entry, guests are greeted with the baked-butter scent of croissants and muffins, while sweet pastries seem to twinkle inside the coolers.
Behind the counter, golden-brown popovers rest on a high window ledge connecting the storefront and the kitchen. These cost $3 apiece when served plain or with butter or jam. But I needed the pricier "popover breakfast." At $11.75, this option makes a proper meal of the hollow roll by adding eggs, protein and a dollop of cream. Over the years, Silva says, this breakfast has adopted various additions — breakfast meats and eggs, veggies and cheeses.
Oliver Parini
Popovers on display at Mirabelles Café
The current rendition — mine took less than 10 minutes to come out — is a bouncy popover split down the middle and heaped with a jumble of wet scrambled eggs, overlaid with smoked salmon and lemon-shallot crème fraiche.
Diners who like their scrambles dry should probably mention that. As the citrus-soaked cream melts over the salmon and into the eggs, it blends into a tantalizing mélange: bright, smoky, eggy and soft. You need to eat the first few bites with a fork, but once you've whittled down the pile, you can spoon the creamy eggs and fish into the popover halves and pick them up like neat little tacos.
Most mornings I appreciate service that's upbeat and pleasant but not super outgoing — my pre-caffeine interpersonal skills can be lacking. So I was grateful that my server was quick with the coffee refill (Mirabelles uses beans from Waterbury Center's Brave Coffee & Tea, brewed strong) and so kind. Since I arrived before the morning rush, I was in and out within 30 minutes, moving forward with my day and feeling pretty great about the world.
But mostly, I felt like I'd just won at breakfast.
"One Dish" is an occasional series that samples a single menu item — new, classic or fleeting — at a Vermont restaurant or other food venue. Know of a great plate we should feature? Let us know!