James Buck
Ti' Punch and chickpea fritters at the Great Northern
The bar and fireplace beckoned me to the Great Northern on the 12-degree night when our furnace broke. I was certain that from behind that mahogany bar, the one transported from a Seattle barroom where Jimi Hendrix once played guitar, a bartender would beam me up with a drink that would wash away my 24-hour chill.
Colin Walsh, who's tended bar at the Great Northern since it opened in May 2017, was up for the task. "Are you OK with spirit-forward?" he checked.
"Very OK," I told him. But just to be sure, I fired back a question: "Whaddya mean by 'spirit-forward'?"
"Spirit-forward means boozy," Walsh replied. "The spirit is the dominant flavor."
"Yes, please!" I repeated. After conferring with a fellow bartender, Walsh announced his intention to pour me a cocktail new to the Great Northern: Ti' Punch.
The dominant spirit in this drink is rhum — that's right, rhum with an H. Made in Martinique from sugarcane juice, this rum is earthy and sharp. In a Ti' Punch, it's mixed with lime juice and sugar to form a cocktail the color of a liquefied skating rink. As the ice in the drink melts, the Ti' Punch evolves — softening some from its first "firm alcohol bite," Walsh explained.
"After five minutes," he said, "it's gonna be singing."
That makes it a slow sipper, Walsh advised. And a slow sipper belongs by the fireplace. I picked up my drink — now singing (along with Van Morrison on the sound system) — and parked myself on the couch in front of the fire. After all, wood-fired heat (any heat!) was a big reason I'd walked through a snowstorm to the Great Northern.
Yet one more crucial thing had lured me to our neighborhood restaurant. I wanted to eat the Great Northern's chickpea fritters for dinner ($15). I'd had the dish once before, sharing a lunch plate with a friend, and since that meal I'd been meaning to return for seconds.
I'm super fond of this dish because, in one eating, you can treat it as a sandwich, a salad or an hors d'oeuvre. Two sizzling fritters — formed from boiled chickpeas that are smashed with tahini, olive oil and garlic — comprise its centerpiece. They're served with a changing array of fermented and pickled vegetables, pita bread, salad greens, and yogurt blended with lemon, basil, salt and pepper.
A pile of pickled red grapes enlivened the version I ate the other night by the fireplace, still drinking my slow sipper. They popped with sweet-and-tangy zest, plated alongside briny green olives.
The chickpea fritters originated with chef Frank Pace's catering business. Since Pace opened the Great Northern with his wife, Marnie Long, the dish has had a place on the menu. A lovely surprise of the deep-fried fritters is their blush of sweetness, which comes from honey that's drizzled on them just before serving. (The honey is sourced from BTV Honey.)
"Those guys are killer," Pace said of the Burlington beekeepers.
Fermented and pickled vegetables are a "pillar" of the Great Northern menu, Pace said. The ones currently served with the fritters are fermented red cabbage and pickled shiitake mushrooms, a terrific combination due to the play of textures and flavor.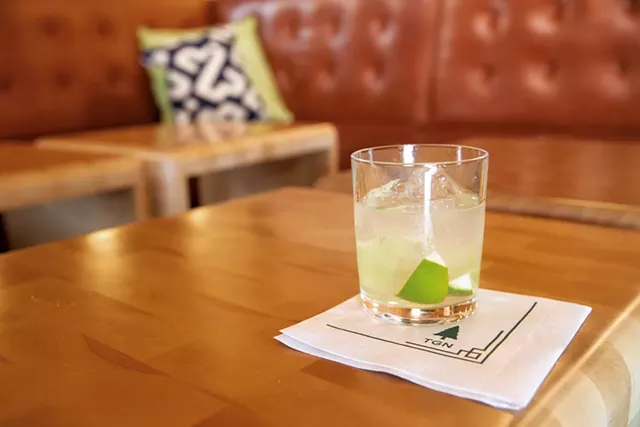 James Buck
Ti' Punch at the Great Northern
The mushrooms start as dried shiitakes. They are simmered in water and seaweed (with other vegetables) when the kitchen makes its vegan dashi broth. The rehydrated mushrooms are fished out of the broth and pickled in a brine of vinegar, water, salt, sugar and spices. Red cabbage is fermented in 50-pound batches by cook Jericho King, who, under Pace's guidance, has developed a special interest in fermentation.
"He's very good at it," Pace said, explaining that "discipline and love" are the qualities that enable a cook to excel at his work.
King told me that he's fascinated with the "microbial process [and] the idea that something is going on before your eyes that you can't really see."
A 25-year-old native of Plattsburgh, N.Y., King started as a dishwasher in his hometown "and someone handed me a spatula." He has a bachelor's degree in creative writing from the State University of New York at New Paltz, where he studied before moving to Burlington. King, who was named for the Chittenden County town of Jericho (which his parents love but which he's never visited), has cooked at the Great Northern for about a year.
"It's a fun plate," he said of the chickpea fritters. "It's fun to change up the ingredients and showcase new ones."
Diners at the Great Northern looking for more familiar fare might consider the recommendation of Louden Pace, the chef's 8-year-old son. Louden's favorite meal at his parents' restaurant is hot dogs, he said. He eats them with ketchup and a side of fries.
"And sometimes onion rings," Louden said. "But they don't have them here."