Courtney Lamdin ©️ Seven Days
Vermont State Police at the Swiss Host Motel in South Burlington, the scene of a shooting Sunday night
Updated at 4:33 p.m. on October 3, 2022.

Police have arrested the man who they believe gunned down two men in separate incidents on Sunday night in Burlington and South Burlington.
Denroy Dasent, 52, was charged with second-degree murder in the killing of 40-year-old Sheikhnoor Osman in an apartment at 185 Pine Street around 8:15 p.m. on Sunday.
Three hours later, police say, Dasent traveled to the Swiss Host Motel & Village on Williston Road and fatally shot 37-year-old Brian K. Billings. He was not immediately charged with Billings' murder.
Burlington police arrested Dasent on Sunday night following a pursuit that culminated in a brief standoff at Perkins Pier. He pleaded not guilty during an arraignment on Monday morning, and a judge ordered him detained in state prison pending further court proceedings.
"This was an all-hands-on-deck effort across two different municipalities and two pretty intense crimes," acting Burlington Police Chief Jon Murad said at a press conference on Monday.
Dasent is also suspected of shooting at a third person in City Hall Park last week, police said, and they had recently served a search warrant on his South Burlington residence. Dasent's intended victim, who was not struck by gunfire, was neither of the men he targeted on Sunday night.
Witnesses to the Pine Street shooting told police that the perpetrator was the same man from the City Hall Park incident and said he'd fled in a light-colored SUV.
Around 11:30 p.m. — 20 minutes after Billings was killed in South Burlington — Burlington officers noticed a light-colored SUV traveling slowly by the Pine Street apartment complex, court records state. Lt. Michael Henry pulled over the car on College Street. Dasent exited and allegedly said, "You're going to have to shoot me." He then got back in the car and sped away, leading to a minute-long, high-speed chase into a waterfront parking lot.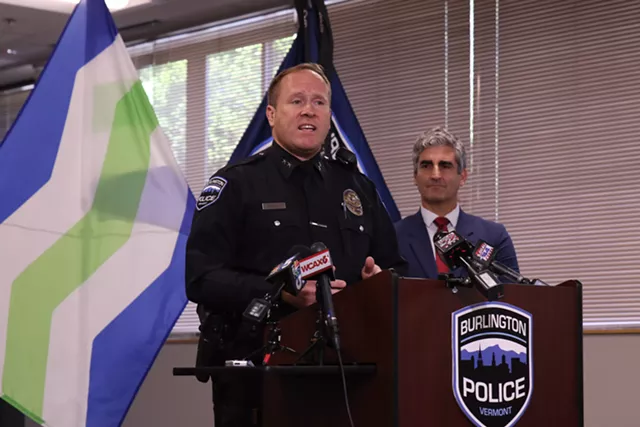 Derek Brouwer ©️ Seven Days
Acting Burlington Police Chief Jon Murad at a press conference on Monday
Officers surrounded Dasent at the Spot on the Dock restaurant, tased him unsuccessfully and struck him with nonlethal beanbag rounds, Murad said. Police allege that Dasent laughed during his arrest and alluded to shooting Osman and Billings.
Murad said they were still investigating possible motives for Sunday's shootings.
Witnesses told police Dasent pushed his way into the Pine Street apartment, entered a bedroom where Osman was with a woman and shot him several times. The tenant of the apartment told police Dasent "had 'beef" with Osman and had been to the apartment before.
The relationship between Dasent and Billings was unclear. South Burlington Police Chief Shawn Burke said Billings and his family were at the Swiss Host motel, where they lived, when Billings was shot. He said officers are still investigating and would release more information at a later time.
Dasent has lived in the area for the last year, according to Murad. He co-owns Caribbean restaurant Island Passion in the University Mall, according to a state business registration filing. The registration lists the restaurant's mailing address as the Swiss Host motel.
A police affidavit says Dasent has a criminal record in Vermont, California and New York, including at least one felony conviction.
Standing alongside Murad on Monday, Mayor Miro Weinberger pledged that the city "will continue to relentlessly deploy new resources" to end gun violence, including the newly formed Chittenden County Gun Violence Task Force. Members of the regional task force responded to the scenes on Sunday evening.
Billings' slaying was the first murder in South Burlington since 2018.
Osman's killing was the fourth homicide in Burlington this year. The Queen City has seen a sharp increase in gun violence in the last two years, with 25 gunfire incidents so far in 2022. Victims were struck by gunfire in 13 of those instances, according to police.
"These are scary incidents," Murad said, "and I know that the community feels unrest because of this."