Courtesy Photo
Bailey Hale and Thomas McCurdy of Ardelia Farm & Co.
It's no news flash for longtime couples that Valentine's Day expectations shift over the years. Early in a budding romance, you take care to secure the perfect restaurant reservation, or you painstakingly prepare a multicourse, candlelit home-cooked meal, channeling your best Julia Child or "Chopped" champion.
A few years down the relationship road, it's more like, Oh, crap, it's Valentine's Day again.
By the time you remember, restaurants are booked solid, and who has the energy to cook on a weeknight anyway? You find yourself saying, "Honey, let's order sushi." (To be fair, one of my best recent Valentine's meals was a take-out sushi spread in front of the fireplace.)
Of all people, Thomas McCurdy should be able to throw together an effortlessly elegant Valentine's dinner. McCurdy, a professional pastry chef, co-owns Ardelia Farm & Co. in Irasburg with his husband, Bailey Hale. With Hale's support, McCurdy just finished hosting a year's worth of weekly drool-worthy dinner parties, ranging from intimate casual gatherings to a 50th wedding anniversary celebration for more than 60 people.
But Valentine's Day, McCurdy said, is often a pretty simple affair for the couple. "It's funny how one's definition of 'romantic' can change after several years together," he observed. "These days, Bailey would be more excited by a big sheet pan of nachos than he would by a filet mignon."
This February marks nine years since the pair met in Philadelphia, where they both lived at the time. McCurdy, now 32, was finishing up pastry school, and Hale, now 43, a trained opera singer, was also working as a floral and event designer. They met online and immediately found out they had mutual friends.
It was pretty much love at first sight, as McCurdy described it. "We both just knew right away: OK, I've found my person," he said. "We had a lot to talk about, a lot in common. We were both raised as pastor's kids. We are both very musical. We were a team from the get-go."
Although Hale was not involved with food professionally, he had a chicken coop, raised beds and beehives in his urban backyard. The pair also discovered a culinary connection early on. "We had the exact same cast-iron pan," McCurdy said. "The two live on our stove together now."
Within nine months of meeting, the couple had left Philadelphia to farm in New York State. They were married there in October 2013 in a wedding whose every element was handcrafted, from the garden setting they had cultivated to the meal cooked with ingredients they had raised. "We built all the tables ourselves," McCurdy added.
A bequest from Hale's grandmother, Ardelia Moore, enabled the couple to buy property in Vermont's Northeast Kingdom in 2014. They started Ardelia Farm with some livestock, but Hale now focuses on cut flowers and McCurdy on baking.
The couple has sold their wares at the summer Burlington Farmers Market since 2015. Fellow market vendors and other Vermont food producers inspired the low-fuss, high-impact, last-minute Valentine's Day meal that McCurdy recommends.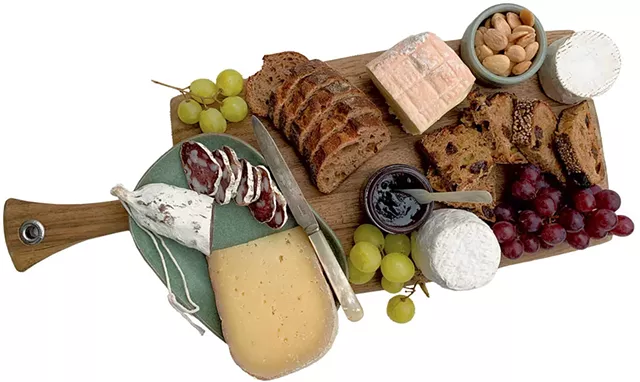 "I would do a really great cheeseboard with cured meats," McCurdy said. "It's something that anyone can do, and it can be as grand or tiny as you want ... That's my idea of a perfect dinner."
The cheese selection would definitely include something from Ardelia Farm's Northeast Kingdom neighbor Sweet Rowen Farmstead. McCurdy also suggested dried or fresh fruit and V Smiley Preserves. He likes the new goat salami from Vermont Chevon and a sliced Slowfire Bakery baguette or polenta loaf. (The cheeseboard pictured includes Sweet Rowen Farmstead Storm; Orb Weaver Creamery Frolic; a Blythedale Farm Brie button; Cobb Hill Good Old Gouda; Babette's Table Toscano salami; V Smiley strawberry, rosemary and black currant preserves; and Backdoor Bread.)
To drink with the board, McCurdy recommends a bottle from ZAFA Wines made by friend and Vermont winemaker Krista Scruggs. To sip before dinner, he appreciates a boulevardier made with Caledonia Spirits barrel-aged Tom Cat Gin as a ringer for the whiskey.
Late last week, the couple had just returned from a warm-weather break and wasn't yet focused on Valentine's Day. McCurdy brainstormed: Dinner might be their own farm-raised pork chops fried in one of the cast-iron pans with a little butter and maple syrup and a squirt of Sriracha. He'd serve the chops with celery root purée, roasted winter squash, and white-wine-and-butter-sautéed chestnut mushrooms from 1000 Stone Farm in Brookfield.
Or McCurdy might cook a heart-shaped meatloaf. "I've always wanted to make one of those," he mused. "Maybe this is the year for that."
Whatever their Valentine's Day dinner is, "we'll probably be eating in our pajamas on the couch," McCurdy said. "It's nice how things evolve."
Tom Cat Boulevardier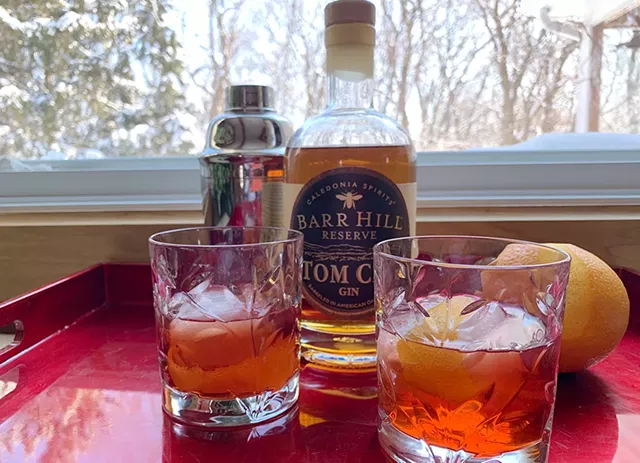 Melissa Pasanen
Tom Cat Boulevardier
From Thomas McCurdy, Ardelia Farm & Co.
Ingredients
1½ ounces Caledonia Spirits Tom Cat Gin
¾ ounce Campari
¾ ounce sweet vermouth
Orange peel, for garnish

Directions
Shake all ingredients over ice. Strain into a rocks glass with one large ice cube. Garnish with a wide strip of orange peel.
McCurdy recommends peeling the orange over the glass to take full advantage of any oils released. "If I'm feeling fancy," he added, "I'll rub the peel around the glass rim."