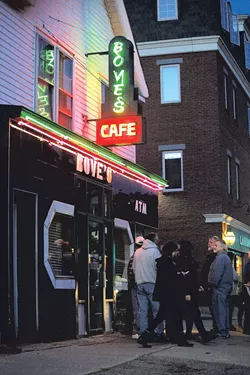 Patrons of Bove's Café have lined up outside plenty of nights since news broke that the retro restaurant would close at the end of the year. They're making last-supper pilgrimages, according to Mark Bove, whose grandparents started the Italian eatery nearly 74 years ago on Pearl Street in Burlington.
Louis Mannie Lionni isn't waiting around. When he got the word from Mark's brother, Rick, "I took it badly," said the longtime Burlington resident.
So the octogenarian architect of Italian heritage set out to preserve the place, which, he acknowledged, has "no particular architectural significance."
The converted white clapboard house does have one distinctive feature: an Art Deco facade. White tiles spell "Bove's" against a glossy black background and a neon sign repeats the restaurant's name above.
Lionni interprets the unusual entryway as a "gesture of optimism" on the part of Louis and Victoria Bove, who opened their restaurant on December 7, 1941 — coincidentally, the day the Japanese struck Pearl Harbor. "I think it anticipated the explosion of modernist architecture in Burlington," he added.
His appraisal of the interior: "It's sort of effortless. It doesn't look like an architect was involved or a designer was involved or anybody was involved except Mama Bove and Papa Bove."
But the architect's fondness for the restaurant doesn't stem from its physical attributes: "That's the nature of vernacular architecture — that its value depends on something else," he said.
Normally eloquent, Lionni struggled to articulate that "something else." He described a "haze of well-being" and noted, "When I walk in there, it is exactly like the first Italian-American restaurants that I walked into when I was an Italian immigrant in Philadelphia." Lionni was 6 when he came to the United States in 1939.
Bove's bustling dining room is three booths wide with a cocktail bar in back and a 1956 jukebox — that plays 78s — near the entryway. The pistachio walls are cracking in several places.
Prices are almost as anachronistic as the decor: Cocktails cost $4; spaghetti with massive meatballs goes for $7.90.
Members of the large Bove family, which distributes its eponymous bottled tomato sauces, frozen meatballs and lasagna nationally, plan to run the family catering operation out of the Pearl Street building. For now, the restaurant interior will remain untouched.
Asked about its future, Mark Bove said, "It's too soon to tell." Any changes to the building would need city approval. Constructed in 1877, it's on the Vermont State Register of Historic Places. Its subject to the city's historic preservation standards, which discourage alterations and demolition.
Lionni has a clearer vision: to lift the building off its foundation, load it on a truck and move it to the Shelburne Museum, which already has 20 relocated historical buildings. It could serve spaghetti and meatballs at the original price of 30 cents.
A phone call to Jason Messier, who runs the state's largest house-moving business, made Lionni rethink the method of transportation. Moving the building would require cutting a number of overhead wires on a busy commercial stretch of Route 7.
A more practical route: transport the restaurant to the Lake Champlain waterfront and float it to the museum via barge.
"I immediately envisioned doing this on the Fourth of July," Lionni said in his sixth-floor corner office in downtown Burlington, which overlooks the lake. In addition to drafting boards and hundreds of books, he works in the company of a gleaming black piano and vintage exercise machine.
Though casually dressed in jeans and gray sneakers, Lionni cut a dignified figure. The tall, ivory-haired man can be unapologetically blunt and doesn't shy away from making bold proclamations. He declared Bove's "probably the most significant cultural artifact in Burlington." It's the last vestige of the historic Italian neighborhood that was razed between 1964 and 1968 to make way for Burlington's downtown shopping mall.
The publisher of 05401, an occasional magazine about "local architecture, planning, food and sex," has a history of championing offbeat causes. Lionni has advocated preserving Burlington's defunct coal-fired Moran Plant in its current form rather than revamping or demolishing it. He made similar pitches to save the Naval Reserve building — where ECHO Leahy Center for Lake Champlain is now — and the Pease grain tower that once stood on the waterfront.
How would the Boves feel about donating their building to a museum?
"We're just totally flattered and humbled that someone would want to honor our restaurant forever at a museum," said Bove. His parents had tears in their eyes when he told them, he added.
As for putting it on a barge? Bove said that was actually his idea.
Like Lionni, he points to an intangible quality at the family restaurant. "It's very delicate because you're dealing with people's memories ... there are memories that I have of that restaurant as well — when I was a boy standing on a milk crate making lasagna with my dad."
"If I could bottle the atmosphere," Bove said, "that would be a home run."
Shelburne Museum director Thomas Denenberg is less enthusiastic. "We were contacted, but I would say we're not the focus of any conversation," he said. He reiterated the museum's lack of interest five times, with increasing finality. "It's not even a conversation," he insisted.
Denenberg did concede that he understands why people might consider the museum a natural home for Bove's. After all, it already has a meetinghouse, a one-room schoolhouse, a lighthouse, a jail, a general store, a covered bridge and a steamboat.
But the museum is no longer in the business of collecting buildings. The Round Barn, added in 1986, was its last acquisition, according to the director. These days, the practice of uprooting buildings is frowned upon in preservation circles, Denenberg said: "In the context of historic preservation, you don't really abstract a building out of its neighborhood and its context."
Vermont's architectural historian, Devin Colman, concurred. Noting that he wasn't familiar with the Bove's building, he said, "We really encourage, whenever possible, that buildings stay in their original location."
During the mid-20th century, one approach to historic preservation — typified by the Shelburne Museum — consisted of collecting different-style buildings from various eras and assembling them at a single site.
"The problem is, you completely lose the historical context," Colman said. "You lose a lot of historical material. You lose the entire foundation ... When you're jacking it up and hauling a building around on wheels, there's always a risk you lose the whole thing."
Lionni is aware his proposal would displease some preservationists. Still, he suggested, Bove's would attract more visitors and be better cared for at a museum.
The University of Vermont's Fleming Museum also told Lionni no, grazie.
The Vermont Italian Club? "It's not really within our purview" to take a position, said volunteer president Stephen Baietti. He called back to say that "the preservation of Bove's may interest some members" but they hadn't discussed it as a group.
In the event he can't convince anyone to take the whole thing, Lionni is looking into other options — preserving just the facade, for instance.
"Everybody I talk to thinks it's a wonderful idea, except the people who need to think that it's a wonderful idea," he said. Lionni paused, then added, "So far."