Courtesy Of Kristin Hoebermann
Brenda Rae (Semele)
In the first act of Semele, George Frideric Handel's 1743 opera in English, Semele leaves her betrothed at the altar for Juno's husband, Jupiter, and Semele's sister hooks up with the abandoned fiancé. That's just a taste of the racy plot. The opera's music, composed at the height of Handel's powers, shares the same can't-look-away quality.
On Wednesday, April 10, Dartmouth College's Hopkins Center for the Arts will host what promises to be an expert production of Semele by the English Concert. Since 2013, under artistic director Harry Bicket, the London-based orchestra and small casts of stellar singers have brought one Handel opera per year to Carnegie Hall in New York City, garnering critical acclaim each time.
This year's opera is making a Hop stop because of a local connection: Its choral parts will be sung by New York City's Clarion Choir, led by 2000 Dartmouth grad Steven Fox.
Fox's group was featured on PBS' "NYC-ARTS" program in 2014 and nominated for Grammy Awards in 2017 and 2019. He splits his time between New York and Washington, D.C., where in September he took up the music directorship of the Cathedral Choral Society at Washington National Cathedral.
Courtesy Of Kristin Hoebermann
Elizabeth DeShong (Juno)
In an email, Fox writes that Semele stands out among Handel's works because it "combines some of the best elements of his Italian operas and his English oratorios — a thrilling and moving mythological story, virtuosic writing for the cast and orchestra, and rich, dramatic choruses that not only comment on the action but play a role in it."
Fox has conducted three other Handel operas, including two as an associate conductor with New York City Opera. He is "particularly excited" to be doing his first Semele with the English Concert. Fox saw two of the orchestra's Handel operas at Carnegie Hall. "Everything seemed right about these productions," he writes. "The tempos, the colors — they brought out every ounce of sparkle and brilliance in Handel's music."
The Clarion Choir will have a key role in the production of Semele, an opera that has also been called a secular oratorio. Handel composed more than 40 operas in Italian between 1711, when he moved to England, and 1741. English appetite for the genre began waning around 1728, but his oratorio Messiah was a success when it premiered in 1742. With Semele, Handel was searching for a hybrid that would appeal to changing English tastes.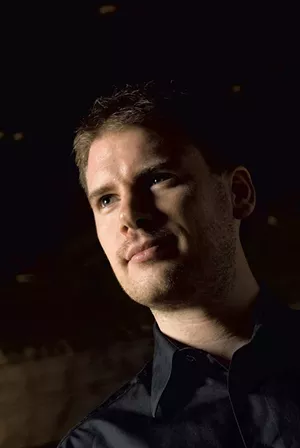 Courtesy Of Hans Lebbe
Benjamin Hulett (Jupiter)
"I think his true love was the opera form, but it was a matter of survival," says Robert Duff, artistic director and conductor of the Handel Society of Dartmouth College, which is exclusively oratorio-based.
Since Duff began directing the Handel Society 16 years ago, he has programmed the Messiah every four years so that singers in each undergraduate class can participate. This year's Messiah concert falls only a month after the Semele performance, giving audiences the opportunity to see both works from the same crucial moment in Handel's career.
Though much of Handel's later career involved "figuring out how to move back and forth between those forms, oratorio and opera, in order to stay solvent," says Duff, Semele was not to be the golden goose. Its premiere, during the sacred week of Lent, created a scandal. The risqué work — from a libretto by William Congreve, based on one of the more salacious parts of Ovid's Metamorphoses — wasn't staged again until 1925.
Semele will be presented in concert format, which emphasizes the music over staging or sets. Based on his own experiences, Fox believes that even audiences who have never seen a classical performance will enjoy it. As an undergrad music and Russian major, he attended Saint Petersburg State University for nearly three months in 1998 with fellow sophomores who were pursuing other majors. The devalued ruble made it possible for the group to attend the symphony or opera almost nightly.
"Other students became music fans on that trip," Fox recalls. "It showed me that it's just about exposure."