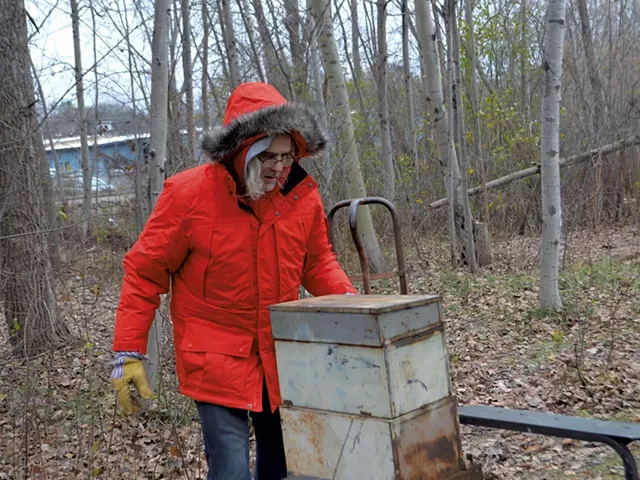 Katie Jickling
Stephen Marshall at a Burlington homeless encampment
Stephen Marshall pulled up on his bike, coattail flying, at Champlain Housing Trust in late November. His gray hair escaped in cloud-like puffs from his ponytail as he locked his bike to a parking meter and slipped into a conference room. There, nearly two dozen Burlington nonprofit leaders had already gathered for a Chittenden County Homeless Alliance meeting.
It had been six months since Marshall, 61, took on the self-appointed role of "homeless advocate." Since then, he has become conversant in arcane discussions about strategic planning and funding sources, and familiar with the players in Burlington's nonprofit scene. He has also become a standard-bearer for the homeless and a mediator between those on the streets and the aggregation of service providers that make up the alliance.
Marshall's advocacy has emerged from his own familiarity with privation. He's spent much of the last 15 years without a home; until late October, he camped in a glen in Burlington's South End before he found a room to rent. By his telling, his adult life has been a meandering path of fractured relationships and unstable employment.
The pace of the alliance bureaucracy gets to him occasionally. This time, he waited until the meeting was nearly over to voice his disappointment that the conversation was so narrowly focused on housing issues. Marshall posed a question, tinged with defiance: "Can we think of ourselves as a collective-impact group that isn't just working on housing, but is looking to improve the lives of the people we serve?"
Since joining the group in June, Marshall has sought to bring to light the immediate needs of the homeless and to be a liaison between the nonprofits and those they serve. He has highlighted barriers to employment, the need for public bathrooms and the closure of a bottle-redemption facility in Burlington — priorities that rarely mirror those of the alliance. He is starting a homeless advocacy group, a committee that would give people who are homeless a chance to share their stories.
Marshall navigates different worlds with ease. He often heads straight from Burlington City Hall, where he works 20 hours a week as the office assistant for the Community and Economic Development Office, to free dinners at the Salvation Army.
Though he got a room in a 14-bedroom home through CHT, Marshall maintains his connections with those on the streets. When Lacey-Ann Smith, a community affairs liaison with the Burlington Police Department, wants to discuss services with someone but can't find the person, she gives Marshall a call. He seemed to greet almost everyone as he loaded up his plate at the Salvation Army on a recent Wednesday evening.
Homelessness is, by all accounts, a Hydra of a problem. Burlington has listed about 214 homeless individuals in a city database, according to Chris Brzovic of the Champlain Valley Office of Economic Opportunity.
"The basic challenges are, we don't have enough housing, we don't have enough subsidies and we don't have enough money to support people so that they stay housed," said Margaret Bozik, co-chair of the alliance and director of asset management and special initiatives for CHT. Those are the same challenges, Bozik added, that were discussed when she started serving on the alliance 17 years ago.
Katie Jickling
Stephen Marshall at the South End homeless encampment
Other members of the group say Marshall has energized their conversations. And he occasionally ruffles feathers.
"He is offering people a view into a world that a lot of people that are sitting at the table don't see, because they're at the executive level," said Smith, who also serves on the alliance. "They are so far removed from the actual consumer, they are making decisions based on what they think it should be and not what's actually necessary."
Marshall's place at the table represents, for him, solid footing after decades of floundering in uncertainty. He was raised in the suburbs of Yonkers, N.Y., and remembers his childhood for the years spent quailing under the oppressive presence of his father. "My mother and siblings were a family under siege and my father was the siege army," he said.
Marshall went off to college in California at age 18, but his self-assurance crumbled. He dropped out, flitting between brief stints at schools and work. He harbored anger toward his father that manifested in a smoldering resentment of authority.
He took various jobs: at a park and farm outside New York City, in a print shop, running a carpentry and repair business. Marshall estimates he's held 60 jobs over the past four decades, most of them short-lived. "No one wanted to work with me because I couldn't work with anyone," he said.
Marshall came to Vermont in 1987 to complete a bachelor's degree at Goddard College. He was miserable; his senior year, he retreated to his mother's house in New Hampshire — his father had left her — to write a senior thesis entitled "On Being Alone."
Over 25 years, Marshall has garnered a litany of college credits and degrees, including an associate's degree in lithographic printing, a bachelor of arts from Goddard, and a bachelor of science from Johnson State College in biology. It was a listless, lonely path — Marshall said he has no affinity for money or professional success and has struggled to maintain friendships.
He did marry once, in 2000. According to Marshall, he later struck his ex-wife in an argument, which left him with a 2002 domestic assault conviction.
A couple of years later, unemployed and unable to pay his rent in Springfield, he was evicted. Marshall started frequenting shelters and camping, in a transient period that led him to Burlington in 2008.
In the spring of 2014, Marshall landed a gig with Vermont Associates for Training and Development as part of an employment-training program for low-income people over 55. He was granted 20 hours a week of minimum-wage work at the Committee on Temporary Shelter, a nonprofit that serves the homeless. He knew the people staying there and decided the job would help him with the social skills he wanted so badly to master.
Marshall found another position through Associates for Training in June 2015, this time with CEDO, answering phones and doing administrative work. It was his boss, Marcy Esbjerg, who later suggested he take a seat on the alliance.
"I've been homeless; I've been hanging out with homeless people ... for most of my adult life," Marshall said. "It wasn't a big shift of consciousness for me to think, I'm going to be an advocate for these people."
The role has brought him a new sense of purpose. Marshall is finally "coming into my maturity," he said. Then he sighed. "It takes a long time to become wise."
He has taken a trial-and-error approach to his advocacy role. In June, while still living in a South End camp, Marshall invited Smith and other members of the alliance to visit. He advocates for due process and direct communication with those living in the camps; it's technically illegal to camp on city property, though police rarely take action. While the city was not closing the camp, the group discussed the process for evictions.
Maybe one day, Marshall speculates, it won't be illegal to camp. He envisions an intentional homeless community there among the aspens, where residents can participate in the larger community and feel comfortable calling the police in an emergency.
"Do I think it will happen? I think it's unlikely," Marshall conceded.
In late November, he revisited the camp to find a city "notice to vacate" sign thumbtacked to a beech tree. The City of Burlington will be clearing brush in the area, the mayor's office later told Seven Days. It's part of preparatory work for the long-planned Champlain Parkway.
Marshall had hoped to drop off an armoire to provide storage for those who needed it. Instead, he cleaned up the belongings that had been left behind and set up the armoire in his own backyard.
If the city can be hard to deal with, so can the people Marshall wants to help. When he held his first advocacy meeting in November, two homeless individuals were scheduled to share their experiences. Neither showed up.
Marshall agonized over it. Was it because it was held at City Hall instead of at the Salvation Army? Because they didn't serve food? Finding the equation for success is "a Sisyphean" challenge, he admitted later.
Nevertheless, he'll try again with a meeting in January. "These are my people," Marshall said simply.
Correction, January 3, 2017: A previous version of this story misstated the relationship between Marshall and the person he was convicted of assaulting in 2002.