You've settled into your theater seat, scoped out your sight lines and turned off your cellphone. The house goes dark as the stage lights come up. The sense of anticipation is palpable. Whether you expect what happens on that stage to be just for laughs, emotionally profound or utterly baffling, you know in advance that it will affect you in some way. What will it be?
Here at Seven Days, those of us who love performing arts get excited just looking at the season brochures. Which is exactly what we've been doing these last few weeks of summer: scouring the schedules for beloved returning acts and favored genres, and reading with intrigue about gotta-see-that new bookings.
In this issue, we highlight a dozen or so upcoming shows, endeavoring to represent every form — theater, dance, jazz, pop and classical music, comedy, and more — and to make the rounds of Vermont's presenting organizations. It's a sampling from hundreds of offerings, meant to whet your appetite and encourage you to investigate the print and online calendars yourself. You'll also find a sidebar with contact information for all the presenters at the bottom of this page.
Of course, not all the novelties are under the stage lights. This fall, some organizations are introducing new leaders at their helm, updated technology or décor in their facilities, or innovative new ways to entice audiences. The Flynn Center for the Performing Arts in Burlington can take a bow for all of the above.
Artistic director Steve MacQueen arrived in Vermont on the first day of the Burlington Discover Jazz Festival last June, fresh from his previous gig at the 7 Days of Opening Nights performing-arts festival in Tallahassee, Fla. This year's Flynn season had already been scheduled by his predecessor, Arnie Malina, which means MacQueen has a little breathing room before he starts making his own mark. And he has no complaints. "I've taken jobs in the past where I didn't love the season, but that's not the case here," says MacQueen, who applauds the Flynn's high quality and mix of popular and cutting-edge shows. He's particularly excited about Chick Corea and Gary Burton (October 19). "It's just brilliant chamber jazz," MacQueen says. "Chick is finally getting his due — he's one of the most influential people in jazz."
Meanwhile, the Flynn didn't fail to use last December's million-dollar donation from a secret Santa, earmarked for replacing the seats. Over the summer in the MainStage theater, the worn, red, squeaky fold-up seats were replaced with spiffy, lichen-colored, non-squeaky ones in cozy faux velour. (See the seat "review" in State of the Arts.)
Will sitters pick up on the chairs' subtle difference in pitch? Probably not, but just so you know, Flynn seats will no longer tilt your gaze slightly upward, as they did when installed for moviegoers in 1946. Long-limbed theater patrons will especially appreciate greater legroom: The Flynn sacrificed 42 seats — going from 1453 to 1411 — to allow for more space between the rows. Also new in the theater, notes executive director John Killacky, are accessibility improvements: six additional handicap-seating stations, a wireless gizmo that enables hearing-aid wearers to pump up the volume, and more railings — a particular boon in the precarious balcony.
Killacky remarks that he won't mind too much if people don't notice the changes at the Flynn — they weren't meant to be intrusive. Still, he hopes you'll note the stunning paint job that Burlington artists Mark Evans and Ethan O'Hara of Fauxliage did on the kiosk out front (who will remember it used to be whitewashed?). It's matched inside the lobby and concessions area by elegant, metallic tones that complement the art-deco details. Custom lamps suspended over the concessions counter, made by Burlington's Conant Metal & Light, complete the sophisticated look.
What does grab the eye at the Flynn is a high-tech addition: a lobby display screen above the doors to the MainStage. During a recent visit, the three panels showed a time-lapse video of the seat installation, a scroll of coming attractions and sponsors' logos. On performance nights, the screen will capture the action on stage, so that anyone stuck in the lobby won't miss a thing.
Flynn staffers are deservedly proud of their historic facility's improvements, and they expect that regular subscribers will swoon as well. But, like other performing-arts presenters, they're not assuming that new seats or fancy paint jobs will attract new customers, particularly that elusive, less-well-heeled younger demographic — or, as MacQueen puts it, "new audiences who don't know they're Flynn fans yet." That's why the Flynn and seven other local nonprofits are partnering, for the first time ever, in a new promotional venture called 6-Pack Onstage (full disclosure: Seven Days is a sponsor).
It works like this: If you're under 40, you can choose six shows from among those offered by the eight presenters — the Flynn, Higher Ground, the University of Vermont Lane Series, Lyric Theatre, Vermont Stage Company, the Vermont Symphony Orchestra and Vermont Youth Orchestra, and the Lake Champlain Chamber Music Festival (winter season) — for a seriously reduced price. That is, six single tickets for $90 (average $15 per show); or, for couples, six pairs of tickets for $150 (average $12.50 per show). The presenters are hoping that this "sampler" will not only entice young people for whom ticket prices may be a barrier, but also help inspire next-generation aficionados of the performing arts. After all, they are tomorrow's subscribers — and maybe even donors.
The UVM Lane Series is going a step further. Like other arts-presenting organizations, the Lane offers discounts to subscribers, and to early-bird or multiple-ticket buyers, but this year the series has created the Music Lover's Deal: Buy a ticket to every performance at the Recital Hall this season, and the total cost is $325. "That comes out to $15.50 per ticket," notes executive director Natalie Neuert. "That's outrageous." It's a radical but not particularly risky move; nothing is lost if no one buys in. But in fact, Neuert says with surprise, "We've actually sold a fair number of tickets" through the Music Lover's Deal.
Historically, the Lane Series has focused on classical performers — chamber groups and soloists who sound particularly thrilling in the acoustically stellar Recital Hall. But the series has expanded in recent years to include high-quality music in a variety of genres: folk, Americana, jazz, Celtic. The 2012-2013 season is diverse, Neuert says, but after booking it, she noticed a happy accident of programming: "a lot of virtuoso guitar," including Jason Vieaux, the LA Guitar Quartet, Corey Harris and Chris Smither. "I didn't really think about it when it was happening," Neuert observes, "but guitar works well with every genre."
She's particularly proud of this season, her second at the programming helm. "It does just what a Lane Series season should do," Neuert says, pointing to the photo of wild-haired improvisational cellist Zoë Keating. "It's a classical series with a rebel heart."
With 57 years of performances to its name, the Lane Series long ago established its solid reputation. In Stowe, a still-nascent arts organization with an equally spectacular venue — the nearly 2-year-old Spruce Peak Performing Arts Center — is trying to find its footing. The 420-seat theater is gorgeous, even if it does lack a professional loading dock out back, and it holds a lot of promise for culture vultures in the area. But it takes more than a great room to attract customers, never mind to build loyal audiences.
Brand-new executive director Lance Olson has his work cut out for him. For starters, the programming of Spruce Peak's first couple of years met with a spotty reception: some hits, a lot of misses. Chalk some attendance problems up to the challenge of introducing the arts center to the community and getting folks to drive up Mountain Road for something other than skiing. But Stowe itself presents a unique hurdle to an arts organization. How do you program for a potential audience that is highly diverse, comprising vacationers in the adjacent lodge, second-homers in nearby condos, and full-time residents of Stowe and surrounding Lamoille County?
Olson, who comes to Spruce Peak from the Cutler Majestic Theatre at Emerson College in Boston, is tackling that challenge head-on, starting with conducting what he calls a "listening tour." That is, he's been meeting with Vermonters to find out what appealed in previous programming — comedy and the Shanghai Circus were winners, Olson notes. He's also been connecting with just about every other presenter and arts writer, it seems, in northern Vermont. "A good programmer will go into the community to see what's important to them," Olson explains, "and educate and explain and grow their tastes."
Olson concedes that the "22-year-old who's coming to ski is probably not our demographic." But his motto of "education, inspiration and fun" is likely to find purchase, in time, both with local families and with second-home owners who spend enough time in Stowe to seek out — and support — cultural entertainment. The facility's staff has already reached out to area schools, and is looking at artist residencies, workshops and a future membership program.
Spruce Peak currently has only two shows booked this fall — the popular sketch-comedy troupe Second City (September 21) and the Tex-Mex trio Los Lonely Boys (October 2). While adding to the mix over the winter, Olson says, he'll go about the behind-the-scenes job of creating "intricate cross-communication" within the community as well as building the board and envisioning future shows. "I just found an apartment in Stowe," says Olson, who owns a home in Bridgewater. "You have to be part of [a community] to understand it." He assures: "We'll have exciting programming for the spring and summer."
At Dartmouth and Middlebury colleges, what's new is … longevity. Middlebury's Mahaney Center for the Arts has reached its 20th year, and "the calendar is a little more packed than usual" with concerts, symposia, dance, exhibits and more, says Mahaney director Liza Sacheli Lloyd. "Rather than having one big party, we've taken different tacks on how to celebrate." The staff has come up with 20 new "audience-engagement strategies," says Sacheli Lloyd — including the whimsical approach of attaching Post-It notes to programs that ask audience members questions about what they're seeing.
While it's not exactly a birthday party, the Mahaney's marquee event for the 20th is the Clifford Symposium, a kickoff to the academic year that invites the entire campus to participate in discussions from a variety of perspectives. This year's theme is Creativity and Collaboration. Scheduled for Thursday, September 27, the symposium presents an apt keynote speaker: Julie Burstein, author of Spark: How Creativity Works and creator of a popular public-radio program, also called "Spark." Though her message may have particular resonance on campus, the talk is open to the public. God knows we could all use a little more creativity.
Middlebury's musical programming has always been strong on classical — and no wonder: The Mahaney building possesses another of the area's most exquisite listening halls. It helps that performing arts series director Paul Nelson is "passionate about solo piano artists and chamber music," says Sacheli Lloyd. "He's an amazing man with a brilliant mind and has an incredible ear when it comes to musicians." She also points out that the sparsely populated Middlebury area yields a "compact audience." "Chamber music does lend itself to a smaller, more intimate audience," Sacheli Lloyd suggests. "It's a good fit for us."
Accordingly, a college favorite, the Emerson String Quartet, will wrap up opening weekend with a concert on Saturday, September 29.
Also big on dance, Middlebury offers a number of annual performances from its own students. This year, Sacheli Lloyd points to some impressive acts from afar, as well: Maryland-based company PearsonWidrig DanceTheater, which will perform a site-specific work in collaboration with the Dance Company of Middlebury on Friday and Saturday, September 28 and 29; and an edgy ensemble arriving from Austin, Texas, the Rude Mechanicals, on Friday and Saturday, January 18 and 19 (see spotlight).
This year, Middlebury is launching the Performing Arts Series Society (PASS) to "deepen support" for its programming, says Sacheli Lloyd. Since ticket prices only cover about a third of actual costs, she admits, "We're trying to bring in more money." To that end, membership won't get you steep discounts to shows, but it will provide priority ticketing, receptions, deals on merchandise and invitations to special events with visiting artists. Like the Post-It notes, it's all part of "a wonderful, grand experiment to engage people with the arts," Sacheli Lloyd says. "It's like throwing spaghetti to see what sticks."
Dartmouth's Hopkins Center for the Arts is celebrating its 50th year with a flurry of programming, including a number of artist residencies, films, talks and more. "Every year the Hop seeks to present very visible artists at the pinnacle of their careers, and emerging artists," says programming director Margaret Lawrence. "That hasn't changed, but this year we have even more."
She adds that the season will focus on "what we do best: intimacy." No, not romantic relationships, but the Hop's "commitment to helping people access these artists," Lawrence explains. "One theme throughout is mentorship. On a college campus that's important to us, but it also has to do with the intimacy [for audiences] the Hop has always had."
Lawrence notes that she asked performers to think about what mentorship means, or has meant, to them. How will that play out for audiences? One example is jazz trumpeter Wynton Marsalis, who is bringing his Jazz at Lincoln Center Orchestra on January 24 (already sold out). "He has mentored so many, many people," Lawrence observes. "He chose a jazz tap dancer from New York, Jared Grimes, who will perform with the orchestra. He actually calls Wynton 'coach,'" she adds. "That's one way of showing mentorship."
As always, Lawrence is brimming with enthusiasm about her upcoming season, which is sprinkled with cutting-edge shows. One of the most unusual she calls "amazing, profound, no holds barred, absolutely unique in the world." Australia's Back to Back Theatre elicits that string of accolades for its "Ganesh Versus the Third Reich" (January 18 and 19).
The company consists of "normal and intellectually challenged actors," Lawrence says, "and they tour nonstop, worldwide." The play itself is a bit of a story within a story, she explains, that "shows a theater company struggling to work together under a dictatorial director, and imagines what if [elephant-headed Hindu god] Ganesh travels through time and space to the Third Reich" to reclaim the swastika — an ancient Hindu symbol of well-being. "It absolutely shows the power of religion and the terror of Hitler's regime," says Lawrence. "When it gets too intense, it toggles back to someone who can't get a piece quite right — some of it is funny. It will leave you in tears," she concludes. "I was overjoyed. I will never forget it."
On that note, let's get on with the shows.
"Botanica," MOMIX
Moses Pendleton's first dalliance with showmanship was fairly unremarkable: A native of the Northeast Kingdom, he grew up exhibiting his family's dairy cows at the Caledonia County Fair. It wasn't until after he graduated from Dartmouth College that his ventures in the performing arts catapulted him into the international spotlight.
In 1971, the recent grad helped launch the renowned Pilobolus dance theater; in 1980, he hit his stride as the founder and artistic director of the dancer-illusionist troupe known as MOMIX. "If contemporary dance has a Renaissance man, it must be Moses Pendleton," praised the Toronto Star. Indeed, the ingenuity displayed in use of light, shadows, props and the human body in MOMIX's current touring production, "Botanica," could put Cirque du Soleil to shame.
The show is a fantastical exploration of Mother Nature, melding video projections, tricks of light and large-scale puppetry with good old-fashioned human power. In it, highly athletic dancers seamlessly morph into animals, vegetables and minerals — from prancing centaurs to twirling sunflowers to comical dinosaur skeletons. An ode to the four seasons, "Botanica" graces Vermont in both autumn and spring.
Kingdom County Productions at Lyndon Institute, October 13, 7:30 p.m. $26-54. Flynn MainStage, May 3, 8 p.m. $15-50.
CAROLYN FOX
---
"My Girlfriend's Boyfriend," Mike Birbiglia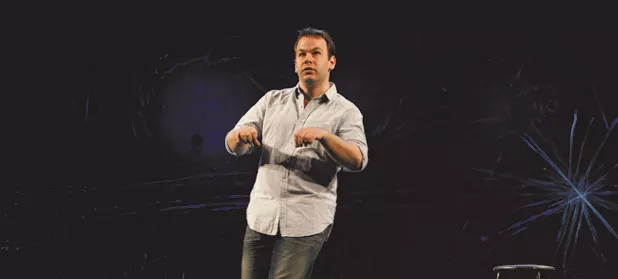 For a guy who likes to play up his schlubby qualities with self-deprecating humor, Mike Birbiglia sure seems to be winning these days. The comedian's autobiographical monologue "Sleepwalk With Me" was a hit off-Broadway, in book form and excerpted on public radio's "This American Life." Now it's a movie, starring Birbiglia and Lauren Ambrose, that drew crowds at the Sundance Film Festival last January.
The indie film's distribution is still limited, but theaters around the country have been bombarded with emails from fans participating in a "Bring Sleepwalk to Your Town" campaign. Among them is Merrill's Roxy Cinemas in Burlington, which will kick off its run of Sleepwalk With Me this Friday, September 14, with a $20 benefit screening for the Flynn Center for the Performing Arts at 7 p.m. (See movie review, this issue.)
That should whet fans' palates for February's appearance of the man himself. At the Flynn, Birbiglia will perform his latest solo show, "My Girlfriend's Boyfriend," in which he recounts the travails of his love life. The New York Times says he's "still ridiculously enjoyable to listen to," while Time Out New York lauds the show for "balanc[ing] punch lines and pathos." Sounds like a winner.
Flynn MainStage, February 9, 8 p.m. $15-36.
MARGOT HARRISON
---
The National Circus of the People's Republic of China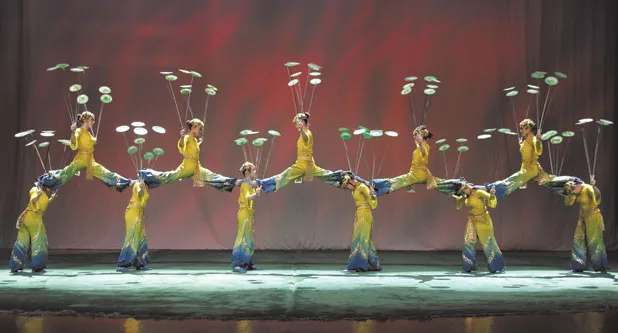 The roots of the Chinese circus go back at least as far as the Qin Dynasty in the 200s BC, but the ancient folk art evidently still has some firsts to celebrate. Take the National Circus of the People's Republic of China. Founded in 1953, it's practically peerless in both longevity and talent — and this year marks its inaugural coast-to-coast tour of the U.S. and Canada.
To which we say, It's about time.
Based in Beijing and known for shifting the folk art away from the animal circuses of earlier times, the National Circus brings the jaw-dropping dancing and juggling once reserved for the imperial courts to stages across the globe. Having earned more than 20 top medals from international circus festivals, the troupe continues to raise the bar on the flying trapeze, group contortion and chair balancing — feats of strength and dexterity that are surely more strenuous than they let on.
The 40-plus-member ensemble brings its ever-evolving art to the Northeast Kingdom this season in Cirque Chinois.
Kingdom County Productions at Lyndon Institute, November 7, 7 p.m. $22-53.
CAROLYN FOX
---
Zoë Keating, Cellist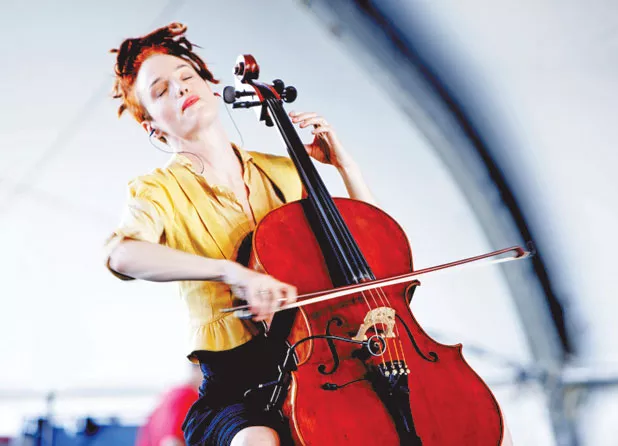 What happens when a solo cellist starts jamming with herself? Layers upon layers of music, in the case of improvisational wonder Zoë Keating. The cellist uses computer software hooked up to her instrument onstage and works with pedals as she plays. With a tap of her foot, the software records and begins looping each musical phrase Keating produces, leaving her free to play over its repeating line. The added phrase can be looped, too. The result eventually sounds like a dozen cellos playing together.
University of Vermont Lane Series director Natalie Neuert says she learned of Keating through a nuclear-physicist friend. The cellist's music appealed to his scientific mind, she says, and adds, "People find their way into music in lots of different ways." Though she missed Keating's appearance at Higher Ground last year, Neuert is amazed by what she's seen of the musician's work. "I mean, how does she know how the music is going to come together as she plays?" Neuert marvels.
Lane Series at UVM Recital Hall, October 12, 7:30 p.m. $15-22.
AMY LILLY
---
The Taming of the Shrew, Aquila Theatre
London-bred and New York-based Aquila Theatre has visited Vermont before with its often staggeringly inventive productions of Shakespeare's greatest works. This time, it's a comedy featuring one of the Bard's seemingly favorite themes: the battle of the sexes. In the story, Bianca, the lovely daughter of a lord, is eligible for courting, but cannot entertain suitors until her elder sister, Katherina, gets hitched. Of course the "shrew," feisty Kate, is a tough girl to "tame." And therein lies a tale — even if you know how it ends.
The New Yorker has said Aquila's "superb acting and clever staging" make the classics relevant. The company is on a mission to do just that as often as possible: With a full season in New York, performances at theater festivals worldwide and a rigorous touring schedule, Aquila seems headed for global domination. Attention, aspiring thespians: The company somehow finds time to run an educational program in New York, too. It's the place to become, in the words of the New York Times, "classically trained and modernly hip."
Lane Series at the Flynn MainStage, September 21, 8 p.m. $15-42. $8 10:30 a.m. student matinee
PAMELA POLSTON
---
Burlington Chamber Orchestra with clarinetist Romie de Guise-Langlois, conductor Sean Newhouse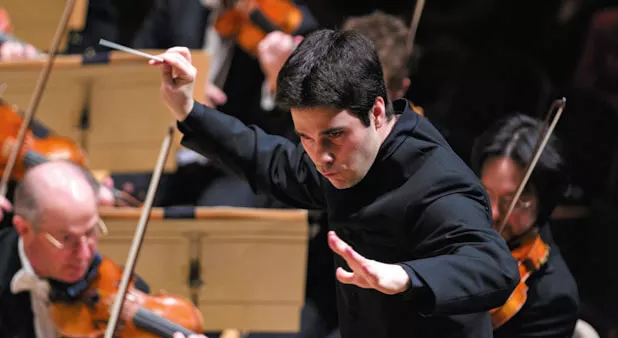 Soovin Kim is not the only Vermont Youth Orchestra alum to make it big. Sean Newhouse, who grew up in South Burlington and played violin in the VYO during high school, is now assistant conductor of the Boston Symphony Orchestra, a position he took at the invitation of James Levine.
When Newhouse, 30, returns to Vermont to guest conduct a UVM Lane Series concert with popular local group the Burlington Chamber Orchestra, he'll have to switch gears a bit, says BCO violist Ana Ruesink. "Sean has been doing a lot of big, romantic things lately, like [Gustav]Mahler, but he was amenable to scaling down," she reports.
The program will feature a couple of "beautiful, lyrical pieces," in Ruesink's estimation (she's on the BCO's democratic musicians' committee, which selects programming). They include 20th-century British composer Gerald Finzi's Clarinet Concerto — a choice designed to set off the talents of guest clarinetist Romie de Guise-Langlois — and Leos Janá?ek's Idyll for String Orchestra, his homage to fellow Czech composer Antonín Dvo?ák.
Lane Series at UVM Recital Hall, October 6, 7:30 p.m. $15-30.
AMY LILLY
---
Morrissey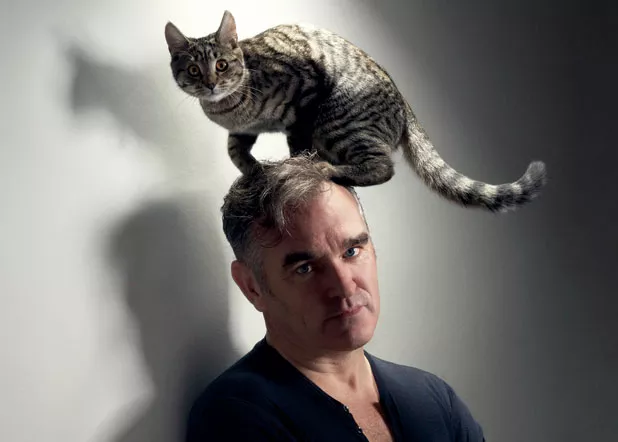 Why do we love sad songs? Is there comfort in wallowing? Are we gluttons for punishment? Or are we simply preconditioned to respond to sadness after decades of lovesick pop music? (Let's call it the High Fidelity paradox, as voiced in Nick Hornby's novel: "Did I listen to pop music because I was miserable? Or was I miserable because I listened to pop music?")
Whatever the answer, few albums in pop history have been so favored by lovelorn losers looking for solace as those made by Morrissey — whether he's solo or fronting his 1980s modern-rock band the Smiths. The sharp-witted — and sharp-dressed — Brit has been the go-to songwriter for discerning-but-mopey music fans for more than 30 years. Credit his wry humor, dramatic flair and signature rich baritone. No one makes us blue quite like Morrissey. He is the soundtrack to modern sadness. And here's the crazy thing: We love him for it.
Higher Ground at Flynn MainStage, October 16, 8 p.m. $48-63.75.
DAN BOLLES
---
The Tempest Replica, Kidd Pivot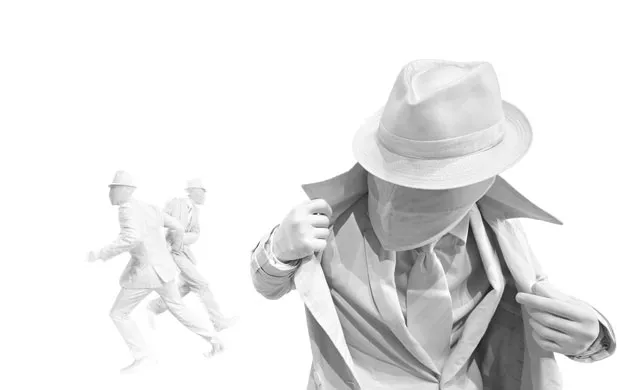 Shakespeare's The Tempest opens on board a ship, where master and crew are frantically battening hatches. Canadian choreographer Crystal Pite's dance-theater version, The Tempest Replica, takes a different perspective: A male dancer hands a female dancer a small, origami boat. "Shipwreck!" he shouts, and she shoves the paper vessel into her mouth. Thunder cracks, and the stage goes black.
The lights come back up and flash like lightning. Dancers dressed in white, their heads and faces fully covered by angular, alien-like masks, appear behind a shimmering, translucent curtain, their bodies flailing against the fierce storm.
Over the next two acts, the dancers of Pite's Vancouver-based company, Kidd Pivot, explore the motifs of Shakespeare's tale of magic, isolation, desire and revenge through emotive dance, inventive sets and the occasional projected quote from the original play.
Pite formed her company in 2002, naming it "Kidd" for outlaw Billy the Kid and "Pivot" for a movement that requires skill and precision. A former company member with British Columbia's Ballet BC and William Forsythe's Ballett Frankfurt, Pite infuses her street-style choreography with classical rigor.
Wrote the Frankfurter Rundschau of The Tempest Replica, which debuted while Kidd Pivot was in residence in Germany earlier this year, "The seven performers danced for their lives."
Moore Theater, Hopkins Center, September 14 and 15, 8 p.m. $25-40. Flynn MainStage, November 16, 8 p.m. $15-32.
MEGAN JAMES
---
Fishtank Ensemble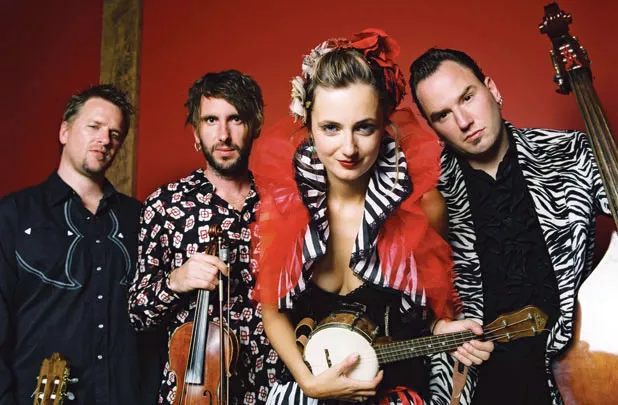 Do the words "gypsy jazz" instantly make you think of Django Reinhardt? Well, that's cool, but the term has more recently been attached to "one of the most thrilling young acts on the planet." So gushed the LA Weekly about Fishtank Ensemble. From hipster nightclubs to music festivals all over the world, the group has wowed audiences with its eclectic mix of Parisian hot jazz, flamenco, Serbian and Transylvanian gypsy anthems and quirky originals.
Wait. Transylvanian? Yup. No doubt reflecting the influence of Serbian slap-bass player Djordje Stijepovic. Or maybe that of French violinist Fabrice Martinez, who reportedly spent a decade traveling Europe in a handmade, mule-drawn caravan. The two of them hooked up with vocalist Ursula Knudson — no ordinary California girl, she sang opera in the streets of Italy before falling in love with gypsy music — and guitarist Douglas Smolens, a jazz and flamenco whiz.
Together the quartet make a riotous, worldly ruckus that redefines the genre, and would do godfather Django proud.
Barre Opera House, September 28, 8 p.m. $10-26.
PAMELA POLSTON
---
The Rude Mechanicals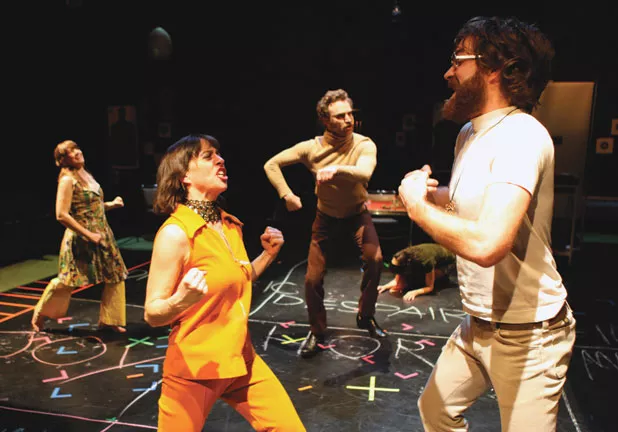 Theater buffs are probably familiar with Stella Adler, the acting coach who popularized Constantin Stanislavski's "Method," the groundbreaking technique championed by Marlon Brando and Robert De Niro. But what about Stella Burden?
This Stella was an acting coach, too, with an intensive method of her own. But Burden's "Approach," which she taught in the 1960s and '70s, was a bit more extreme than Adler's. It involved risky rituals aimed at infusing even the smallest role with sex, death and violence. One of Burden's most daring techniques, the "Method Gun," is rumored to have been responsible for her mysterious death.
Burden is the subject of The Method Gun, a play by the Austin, Texas-based theater collective the Rude Mechanicals, who categorize their original work as "a genre-defying cocktail of big ideas, cheap laughs and dizzying spectacle."
Derived from Burden's journal entries and performance reports, the play chronicles the final months of her unnamed company's rehearsals for their version of A Streetcar Named Desire, which they had been working on for nine years — and which omitted Tennessee Williams' principal characters Stanley, Stella, Blanche and Mitch.
Throughout the Rude Mechanicals' play, the actors rehearse, engaging in Burden's "Approach," one odd exercise after another. They kiss one another, don tiger costumes and even tie helium balloons to their male genitalia, a bit they call "Snakes on a String."
The Rude Mechanicals' "pursuit of [Burden] and the principles of her 'Approach,'" writes the Austin Chronicle, "has led this theater collective — no stranger to long, strange trips — on one of its longest and strangest ever."
Seeler Studio Theater, Mahaney Center for the Arts, January 18 and 19, 8 p.m. $6-25.
MEGAN JAMES
---
Fatoumata Diawara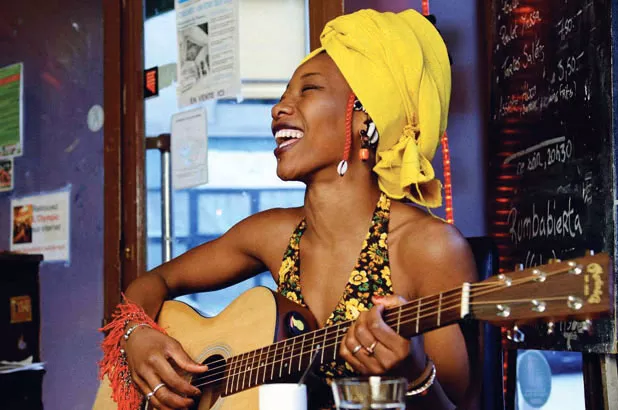 Songlines magazine's readers voted Mali's Fatoumata Diawara the Best New Artist of 2012 — most likely for her hypnotic blend of Western jazz, funk and rock with Wassoulou musical traditions. Or maybe for her sensuous voice and understated, soulful arrangements. But those are not the only reasons to admire this singer. The 30-year-old, now based in Paris, sings for the rights and welfare of young Africans, particularly women. In fact, this month, Diawara is featured in a multiplatform project called "30 Songs/30 Days" in support of Half the Sky: Turning Oppression into Opportunity for Women Worldwide, inspired by a book of the same name by Nicholas Kristof and Sheryl WuDunn.
Diawara's latest release is called Fatou. Pitchfork calls it "beguiling." We call her not to be missed.
Spaulding Auditorium, Hopkins Center, September 29, 8 p.m. $23/30.
PAMELA POLSTON
---
Brooklyn Rider
This foursome is not the first to "reinvent" the string quartet, but listening to Brooklyn Rider, which has been called "stunningly imaginative," could make you a true believer in messing with tradition. Since rising to renown in Yo-Yo Ma's Silk Road Ensemble, BR have performed with a broad spectrum of other artists, received accolades everywhere from public radio to the Huffington Post and earned a slew of awards.
Brooklyn Rider derived their name from hometown Brooklyn, N.Y., and from the German pre-World War I artists' collective Der Blaue Reiter (The Blue Rider). That group's wild, cross-disciplinary creativity inspires violinists Johnny Gandelsman and Colin Jacobsen, violist Nicholas Cords, and cellist Eric Jacobsen. The Los Angeles Times said about them, "The dazzling fingers-in-every-pie versatility that Brooklyn Rider exhibits is one of the wonders of contemporary music."
The Hop commissioned a piece from the group, Brooklyn Almanac, which includes compositions by jazz and indie-rock greats such as Bill Frisell and Deerhoof's Greg Saunier. Its world premiere will celebrate the performing arts center's 50th anniversary.
FlynnSpace, November 10, 8 p.m. $25. Spaulding Auditorium, Hopkins Center, January 18, 8 p.m. $25/33/40.
PAMELA POLSTON
---
Border Music: David Hidalgo and Marc Ribot
Border Music is a progressive collaboration between master guitarists David Hidalgo and Marc Ribot that revels in the unlikely intermingling of seemingly opposing cultural influences and sounds. The duo explores the nexus where East meets West, North meets South and urban chic coexists amiably alongside rural sensibility.
Neither player is a stranger to border-hopping musical excursions. Hidalgo is the cofounding guitarist and vocalist of East LA mainstays Los Lobos and a member of the Latin Playboys, two bands that have long blurred the line, musically speaking, that runs along the Rio Grande. Meanwhile, Ribot, known since his days in groundbreaking jazz-punk band the Lounge Lizards, has played alongside musicians as varied as Tom Waits, Alison Krauss, Elton John, Cibo Matto and the Black Keys. You know, to name a few.
Together, Hidalgo and Ribot craft an explosive, dynamic, Latin-flavored sound that is rooted in many styles and cultures but transcends any familiar definition. Except maybe one: melting pot.
Flynn MainStage, January 26, 8 p.m. $15-36.
DAN BOLLES
---
Presenter Info & Tickets
Barre Opera House, barreoperahouse.org, 476-8188
Burlington Chamber Orchestra, bcovt.org, bco@bcovt.org
Burlington Civic Symphony, bcsovt.org
Burlington Ensemble, burlingtonensemble.com, 598-9520
Cathedral Church of St. Paul, Burlington, stpaulscathedralvt.org, 864-0471
Champlain Philharmonic, Montpelier, champlainphilharmonic.org, 595-0087
Chandler Center for the Arts, Chandler Music Hall, Randolph, chandler-arts.org, 728-6464
Flynn Center/FlynnSpace, Burlington, flynncenter.org, 863-5966
Girls Nite Out Productions, Burlington, girlsniteoutvt.com, 448-0086
Higher Ground Presents, South Burlington, highergroundmusic.com
Hopkins Center, various venues, Dartmouth College, Hanover, N.H., hop.dartmouth.edu, 603-646-2422
Johnson State College, Dibden Center for the Arts, jsc.edu, 635-1476
Kingdom County Productions, Barnet & Burlington, kingdomcounty.com, 357-4616
Lake Champlain Chamber Music Festival, Winooski, lccmf.org, 846-2175
Lane Series, various venues, Burlington, uvm.edu/laneseries, 656-4455
Lebanon Opera House, N.H., lebanonoperahouse.org, 603-448-0400
Lost Nation Theater, Montpelier, lostnationtheater.org, 229-0492
Lyric Theatre Company, Burlington, ? lyrictheatrevt.org, 658-1484
Middlebury College, various venues, middlebury.edu, 443-6433
Middlebury Town Hall Theater, townhalltheater.org, 382-9222
Montpelier Chamber Orchestra, montpelierchamberorchestra.org, mcos@montpelierchamberorchestra.org
Northern Stage, Briggs Opera House, White River Junction, northernstage.org, 296-7000
Off Center for the Dramatic Arts, Burlington, offcentervt.com
Paramount Theatre, Rutland, paramountvt.org, 775-0903
Pentangle Arts, Woodstock, pentanglearts.org, 457-3981
UVM Theatre, Burlington, uvmtheatre.org, 656-2094
Vergennes Opera House, vergennesoperahouse.org, 877-6737
Vermont Contemporary Music Ensemble, various locations, vcme.org, 849-6900
Vermont Philharmonic, Barre, vermontphilharmonic.org
Vermont Stage Company, FlynnSpace, Burlington, vtstage.org, 862-1497
Vermont Symphony Orchestra, various locations, vso.org, 800-876-9293, x10
Vermont Youth Orchestra, various locations, vyo.org, 655-5030
Weston Playhouse, westonplayhouse.org, 824-5288