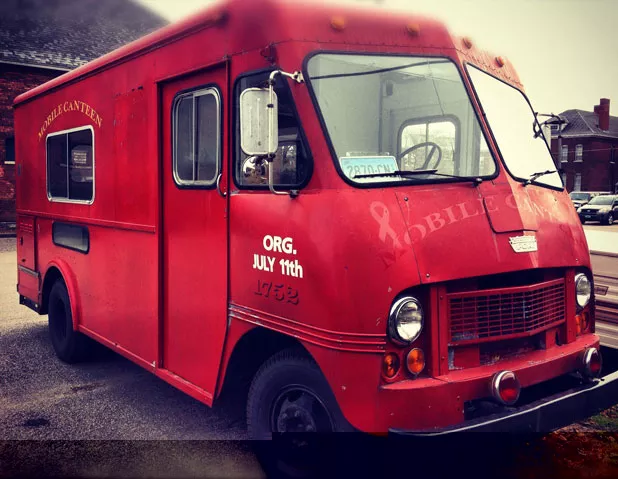 Where can you get a "cheddarwurst" made with local, whey-fed pigs and Cabot Clothbound Cheddar; ramen bowls with housemade noodles; braised chicken tortas; and hushpuppies? In the great outdoors.
On November 30, Cloud 9 Caterers introduced its new, still-unnamed food truck at Champlain College's Rail Jam. Last week, the truck made appearances at Citizen Cider in Essex and Shelburne Vineyard. But Cloud 9 owner Sarah Moran says the truck, which she and chef Luke Stone brought up from Mystic, Ct., won't spring fully into action until the start of the new year.
"We're gonna take this winter and mess around with ideas," says Stone. The converted 1964 Ford truck is equipped with a fryer, grill and griddle; perhaps most importantly, it's heated. That means the elements won't stop Stone and his team from serving the daily menu's six or seven items to hungry Vermonters all winter long.
The chef plans to begin with lunch service in and around Burlington before adding breakfast. A Huntington resident, Stone also hopes to feed skiers near Sugarbush Resort or Mad River Glen.
As for the truck's name, Moran has put the question out to a marketing class at Champlain College, which is devising one as their final exam. "We don't want to pigeonhole ourselves with it," Moran says.
Names can be tricky issues, as Moran found when Cloud 9 Catering's summer-only cart, the Noble Pig, drew complaints from Noble Pig Vineyard and Winery in Carlton, Ore. The artisan hot-dog cart may or may not change its moniker when warm weather returns, Moran says. "My lawyer wrote [the vineyard], 'When was the last time you confused Pinot Noir with a hot dog?'"
What's in a name? We're more interested in grilled cheese with homemade kimchee on bread made in house by baker Mike Buechler, cheese steaks and a wintertime taste of the sausages that won us over last summer.