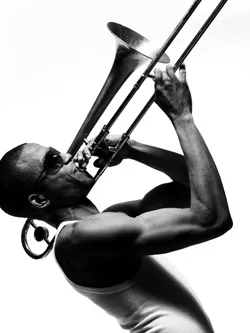 This Saturday, April 21, is Record Store Day, an international holiday during which people over 30 regale children with stories about what life was like for music fans before iTunes and online piracy. Once upon a time, before MP3s, you had to physically go to a brick-and-mortar store and purchase physical CDs, records and cassettes, which you would then (physically) play on your CD player, turntable or Sony Sport Walkman —the hefty, bright-yellow great-grandfather of the iPod. Looking back, it was all rather exhausting.
Anyway, it's hardly news that record stores have seen a serious, almost critical, decline over the last decade or so. Major retailers, such as Sam Goody and Tower Records, were especially hard hit. In the Burlington area alone, I can think of at least four chain record stores that no longer exist. Anyone remember Strawberries?
Surprisingly, the stores that survived the Great Record Store Exodus tend to be the small indie record shops, places that had become part of the fabric of the local music culture and community. Stores like Pure Pop in Burlington.
On Saturday, Burlington's beloved basement record shop will join thousands of other stores around the globe in celebrating Record Store Day. And how does one celebrate, you ask? How do you think? By buying records. Lots of records.
Hundreds of special releases are scheduled for RSD. They range from new albums and EPs to vinyl-only, limited-edition rereleases and singles to — I'm not making this up — a Buck Owens coloring book. There will be music available from a stunning array of artists, including Arcade Fire, Metallica, Aretha Franklin and Otis Redding, Leonard Cohen, Wilco, Neon Trees, Starfucker … I could go on. Or you could check out the entire list at recordstoreday.com.
There's no way to know which of those records will find their way to Pure Pop. But you can bet that many of them will. And you can be pretty certain that Grace Potter and the Nocturnals' contribution to RSD, Live at the Legendary Sun Studios, will be available. Ditto the rerelease of Phish's Junta. And I wouldn't be entirely surprised to find a 10-inch vinyl edition of Jay Farrar, Will Johnson, Anders Parker and Yim Yames' Woody Guthrie tribute, New Multitudes, kicking around, as well.
Jazz Hands
The big news last week was the announcement of the lineup for the 2012 Burlington Discover Jazz Festival. As I wrote on our staff blog, Blurt, following the press conference last Wednesday, April 11, it's another strong slate. But unlike previous years, which were dominated by jazz icons such as Ornette Coleman and Sonny Rollins, this year's fest feels more balanced. Sure, big names such as Dianne Reeves, Bonnie Raitt and Jimmy Cliff lend the BDJF some marquee star power. But the real gems seem to be the rising stars that dominate the lineup.
In the coming weeks, we'll highlight many such acts to prep you for the impending jazzathon. But just to wet your whistle, here are a few names that caught my attention and have me anxiously looking forward to the first 10 days of June.
Fans of the HBO series Tremé are likely familiar with Trombone Shorty. The New Orleans native appeared on four episodes of the show in 2010. The 26-year-old bandleader is just about the hottest thing in contemporary jazz right now, and he headlines the Waterfront Park Bayou Tent on Thursday, June 7. Oh, and his old group, the Stooges Brass Band, play a free show at City Hall Park on Saturday, June 2.
Guitarist Mary Halvorson is one of New York City's most highly regarded bandleaders. In fact, NPR's Lars Gotrich called her "the most forward-thinking guitarist working right now." High praise, eh? If you miss out on Trombone Shorty, catch Halvorson at the FlynnSpace on Thursday, June 7.
Most years it seems the BDJF sleeper hit happens at Nectar's. In fact, I think my all-time favorite Jazz Fest show is still soul powerhouse Ryan Shaw at the House that Phish Built five years ago, when I was but a fresh-faced young music critic. This year, Nectar's is hosting Latin-surf-pop outfit Chicha Libre on Wednesday, June 6. The band mixes postmodern Western psych-rock with Colombian cumbia, Peruvian chicha and 1970s pop. Or, as I described it on Blurt, it's as if Bebo Best and Man or Astro-man? dropped acid while watching The Good, the Bad and the Ugly.
Tickets for all BDJF shows are on sale now at discoverjazz.com, and more shows are added to the schedule almost daily.
BiteTorrent
Happy birthday to DJ Disco Phantom's series, Record Club: Less Manual, More Digital, at Radio Bean. The biweekly residency, during which listeners bring in records and Phantom spins them, turns two this week. In celebration, he's throwing a special extended edition of Record Club this Saturday, April 21 — which, as astute readers may have noticed, just so happens to be Record Store Day. Also, the Bean is just up the street from Pure Pop. See what I'm getting at here?
Speaking of Record Store Day, the cool kids from Upper Valley imprint What Doth Life are releasing their second annual RSD comp featuring a number of intriguing bands from the label, including Giant Travel Avant Garde, the Jobz and the Law Abiders, all of whom will play a free, in-store show at Newbury Comics in West Lebanon, N.H., on Saturday. If you can't make it to the Granite State — no sales tax, BTW — you can download the entire comp for free at WDL's Bandcamp page. If Nectar's sounds like a psychedelic barn dance this Thursday, April 19, it's because the club has brought back its successful Bluegrass Thursday series. Local groovegrass outfit Jatoba and Boston's Hot Day at the Zoo lead the hootenanny. Yee-haw.
One of the overlooked casualties of Parima's closing last year was the loss of Burlington's best listening room, the Acoustic Lounge. One, the opium-den décor was remarkably inviting — or maybe that was the opium. And two, the room didn't have a bar, so there was no clatter of glasses or idle bar chatter. You went to the Acoustic Lounge to — get this — listen to music. Novel, right? Local songwriter Zack duPont is aiming to bring back that feel with a new monthly series at the Black Box Theater in Burlington, beginning in June. The first edition is on Sunday, June 24, and features Joe Walsh — Yup, that Joe Walsh — and Joshua Panda.
Congrats to Middlebury jam-rock stalwarts the Grift, who took home the top prize at the Vermont Battle of the Bands finals last Saturday at the Middlebury Town Hall Theater. The band knocked off Latin-jazz outfit Mogani and Windsor punks the Pilgrims and, in addition to winning $2000, will open Middlebury College's annual spring concert, which is kind of a big deal. Well played, gents.
You know how you love sugary sweet, boy-girl indie music? Well, in a match made in bedroom-pop heaven — or maybe in Colin Clary's bedroom — Vermont's two finest indie-pop duos, First Crush from Montpelier and Smittens offshoot Let's Whisper, split a bill at Red Square this Saturday, April 21. I'd recommend going for both bands, though it should be noted that FC's Scott Baker is reportedly leaving the state in June, so this will be one of your last chances to see First Crush live.
Last but not least, Vultures of Cult have been pretty quiet of late. But the band has been hard at work on a follow-up to its ridiculously awesome 2010 stoner-rock opera, Cold Hum. VOC's Justin "the original Justin Gonyea" Gonyea — not to be confused with Justin "the other Justin Gonyea who also is a local musician and works for Seven Days" Gonyea — writes that the band is aiming for an early summer release. In the meantime, you can catch the band at the Monkey House this Sunday, April 22, with Spirit Animal and the Blue Letter.
Listening In
Once again, this week's totally self-indulgent column segment, in which I share a random sampling of what was on my iPod, turntable, CD player, 8-track player, etc., this week.
Spectrals, Bad Penny
The Basics, The Basics
She Makes War, Little Battles
Bear in Heaven, I Love You, It's Cool
Emily Wells, Mama