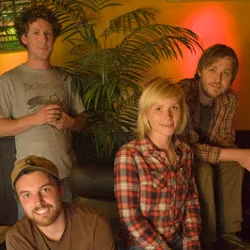 Matthew Thorsen
R to L; Seth Gallant, Ryan Osswald, Maryse Smith, Paddy Reagan
Maryse Smith crept onto the Burlington music scene three years ago. The unassuming songwriter appeared first as a solo artist, then briefly as an occasional member of alt-whatever collective Cannon Fodder. Prior to the release of her stunning debut album, Is Becomes Was, in late 2009, she had been performing with a loose collection of musicians dubbed the Rosesmiths. That band would evolve into her current backing band, which will accompany her when she opens for legendary alt-rockers the New Pornographers this Friday at the Higher Ground Ballroom.
In advance of that performance, Seven Days caught up with Smith and her band at their practice space off North Avenue in Burlington's Old North End.
The Early Years, Volume 1
Smith is a 23-year-old graduate of St. Michael's College, and a self-described "soon-to-be-unemployed nanny." She is a Connecticut native, and the fifth of six children. But of that entire brood, Smith says only she and her brother are musically inclined. She played piano growing up but "never seriously." Her father taught her to play guitar in high school. But it wasn't until Smith reached college and began writing her own songs that she began to focus on refining her chops.
"Writing was just a natural progression. But it was always much easier for me to write on guitar than piano," she says. "It wasn't a conscious choice. It just sort of happened and I began writing more."
Under the Influence
Smith describes the usual assortment of singer-songwriter influences: the Beatles, Dylan, etc. But she also shows a taste for more contemporary fare — artists such as Laura Viers, Tom Brosseau, Wilco and Vetiver — which helps explain her music's blend of modern sensibility and vintage charm.
"I like classical music a lot, too," she adds. "I love Bach."
Monkey Business
Smith got her start locally the same way many young songwriters do, trying to get gigs by passing rough demos around local coffee shops and bars, including The Monkey House in Winooski.
"She had dropped a CD off at the Monkey with just, like, her name and phone number on it," recalls her now-drummer Paddy Reagan, who also manages booking for the Winooski nightclub. "I listened to it while driving and actually had to pull over to call her. There was something about her delivery that just struck me. I was, like, 'Yes, you can play at The Monkey House.'"
Tale of the Tape
Is Becomes Was, reviewed in Seven Days this year, is a warmly charming little affair, mostly composed of Smith's earliest songwriting. The entire album was recorded on an old cassette-tape four- track. The unconventional production — guided by noted B-town musician and producer, Ryan Power — presented unique challenges in the studio, not the least of which was a finite amount of space on which to record. That limited production options, such as overdubs, which placed a premium on playing and singing parts correctly. But it also forced the band to live with mistakes, lending the recording a sort of designed clumsiness.
"The four-track sort of set parameters for us," says Reagan, noting the biggest challenge was figuring out how to fit everything on four tracks. "But part of four-tracking is just accepting what you put down. And Ryan was really good about helping us accept that."
"A lot of those songs weren't arranged when we started," adds Smith. "We changed things a lot as we were recording them."
Band of Brothers
Smith's band came together casually and is an evolution of the group that backed her on her debut, the Rosesmiths. Reagan and guitarist Ryan Osswald worked together in Cannon Fodder. Bassist Seth Gallant, whom Smith met at St. Mike's, is better known as the front man for In Memory of Pluto and also performs regularly as a solo artist. Smith is the group's sole songwriter, but each member contributes to the arranging process, which they describe as free moving.
"All of the core elements are there in Maryse's songs," says Reagan. "She's a strong lyricist and writes nice harmonic turns."
"There is a classic essence to her songs," adds Gallant. "They translate to a lot of types of people."
"I just have a lot of fun playing them," says Osswald. "The songs are fairly unique, and they're solid even when it's just her playing them. But they're so much fun to play on, too."
Smith notes that having the input of three more experienced musicians has helped her develop her style and introduced her to new approaches.
"It's really nice to bring something as simple as chords and a melody and then see how it can be changed and how things are added to it," she says. "Everyone else's skills help bring the songs to a different place. It makes the songs bigger."
The Early Years, Volume 2
Smith has really only been writing songs for five years. She admits to still being fairly raw as a tunesmith, but credits her recent experiences playing in Burlington with helping to shape her development as an artist.
"There has been growth, which is a good feeling," she says. "When I first started writing I was just happy to be able to write a song. But now I put more pressure on myself to write more interesting songs."
Smith says that evolution has been spurred by a variety of revelations, some as profound as mining new emotional terrain and others more fundamentally simple. Like, for example, changing keys.
"I used to write everything in G or C," she says, chuckling.
Back to the Future
With Is Becomes Was under her belt, Smith is excited to return to the studio. She says the group is getting ready to record and release a new five-song EP this fall. The band plans to employ a similarly no-frills approach, though this time around they likely won't revisit the four-track experiment. Nor will they rehash the same sounds found on that debut.
"It probably won't have as much country swing as the last album," says Smith. "More, I don't know … rock and roll."