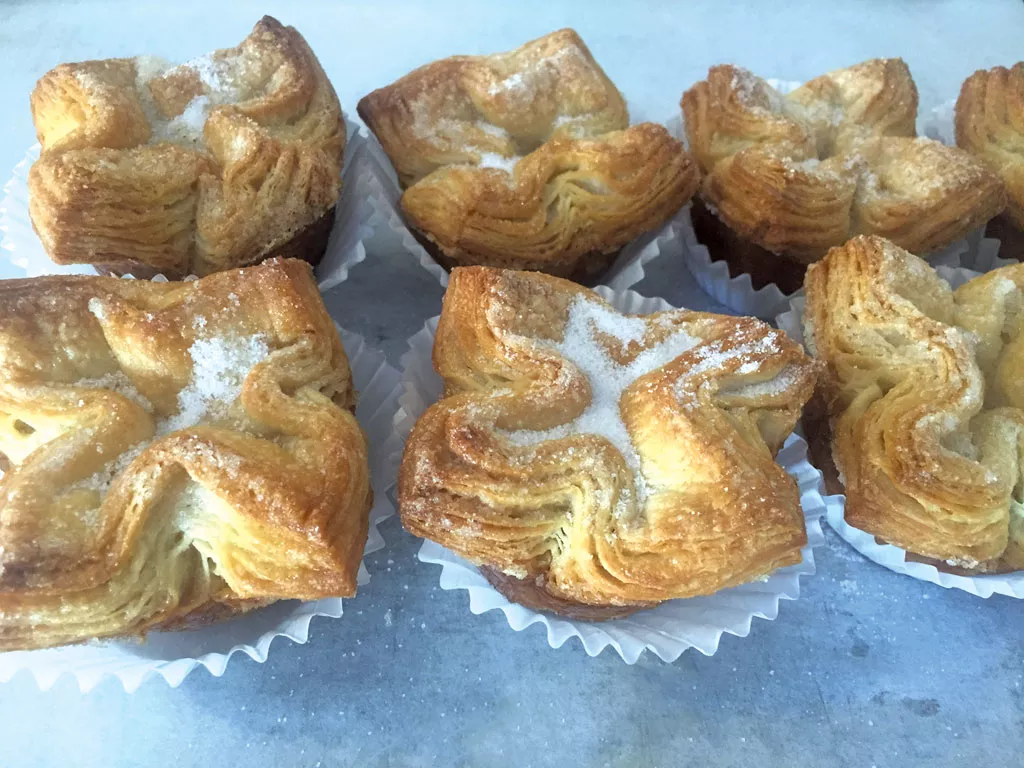 Courtesy Of August Frist Bakery
Kouign-amanns at August First Bakery
In September, we reported that August First Bakery & Café was taking over 61 Main Street in Burlington. The space that most recently held Pistou would become an extension of the bakery. At the time, co-owner Jodi Whalen hinted at major upgrades to both the sweet and savory sides of the café's offerings.
Progress has been slow and steady since most pastry production moved into the Pistou space, but the biggest changes will be evident in early May, says Whalen. The hood is being installed this week, in preparation for the stove's imminent arrival. Kitchen and catering manager Charlotte Doggett is busy perfecting recipes that will debut after Vermont Restaurant Week.
Until now, August First's breakfast options have been missing fresh eggs. Now they'll appear on the menu primarily in the form of breakfast bowls, not unlike deconstructed omelettes, inspired by the café's popular gluten-free lunchtime bowls filled with chickpeas and herbs or chicken. Doggett says there will be fresh-fruit bowls, too.
Since the café opened in 2009, lunch sandwiches have been served cold or pressed in a panini grill. But with griddle space newly available, several hot sandwiches will join the regular menu. Most will be familiar to August First regulars as former panini specials, such as the chipotle turkey melt.
"We're not trying to get away from our regular menu; we just have the chance now to expand on it and get people more of what they already like," Doggett explains. Those same greatest hits grace the new catering menu, which launched last month.
On the sweet side, Whalen worked with laminated dough in winter classes she took at the San Francisco Baking Institute. She's been using those newly acquired skills to make plain and filled croissants, as well as Breton pastries called kouign-amanns ("butter cakes"). For a Vermont twist, Whalen folds her versions of the crown-shaped sweets with layers of butter and maple sugar.