In the spring, my spider plant had a baby. I can take no credit for this development. I missed labor and delivery completely and only realized that new life had emerged when it was already established, a tiny baby spider plant dangling from a long stem.
I clipped the baby and dunked it in a glass of water. Within a couple of weeks, it had sprouted a tangle of roots. I planted it in a tiny pot with fresh soil, waited until I was reasonably sure it wouldn't die, and then passed it off to a friend who'd just moved into a new apartment.
This success made me curious about ways to multiply my other plants. Half of mine seemed constantly on the verge of failing, but I picked out the healthiest, a Thanksgiving cactus, and did some research. This one turned out to be even easier to propagate. All I had to do was sever a few connected segments of stem, leave it out for a few days to harden off, and then stick it in a pot. That plant's offspring is now thriving on another friend's windowsill.
I called my dad, who sells trees for a living, to brag about my newfound propagating prowess. "Once, I was in the grocery store and on the floor I saw a leaf and flower that had fallen off a Christmas cactus they had for sale," he told me. "I didn't have that color of bloom yet, so I took the leaf home and grew it."
All right, Dad, I get it. I am but a grasshopper.
Learning to propagate my houseplants felt like being let in on a secret. All this time, I'd been buying (and sometimes killing) plants without ever stopping to think about where they came from — that is, other plants.
Plants make more plants. This might not sound like a revelation, but it felt like one to me. I really started propagating plants after the pandemic hit the U.S., my work office closed, and I started spending the majority of my day inside the one-bedroom Burlington apartment I share with my partner. Several plants were already crowding our windowsills, but I went a little bonkers for greenery during lockdown and its aftermath.
I wasn't the only one. Across the country, people were regrowing scallions, sprouting avocado pits into tiny trees and, when the ground thawed, planting gardens.
They were also engaging in mutual aid. In the early days of the pandemic, people began making voluntary grocery runs, sewing free face masks, and offering emotional and mental support. The combination of those impulses — to grow something and to share something — led me and many others to BTV Plant Share and Swap, a Facebook group created in 2018 by Old North End resident and organizer Laura Hale.
The group, which started when Hale sprouted a few dozen citrus seeds as an experiment and needed to give them away, ballooned to about 2,900 members this year, up from fewer than 900 at the end of February. The rules are simple: no plant sales, only trades or gifts; feel free to ask for plant-related advice or resources; and don't be a jerk.
"My entire purpose behind this was to make this as low-barrier as possible," said Hale, a grant writer who founded the ONE Good Deed Fund. "I know how expensive it is trying to buy plants and start up. And it just seems so silly, because if you knew people who already had plants, they would just dig up part of their perennials and give them to you. I kept thinking how inequitable that was, because what if you don't know anyone?"
Help is free in the group, too, and members post frequently about their struggles with fungus gnats or finicky varieties. Failure and accidental plant slaughter are accepted, never shamed. Sometimes people offer up established plants that aren't thriving or simply don't spark joy.
"I really hadn't anticipated people just giving away plants that they didn't want anymore," Hale said. "But I think it takes a load off your shoulders to be like, 'I can specifically not like this plant, and it's not a failure. Someone else is going to love this.'"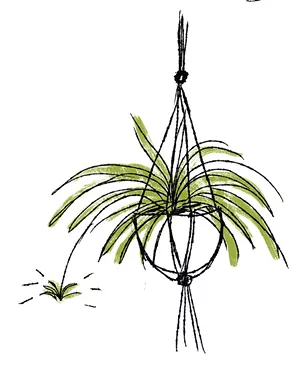 Susan Eisenstadt joined the group after attending an in-person plant swap that Hale organized. While she'd always been an outdoor gardener, Eisenstadt didn't really invest in houseplants until the pandemic cut her off from some of her social communities. She started picking up plants that group members offered.
"You get these little gamey plants and then, all of a sudden, you have to transplant them because they're growing so fast, and they look so beautiful," Eisenstadt said. "And there's an incredible amount of knowledge in that group ... People are very willing to share the plants, their knowledge, different tips. It's a community."
Hale does her best to maintain that community through group moderation, which she describes as a skill. She said she wants to make sure people of color feel welcome in the group, and her efforts have generated a few accusations of "reverse racism" from white members who think that race issues shouldn't come up in plant sharing.
"You can't disassociate what you're talking about from marginalization just because you don't think that they go together," Hale said. "I don't think you can talk about gardening, which is cultivating land, without acknowledging that many white folks have generational wealth because of land ... Do I want to bring it up every day? No. But if someone brings it up, I'm not going to shy away."
In the group, I orchestrated a contact-free swap to trade a cutting from my pink aglaonema for a bit of wandering dude (a nickname for a plant whose most commonly used name is considered anti-Semitic and is prohibited in Hale's group). I picked up a haworthia pup — a pup is an offshoot from the plant's roots — that another person was giving away. I asked about a succulent that wouldn't stop drooping. The advice: Behead it and plant the top part in its own pot. Once that's established, I'll probably give it away, too.
All this giving and receiving has been fun, and it even feels a little subversive. I still love nurseries, but removing the financial investment of growing things made me wonder how plants — which populate the planet with enthusiasm and give so much without asking in return — became so deeply commoditized in the first place. I floated this idea by Hale.
"Everything I do is anti-capitalist," she said. "Not because I'm rabid about it, but because it seems so unfair to have money as a reason why you can't share something."
Recently I noticed that my wandering dude, which is thriving, needed a haircut, so I propagated two of the stems and gave them away. The cycle continues; the joy spreads. And the plants? Well, they're just doing their thing.