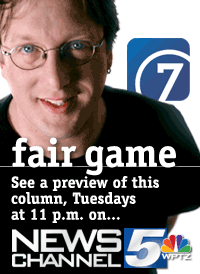 Vermont's political observers have been all atwitter this week, wondering, "Where in the world is Gov. Peter Shumlin?"
After two months on the job, the state's chief executive decided to take "a few" days off at an undisclosed location. In Shumlin speak, "a few" is six. He left Thursday morning and was scheduled to return Tuesday night.
News of Shumlin's vacation was reported by WCAX-TV news director Anson Tebbetts. Shumlin spokeswoman Bianca Slota, a former WCAX reporter, at first told Tebbetts she didn't know where Shumlin was.
Slota later told the media she did, in fact, know where Shumlin was holed up, getting a well-deserved rest after two grueling months on the job. But she wasn't going to tell in an effort to honor his "privacy."
She also wouldn't divulge if he had his taxpayer-funded, around-the-clock state security detail in tow. That, too, is secret.
No word if Shumlin is in Cancun, the Dominican Republic, Rio, or New Orleans, or at his stone cottage on Cape Breton in Nova Scotia.
But top aides say he was in regular contact by phone and email with Republican Lt. Gov. Phil Scott, who was acting governor, as well as Commisioner of Public Safety Keith Flynn. In other words, he wasn't off hiking the Appalachian Trail or something.
Slota said her boss was in cellphone range, but wouldn't divulge if their communications would result in international charges.
Mysterious. Inquiring minds extended beyond the Vermont media. Even the New York Times wanted to know where the gov was lounging. No dice.
Shumlin's senior spokeswoman, Susan Allen, refused to tell the Times if Shumlin was simply "out of state" or was actually "out of country."
Why not? "Privacy reasons," she noted.
Since when are the governor's vacation spots considered top secret? It hasn't been the case with prior governors — or, heck, even the president of the United States.
It's not like we're jealous (OK, maybe a little, if he's on a sandy beach) or begrudge him time off (no doubt someone will object).
But it's an odd statement from a guy who has been talking up trust and transparency.
Pressed to reveal Shumlin's locale, Allen told "Fair Game," "I believe Vermonters respect the governor's right to privacy."
Sure enough. But no one's asking for the name of the resort, or his room number — just the country, or state, he's visiting.
You would think Allen, who was former Gov. Howard Dean's spokeswoman, would know by now that withholding information is the best way to turn a molehill into a mountain.
Shumlin will be back in Vermont this week and on Thursday is scheduled to tap a maple tree in Saxtons River, to mark the start of sugaring season.
Good thing he'll be rested up.
Everyday People
Serving as "acting governor" on Monday required Lt. Gov. Phil Scott to change his official schedule. He was supposed to be taking tickets as part of his Vermont Everyday Jobs event at Stowe Mountain Resort, but backed out because he was filling in for Shumlin during the biggest March snowstorm in state history — Vermont's third biggest snowstorm on record.
In previous "everyday" job stunts, er, stints, Scott worked alongside a Green Mountain Power line crew and an emergency room doc at Porter Hospital. It's all part of his investigation into how "everyday" Vermonters earn a living.
Funny, I don't recall the Vermont Constitution spelling out job shadowing as one of the lite gov's duties.
Guess the official part of his job description — "acting governor" and "presiding officer of the state senate" — aren't "everyday" enough. Especially when elections come around every two years.
When Progs and Dems Unite
It's rare that Progressives and Democrats agree on something. Last week, they came together with a common voice to say that Republican Auditor Tom Salmon should resign from office.
Salmon announced late Wednesday that he's launching an exploratory committee to ponder a possible U.S. Senate bid against Sen. Bernie Sanders (I-VT).
Salmon's exploratory committee includes his father, former Gov. Thomas P. Salmon, and former Gov. Jim Douglas. Also on the committee are Doug Grahn, a Republican and marketing exec from Middlesex, and Jim Mulligan, an independent and insurance exec from Barre.
Progressive Party chairwoman Martha Abbott was first to pounce.
"Vermont taxpayers should not be forced to pay the salary of a guy who has announced that he will be spending his time doing something other than the job we are paying him to do," said Abbott, who ran for auditor in 2006 and 2008.
Soon thereafter, Democratic Party chairwoman Judy Bevans joined her Progressive sister in calling out Salmon's fishy behavior.
"It's clear that Tom Salmon is only interested in serving one Vermonter — Tom Salmon. As auditor, his only accomplishment has been his ability to stay in the news while accomplishing remarkably little. From his publicity-stunt party switch to his erratic behavior in the press, and now this, Tom Salmon may think he was elected to improve his own political standing — but the people of Vermont elected him to serve for four years," said Bevans.
Actually, he was elected to serve two years.
Like other statewide officeholders eyeing the political ladder, Salmon says he has no intention of stepping down.
He'll join the ranks of former govs Douglas and Dean, former Secretary of State Deb Markowitz and former Burlington Mayor Peter Clavelle, who ran for governor in 2004 while he was still mayor — and lost.
A Sanders spokesman said it was "much too early to be talking about campaigns."
"His focus is on doing everything he can to stop Republican budget cuts to the [Low Income Home Energy Assistance Program], Pell Grants, Head Start, the Social Security Administration, community health centers, Community Service Block Grants, public broadcasting and many other important programs," said Michael Briggs, Sanders' spokesman.
Really?
A December 10, 2010, fundraising email from Sanders began, "My reelection campaign started on November 3 — the day after the Democrats lost 63 House seats, 10 governorships and a disastrous six Senate seats."
Sanders later noted, "If I can show strong numbers on this first FEC report, there is a very real possibility that the strongest of my potential challengers will choose not to run."
Yup. Sounds like 2012 is the furthest thing from his mind.
Viva El Bernie!
It was 30 years ago — on March 3, 1981 — that Bernie Sanders was elected mayor of Burlington by a scant 10 votes, defeating incumbent Democrat Gordon Paquette and independent Richard Bove.
It was so close, in fact, that Sanders supporters — dubbed Sanderistas — woke a judge at 2 a.m. to get a court order to impound the ballots. They didn't want city hall messing with the results.
"It was an incredibly exciting night, and at the victory party what you saw was a very, very unusual coalition — of women's groups, the Burlington Patrolmen's Association and housing advocates. A coalition of very different elements came together to make that victory possible," said Sanders.
Looking back, he said one of his "biggest and most exciting achievements in that first two years was getting ordinary people involved in the process and having meetings filled up at city hall. That was the goal: to open up city hall to people who did not have a voice."
Those Bonus Blues
Think Vermont is destined to be the first state in the nation with a stand-alone single-payer health care system? There are 767,460 reasons why it won't.
That's the sum total of 2010 bonuses "earned" by the top 10 Blue Cross Blue Shield of Vermont execs, according to a report filed last week with the Department of Banking, Insurance, Securities and Health Care Administration.
It was two years ago that "Fair Game" discovered that Blue Cross Blue Shield of Vermont CEO William Milnes Jr. was retiring with a $6.8 million golden parachute and that BCBS had doled out hundreds of thousands of dollars to other key executives.
In 2009, the insurance company clamped down on such excessive payouts as public scrutiny, and outrage, increased. The CEO who replaced Milne, Don George, earned a total of $446,444 in salary and bonuses from being head honcho at BCBS and the Vermont Health Plan. That's about half the annual haul of his predecessor.
In 2010, however, George's total pay jumped to $582,439. His base salary increased from $347,192 in 2009 to $408,785 in 2010. In 2009 George received a bonus of $93,119; that amount nearly doubled in 2010, to $163,169.
Other top execs made out better in 2010, too.
In 2009, BCBS' top 10 Vermont execs racked up a total of $2.68 million that included $531,190 in bonuses. In 2010, those execs saw their total compensation rise to $2.86 million, including $767,460 in bonuses.
BCBS board members continue to benefit, too, though not as much as they did in the past. The board chairman saw his pay drop from $44,500 in 2009 to $29,150 in 2010 as part of a total board compensation cut of $120,000. In 2010, average salaries for board members dropped from about $22,000 to a measly $17,500.
Tough medicine.
Take a Hike!
U.S. Rep. Peter Welch (D-VT) gets a new media spokesman next week. Longtime communications director Paul Heintz is leaving his post on Friday. Heintz, a former Brattleboro Reformer reporter, plans to hike the length of the Appalachian Trail before settling into a new gig.
In his stead, Scott Coriell will become the new top flack for the state's lone congressman.
If the surname sounds familiar, that's because Coriell is the younger brother of Dave Coriell, who was spokesman for former Republican Gov. Jim Douglas.