Jessica Lara Ticktin
The girls in Jerusalem
One of the many questions we were asked before we embarked upon this ambitious journey was, "Why are you going to the Middle East?" Given the recent war here, and the unrest in the general region, people were concerned about our safety.
Twenty years ago, I came to Israel to work on a kibbutz for the summer and to explore my Jewish identity. It felt important to me as a young adult, especially because I had no real sense of what it meant to be Jewish. I had always existed in between worlds.
I grew up with a Jewish-atheist father and a non-Jewish mother (even though she converted, in my opinion, she remained a Christian at heart), and I was raised in a Protestant community. I had no Jewish friends, and though we celebrated all the Jewish holidays, I didn't really understand what it meant to be a Jew — except that I was different.
Going to Israel back then was a transformative experience. I found myself not only in a community of Jews but in a whole country of Jews. My extended family and newfound friends welcomed me into their homes. There was no need to explain why I didn't eat pork or why I didn't celebrate Christmas.
[jump] I learned about the history of Israel and cried my way through Yad Vashem (the Holocaust museum). In some ways, I felt as if I had come home, even though this land was foreign to me. I felt a sense of belonging. I came back home feeling proud to be Jewish and ready to embrace my heritage.
Now, here I am, back again — this time with my husband and three daughters. Why take our girls to this part of the world? Same reason I came here in 1994. Adam and I are raising our children as secular Jews in a non-Jewish community.
It was easy to be a secular Jewish family when we lived in Brooklyn, where most of our friends (as well as our midwife, doula, pediatrician, dentist and podiatrist) were Jewish. In New Jersey, the two older girls were in a Jewish preschool and they learned about and celebrated all the Jewish holidays. We didn't need to be intentional about our heritage; it was just something that happened all around us. We fit in.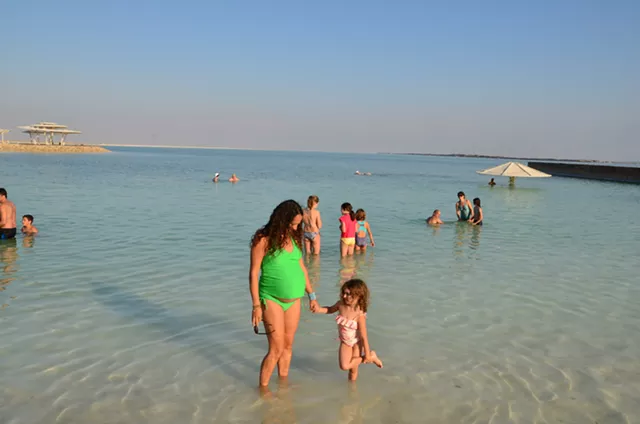 Jessica Lara Ticktin
The Dead Sea
When we decided to move to in Burlington, we didn't think much about the Jewish aspect. But we quickly realized how different we were.
Dahlia was the only Jewish child in her kindergarten class at Edmunds Elementary. Most of the other kids had never heard of Hanukkah and were shocked when she told them she didn't celebrate Christmas. When visiting the dentist, Lola, at 3 or 4, was asked, "Who goes HO HO HO and has a big white beard?" She responded with a blank look.
All this might seem trivial, but when you feel like I did as a child — different without knowing exactly why — it can lower your confidence and make you feel small.
How powerful, then, to arrive in a country where Jewish symbols abound — on the tops of buildings, on buses, in store windows, on the flag! We've seen menorahs and Stars of David and Hebrew writing on everything. The customs agents, the taxi drivers, the clerks at the rental car agency, all Jewish!
When we were in a restaurant in Tel Aviv, Adam loved pointing out to the girls that everyone in there was Jewish. The girls would gasp and then giggle, excited and amazed.
Everyone around us is Jewish? They all celebrate Hanukkah, like we do? They all have Shabbat dinner on Friday night? They dress up for Purim and eat Hammentaschen? They have seder plates and Kiddush cups in their houses?
This trip to Israel is important for many reasons: for the girls to understand why a Jewish state is necessary, for them to feel what it's like to be in a Jewish country and to understand that they aren't part of a strange and nominal religion but a beautiful and rich culture that's thousands of years old.
Before we planned this trip, we asked our friends and relatives here in Israel about safety. They all replied that we'd be fine. We weighed the odds and only made one revision in our plan, deciding not to rent an apartment or spend much time in Jerusalem, since that city has seen a recent spate of violence.
We knew how important this trip could be for the girls, especially Dahlia. At 10, she is just forming her identity and recently became interested in her Judaism. If she could come to Israel and feel even a fraction of what I felt when I was here — or what Adam felt when he was studying here 21 years ago — then we would have succeeded.
We stayed with my relatives and spent our time exploring all over the country.
For their homeschooling projects, the girls drew wonderful, colorful maps of the region and learned which countries border Israel. Then we drove them to the borders of Egypt, Lebanon and Jordan.
Jessica Lara Ticktin
The Israel-Lebanon border
We visited the Yitzak Rabin Centre, where they watched many short documentary films on the history of Israel and the building of the Jewish state. They hiked up the ancient fort Masada and floated in the Dead Sea. The girls bought Magen David necklaces (Jewish Stars) and marveled at all the beautiful menorahs on display throughout the country.
They climbed through Israel's grand canyon in Mitzpe Ramon (in the Negev desert) and encountered Jews from around the world, some who had made Aliya, some visiting Jews like us. They got to know their 11-year-old Israeli cousin, Tamar, and her grandmother, Ruthi, who hosted us. The kids played together and taught each other new games.
We walked through the old city in Jerusalem and wrote wishes on paper, folded them into tiny pieces and stuck them into the cracks in the Western Wall, just as I did twenty years ago. Then we closed our eyes and prayed for our wishes to come true. The girls and I put our hands against the cool stone and looked up at the sky, trying to imagine the temples once built there.
In Tel Aviv, the girls took Hebrew lessons for a week. They learned the alphabet, and Dahlia began to read the Hebrew writing all around her.
Adam and I felt it was important for the girls to know about the ongoing conflict here. So Dahlia and I read and discussed a book about two Israeli soldiers who take over a Palestinian boy's house in order to spy on the neighborhood.
For the older girls' big project, Adam helped them research for a debate. One of them was going to be a Palestinian girl from Gaza and the other an Israeli from Tel Aviv. They had to come up with good arguments and explain their case in front of two judges (us!). The project gave them a new perspective on the complicated situation.
For example, Lola has asked us, so seriously, "Why don't the Jews just find another piece of land they can call their own, so they don't have to fight like this?" Dahlia has admitted that some of the arguments she came up with for the pro-Israeli side during her research are good, but some of them are not good at all.
In Jerusalem, the girls were amazed at how many different quarters were in such close proximity to each other. We passed holy sites for Christians, Jews and Muslims. We saw pilgrims from all these religions bowing down to kiss the floor, singing songs while holding onto crosses, wearing head scarves and prayer shawls, or black hats and yarmulkas.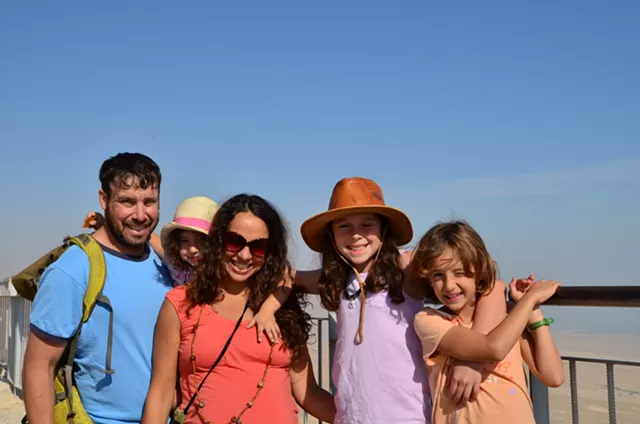 Jessica Lara Ticktin
On top of Masada
That night in Jerusalem, my 87-year old cousin, Toby, treated us to a night spectacular: a sound-and-light show at David's Citadel. Music played while images of Jerusalem's last 4000 years of history were projected onto the ancient walls.
It was magical to be in the old city at night, and I think it gave the girls a palpable sense of place and time — something they're just not going to find in a history book. They felt the weight of history in the old stones they sat on. By comparison, the stories of the people who inhabited and fought over this place seemed fleeting. The Jews and the Romans, then the Ottomans and Turks, the Crusaders and then the Muslims and the Christians and the Jews. And on and on it goes.
The girls wondered,
Can't we all get along? Can't we just appreciate each other's differences and respect one another? Can we coexist peacefully?
Our last night here, we celebrated Hanukkah with yet another wonderful set of my cousins, in a small community in the north. We lit the menorah, sang songs and said goodbye to the holy land with full hearts.
We are now ready. After four months of adventure and mishap, excitement, beauty and bonding (plus new friends all over the world), it's time to go home. And have a baby!
Kids VT
contributor Jessica Lara Ticktin is traveling the world with her family, homeschooling three daughters along the way — while pregnant. She's documenting her family's adventures until they return to Vermont later in December.