I'm writing this from the traditional Japanese house we have rented in an ancient part of Kyoto. Sitting cross-legged on tatami mats at a low table, my kids and I are in the middle of a morning writing lesson. My belly has grown bigger — I'm five months along now — so this set-up is a bit difficult for me. On the bright side, it's forcing me to have good posture!
It feels as if we're living in a dollhouse. Everything is diminutive: the doorways, the utensils, even the alleyway that our front door slides open onto. I can touch both walls of the alley with my arms outstretched. The fridge is the size of a hotel minibar, and there are just a few small plates, cups and bowls and an electric hot plate to cook one small pot. The walls are literally paper: Shoji screens separate our few rooms. And the houses are so close together, you can hear every word (even if we don't understand it) from our neighbors. I am afraid we must be the loudest house in the neighborhood.
This is a big change from what we are used to, a Burlington house with high ceilings, more than 3,500 square feet and three bathrooms. Here, we sleep side by side on thin mattresses laid out on tatami mats. We share one toilet and one bathtub. The girls love it and are starting to understand the concept of simple living.
On my first day as their teacher, I felt like a fraud. They looked up at me expectantly while we watched Japanese children on their way to school. I wanted to shout, "Go with them; I don't know what I'm doing!"
[jump] But I didn't. Instead, we went for an exploratory walk. Then, to transition into school time, I lead the girls in a series of yoga poses and stretches and a five-minute meditation. This has become our morning ritual.
We kicked off our place-based, interdisciplinary curriculum by asking the girls to write out what they already knew about Japan as well as questions they had about it. Lola, 8, wrote, "There are earthquakes, there is bamboo and there are tatami mats." She wanted to know what the tatami mats were all about and why all the doors here were sliding.
We let the kids' interests guide our discussions into history, social studies, geography, writing and art. Adam and I alternate morning lessons for the two older girls and teaching the youngest, Kaya, 5, to read.
As for math, we use workbooks and online programs to drill the basics, but we have daily opportunities for real-world application. It's been fun to explore money and exchange rates, converting prices at shops and grocery stores.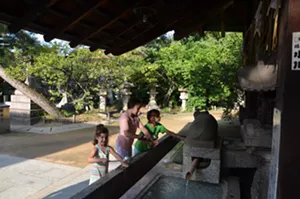 Jessica Lara Ticktin
Washing hands at the Shinto shrine.
We've found that the girls are so curious and excited about Japan that just walking around gives us many subjects to explore. We often wander through the 1,000-year-old Shinto shrine up the street from us. A series of small temples and walking paths, the shrine is dedicated to learning — apropos of our adventure.
At the entrance, we discovered a fountain with wooden ladles. After watching other visitors use the ladles to pour water onto their hands, the girls followed suit. A series of posted pictorials showed what to do: Walk up the steps, bow, bow again then clap twice, bow again.
Later, this prompted a family argument. Adam felt it was disrespectful to participate in the hand-washing and bowing since we didn't fully understand what we were doing or why we were doing it. Lola made a comparison to art: It's OK to copy an image in order to learn how to draw, so isn't it OK to copy Japanese customs to learn about the culture?
Since we left Vermont, these kinds of impromptu discussions have been plentiful. What does it meant to be foreign? How do you begin to learn a culture? How do you learn foreign ways if you don't speak the language?
Teachable moments are everywhere. In Hawaii last week (the first stop on our trip), we went snorkeling with a pod of wild spinner dolphins. By chance, we saw mother dolphins nursing their babies. That experience prompted Dahlia, 10, to write a reflective piece.
Of course, the learning opportunities aren't always so picture-perfect. At the end of our Hawaii stay, Dahlia accidentally dropped our rental car keys down the sewer — with all our bags locked in the car. It was stressful, but we got to revisit the concepts of resourcefulness and patience.
As my belly grows, so does my appetite. This means we've been eating with great frequency all over Kyoto. As it turns out, this works just perfectly when traveling with children: I am always the first to complain that I'm hungry!
Kids VT
contributor Jessica Lara Ticktin is traveling the world with her family, homeschooling three daughters along the way — while pregnant. She's documenting her family's adventures until they return to Vermont in December.