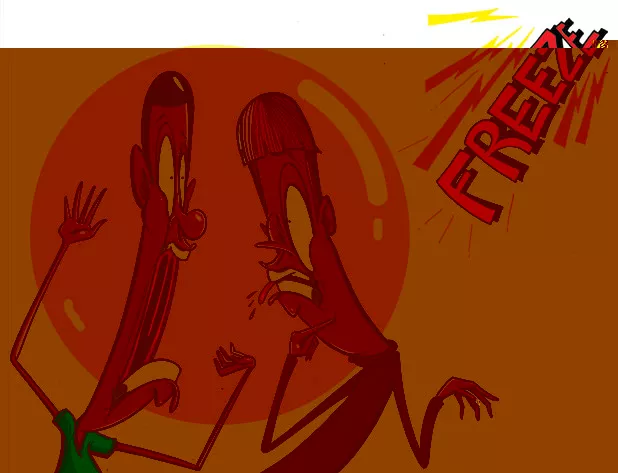 You're standing in a small studio with two people you barely know, preparing to act a scene set on a desert island. One of your companions must speak exclusively in rhymes in this scene; the other must pretend to be a mind reader. Your character is endowed with hooks for hands.
There's no script to follow. Just be sure that, by the end of the scene, the audience knows exactly what these three characters mean to one another, why they're on the island and what they want. Make sure to highlight their assigned quirks.
Oh, and make it funny.
When you're improvising, the last part is usually the one you think about the least. If you follow the rules of the game and throw your inhibitions to the wind, you're almost guaranteed to make a generous audience laugh.
That's what I've learned over nearly a year of attending the Wednesday-night Improv Drop-In group at Burlington's Spark Arts. The informal, entry-level class is run by Spark Arts cofounders Nathan Hartswick and Natalie Miller, who also offer higher-level classes in improvisation and a range of instruction in standup comedy, acting and music at their recently expanded Flynn Avenue studio.
Hartswick and Miller have their own Spark Improv Troupe — which will perform during the upcoming 2013 Green Mountain Comedy Festival — and they encourage their students to troupe up and get onstage, too. For many of the regulars at Improv Drop-In, that's a natural next step. They're theatrical extroverts whose everyday conversation has the rhythms of a comedy sketch.
Which is why I've often asked myself on Wednesday nights, What the hell am I doing here?
People invariably describe me as "shy" or "reserved." I prefer email to phone communications because I can edit it. "On the fly" or "seat of the pants" has never described my chosen way of doing anything. And decades ago, when I made the mistake of taking a graded class in improv, I earned a C-plus, the worst course mark of my academic career.
I remember how desperately the instructor — a member of the successful improv troupe War Babies and a bit player in movies such as This Is Spinal Tap — tried to get me to loosen up. In one exercise, where group members impersonated linked mechanical parts, he ordered the class to embody a giant "Margot Makes Her Debut" machine. It was a disaster.
When I arrived at the Spark Arts drop-in, I hadn't done improv since I was 14 — and felt like that awkward middle schooler again. But, as an adult, I sought the rush that comes from stepping way outside your comfort zone.
To my relief, the atmosphere at Spark Arts was relaxed and supportive. Hartswick and Miller take care not to put anyone in the hot seat, and they offer lots of positive reinforcement along with guidance.
Sure, I sucked. I could only marvel at the regulars who slipped seamlessly into new characters and never fumbled for words. But accepting that 90 percent of what comes out of your mouth when you do improv is going to suck — or, if you let it, become beauteous nonsense — may just be part of the deal.
As I returned week after week, I started thinking about why a profoundly unspontaneous person would attempt an art of spontaneity — and reached some preliminary conclusions.
Improv is "let's pretend" for adults. Be a pirate! Explore an alligator swamp with a demented guide! Leave your lover in the most dramatic way possible! Improv games allow you to do all this and more, provided you follow basic rules, starting with the cardinal principle of "Yes, and…" This means that, if a scene partner informs you that you are a pair of foot-fetishist cannibals, you may not reply, "Um, no." Your answer should be more along the lines of "Mmm, that dude's pinky toes look scrumptious."
To give method to the madness, you must also work to establish the scene's basic parameters: character, relationship, objective, when and where (handily abbreviated on Spark's whiteboard as CROWW). The audience needs to know whether those foot-fetishist cannibals are elderly spouses, parent and child, or two weirdos who just met via Craigslist. CROWW teaches you to determine your character's identity and motivation up front — a good skill for any actor or writer.
Improv is cheap group therapy. No, you don't have to reveal your intimate secrets (thank God). But, while it lacks the confessional aspect of psychiatry, improv is all about learning to play well with others, establishing the trust and open communication without which you couldn't possibly impersonate foot-fetishist cannibals together.
The circle exercises that start each session at Spark Arts are designed to get participants to make eye contact and read body language as they mime tossing each other invisible balls or chopping each other with invisible samurai swords. If you're not alert and responsive to others, you won't be able to keep up the pace. Sure, you'll feel like you're playing a goofy game at summer camp as you chant nonsense words at near-strangers. But you're also polishing the interpersonal skills that atrophy when you spend long days interacting with people via email.
Improv can't be perfect. Don't get me wrong. Not all improv is equal. (See sidebar on Ben Rameaka, who does it professionally.) When I watch Spark Arts Troupe perform, I admire the crackerjack speed with which they transform random prompts from the audience into something resembling a scripted comedy sketch. Some people are stumped by dictates such as "you have hooks for hands"; others instantly see a character in their minds, complete with accent and backstory.
But when you stop trying to think of jokes and let your body feel its way into the character, sometimes that's when the funny happens. Mathieu Gagne, a veteran of ImprovBoston who teaches at Spark Arts, emphasizes that improv isn't just about cerebral quick-wittedness — there are strong physical and nonverbal components to it, too.
An art that can't be perfected — just practiced — is hard for my perfectionist mind to accept. But the more I do improv, the more I notice everything that's unplanned and improvised in our daily lives. No rehearsal, no script — riding the wave of randomness is a skill we can all use. Sometimes you need to just go with it.
Green Mountain Comedy Festival Opening Night Improv Jamboree. Wednesday, May 22, 9 p.m. at Club Metronome in Burlington. $10. 18+. ImprovBoston & Friends. Saturday, May 25, 7 p.m. at Club Metronome in Burlington. $10. 18+. iSpy All-Star Improv Show. Saturday, May 25, 9 p.m. at the Monkey House in Winooski. $8. 18+. greenmountaincomedy.com; sparkartsvt.com