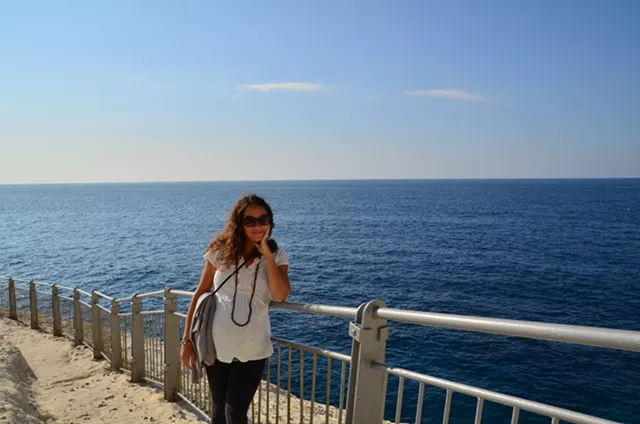 Jessica Lara Ticktin
Thinking about going home
Since September,
Kids VT
contributor Jessica Lara Ticktin has been traveling the world with her family, homeschooling three daughters along the way — while pregnant. This is her final post.
"I must cross the Atlantic."
This became my mantra. Like a European explorer hundreds of years ago, I had only to get to the New World. Then the baby could come. Nothing else would matter, as long as we were on the right side of the Atlantic Ocean.
At Gatwick Airport in London, I wore layers of baggy clothing and a long scarf draped over my belly. I propped the girls in front of me as we waited in the check-in line. I had a letter from a doctor in Israel (written, so conveniently, in Hebrew) saying I had a normal pregnancy and was OK to fly. But how would this go over when I looked like I was nine months pregnant?
[jump] Friends and relatives in both Israel and England shook their heads and proclaimed I was not going to be allowed on the airplane. My mother wrung her hands at home, writing me emails about pregnant women who were stuck in faraway places when they weren't allowed to board planes on their way back from vacations. She told me terrible stories of babies coming prematurely, of thousands of dollars racked-up in medical bills, etc. How reassuring!
I did not want to have a baby anywhere but in Vermont, hence my mantra. I decided that it would be no use pleading with some airline clerk, trying to translate the Hebrew into English or even lying about how far along I was.
No, my best tactic, I decided, was deception.
If I just looked like I was overweight, no one in their right mind was going to ask me how far along I was. I wore a loose-fitting dress as a shirt over black maternity leggings. With a long, pink shawl and flowing sweaters on top, I was sweating to death but definitely concealing the rotund nature of my belly.
Turns out, it worked. On all five legs — leaving Tel Aviv, Athens, London, Reykjavik and, finally, Washington, D.C.
Jessica Lara Ticktin
The first night of Hanukkah
I have never been as uncomfortable on a plane. I was 35 weeks pregnant and couldn't sleep or move much. I kept circling my ankles and making small movements to avoid a blood clot. I kept a low profile and studied the flight map, celebrating quietly with the progress we made each hour.
Once we arrived into Washington, D.C. we all breathed a collective sigh of relief. Lola exclaimed, "Mama, you made it! You did it! No one asked you!" And little Kaya said, "Mama, you can have the baby now!" and we did a little dance.
We knew then that the baby would be born in America. It didn't matter if United Airlines didn't let me on the plane to Burlington because I knew that if we had to, we could rent a car and drive the 500 miles back to Vermont.
Still, adjusting to being home again may be the hardest part of our trip.
We were excited to arrive back in Burlington. We love our home and our community, and the girls were ready to be in one place again. But it's hard to come back to a place that hasn't changed when you feel different.
It isn't easy to explain how exactly we all have changed except that we are now seeing with new eyes. I was watching Dahlia as we made our first trip to the grocery store again and she said, "Mama, everything is the same. It's kind of …weird." I knew she was struggling with a cognitive dissonance.
How do you reconcile the familiar being strange? How do you assimilate after four months of traveling around the world, experiencing such an array of people, landscapes and food, being challenged in every way possible?
I don't know the answers to these questions except that it will take time, some processing and a few important rituals. We're trying to hold onto some of the intentionality with which we moved through the world on our trip, to apply it to our lives here in Vermont.
After a family meeting at which we talked about how much we wanted to keep the spirit of the trip alive, Dahlia wrote down these goals:
1) Once a month, we'll do something cultural from each place we have visited. This might take us to Montréal or New York where there are Chinatowns and Japantowns and restaurants with food from Jordan and Turkey.
2) Keep up with homeschooling on weekends (especially math and self-driven projects).
3) Have Shabbat dinner with friends once a month and by ourselves once a week.
4) Make a big cook together on weekends.
5) Have a family movie night every second Friday.
6) Continue with the 3 C's (caring, curiosity and confidence).
7) Find ways to give back to our community.
This is just a start. We also plan to make photo albums from each country we visited so that as time goes by, we can look at them, talk about the experiences we had and keep the memories alive.
The loftier goal is to make small but pivotal changes in our lives. This means slowing down, being present, appreciating each other and being a team.
Jessica Lara Ticktin
San Francisco, the first stop of the trip
After four months without cell phones, Adam and I picked them up again with trepidation and reluctance, knowing how easy it is to become a slave to the constant connection.
It is with bittersweetness that we return to our normal lives here. I have loved being together as a family for so many days, getting in tune, stepping to our own rhythm. Adam and I have fallen in love in new ways and our special bond has strengthened deeply, profoundly.
The first night home we looked at each other, incredulous, laughing, as if to say, "We did it! We pulled this off and we made it back safe and sound!!" We were amazed at our own temerity.
At times during the trip, we were not sure how things would go, times when we had not planned well or at all, when we put our family's safety in the hands of total strangers.
Would we do it again? Absolutely, in a heart beat. Why? It was everything I had hoped it would be and more.
Our team of five traveled together to some of the biggest and most beautiful cities in the world — Tokyo, Beijing, Cape Town, Istanbul, Tel Aviv, Athens — and also stepped off the beaten path to small towns and coastal areas. We explored and swam in the Pacific, Atlantic and Indian ocean; the Mediterranean, Red and Dead Seas.
We cared for and amused each other, slept side by side across eight countries spanning three continents. We leaned in close and held on tight for the ride of our lives. I put the girls to bed in so many different rooms, hotels, apartments, trains, tents and huts and marveled at their adaptability. We watched each of our daughters grow resilient, strong, confident, open and caring.
Jessica Lara Ticktin
The view from the Acropolis in Athens
In almost every country, the girls got to see or interact with wildlife up close: dolphins in Hawaii, snow monkeys in Japan, pandas in China, elephants in Africa and camels in Jordan. The generous friends and family who hosted us around the world — exceeding our expectations with their kindness — inspired us all to commit to doing the same for others.
When this baby grows up and learns about our adventures around the world, we just may have to pack our bags and head out to be nomads again (to be fair!). But in the weeks to come, we will return to our lives, going our separate ways during the day and meeting back in the evenings.
How bitter that separation will be. How sweet our precious time away has been.