China has our senses in overdrive. The sheer number of people, the noise, the smells, the pollution, the beauty and the chaos are overwhelming. In Japan, things were orderly and intentional. In China, it's more like "anything goes."
We love to see grilled insects on sticks and the colorful, unfamiliar vegetables on display at markets. The girls are amused by the toddlers with holes cut into the crotch of their pants for toilet training, which happens in the middle of the street sometimes.
As we make our way through this country, I realize that we are as fascinating to the Chinese as they are to us. In a country of one-child families, we don't just stand out for our Western looks but for our many children. Everywhere we go, people point, stare, get out their cameras or approach us to ask questions. In a crowded subway car, people generously clear seats for us to sit as a family, or reach out to help when they see we need it.
Kaya, with her Shirley Temple curls and chubby cheeks, seems to attract the most attention. It's like we have a celebrity on our hands. We have had to usher her away from gathering crowds as they grab and pull her.
To make things even more intense, the first week of October was Chinese National Holiday week, meaning everyone was off from school and work celebrating and touring around the country. With nearly 1.4 billion people, this makes a big impact. It took us 3 and a half hours to drive 50 kilometers to the Great Wall (it was worth it!).
[jump]
Our first week in Beijing, we stayed with my dear childhood friend Jodi, her husband, Mike, and their two boys. Jodi, who works in the trade department at the Canadian embassy, treated us to her vast knowledge of Chinese history and politics. She speaks Mandarin so she served as our translator and guide, something we haven't had since we arrived in Asia.
Another first for us: We could let our guard down. We were staying in the Canadian embassy compound with 24-hour guards and huge spiked gates. This was strange and added an almost unreal dimension to our stay.
But Jodi's home was welcoming, and her incredible generosity provided us with some much-needed relaxation after our intense last week in Japan. We set up school each morning and got the girls back into a regular rhythm.
Adam and I have become stricter and more structured teachers than we were in Japan. We're learning the ropes of homeschooling and finally getting some good systems in place. The first is a point system for good behavior and attitude. On any given day, the girls get one point if they behaved well, or no point at all. When they reach 10 points, they earn a small souvenir from whatever country we're in.
Adam came up with the second system, called the 3Cs, in which the girls are encouraged to devote themselves to the concepts of caring, confidence and curiosity. Each day, we ask them to demonstrate ways in which they were caring toward each other. They must exhibit confidence in their actions and curiosity about their surroundings. Adam and I take notes on each girl, and every six weeks, give them a progress report with grades and a corresponding narrative.
These systems have been working remarkably well. The girls get so excited when they reach 10 points and are allowed to buy something. Conversely, there are tears when one person reaches 10 and another still has a few points to go. We've found this spurs good behavior and helps the kids focus. They take this system seriously; we go over points every day at lunch, and they remind us if we forget.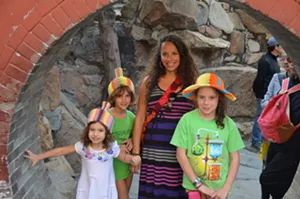 Magic hats at the Summer Palace.
When we visited the Summer Palace in Beijing — a Qing Dynasty retreat from the heat of the Forbidden City — the girls used their points to buy little gold medallions with the Chinese zodiac symbol from the years they were born. They pooled the rest of their money to buy "magic" paper hats (see photo).
We've found that it's the small things that bring the girls the most joy: bunk beds on a Chinese sleeper-train, wearing "toilet slippers" in Japanese bathrooms, picking out post cards. Thanks to those magic hats, and the entertainment they provided, Adam and I enjoyed a full two hours walking through the immense and gorgeous grounds of the Summer Palace.
Adam and I have naturally settled into teaching the girls separate subjects, splitting our time with them so the we each get a break. Adam has taken on math, history and geography. His one-on-one tutoring has gotten Dahlia through her struggles with long division. She's now moved onto complex fractions with confidence. Lola has managed to learn her times tables and is moving onto division.
The girls are designing a board game inspired by China's history, culture and geography. They've made the game pieces and are almost finished writing the cards. They love this project! It's an exciting new challenge for them to have some independence in pursuing their interests and passions.
I am primarily working with the girls on writing, reading and spelling, along with some P.E., yoga and meditation when possible.
The ultimate goal? Make learning fun and show the girls that it can happen anywhere, not just sitting in a classroom. Japan and China have provided incredibly rich learning experiences in all realms. We have been pushed beyond our limits, and all of us have faced emotional challenges. This is what I wanted, even if I forget sometimes.
As Adam told the girls today, this trip is like a mosaic. Sometimes we are too close and can only see one or two colors. But if we take a step back, we can begin to see the beauty emerge.
Kids VT
contributor Jessica Lara Ticktin is traveling the world with her family, homeschooling three daughters along the way — while pregnant. She's documenting her family's adventures until they return to Vermont in December.