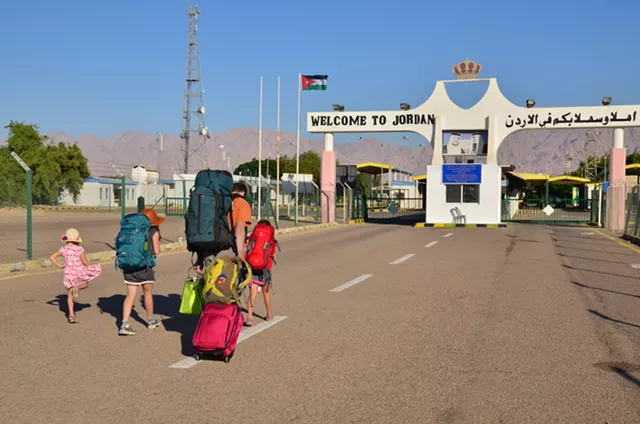 Jessica Lara Ticktin
Crossing the border on foot
Ever since I watched the film
The English Patient
years ago, I have wanted to go on a trek into the North African desert and sit under the magnificent stars at night, wrapped in a warm woolen blanket, sipping tea and sleeping in a Bedouin tent.
Well, I got to do a version of this last week. Instead of the North African desert, we were in the northern Arabian desert, and rather than just me and my husband, our three children were along with us. And, alas, I did not look as glamorous as Kristen Scott Thomas in the film, as I am now eight months pregnant and cannot sit on a camel or move very gracefully.
It might not have been
The English Patient
, but we did stay right across from the giant rock formation and sand dune where the 1962 movie
Lawrence of Arabia
was filmed. This gave me comfort; I was close to some kind of desert film and could adapt my fantasy.
[jump] To get there, we had crossed the border from Israel into Jordan on foot (pretty incredible to be able to walk across an international border — especially between a Jewish and a Muslim country — so peacefully and easily). Then we had taken a taxi to a Bedouin village called Wadi Rum, where our guide met us.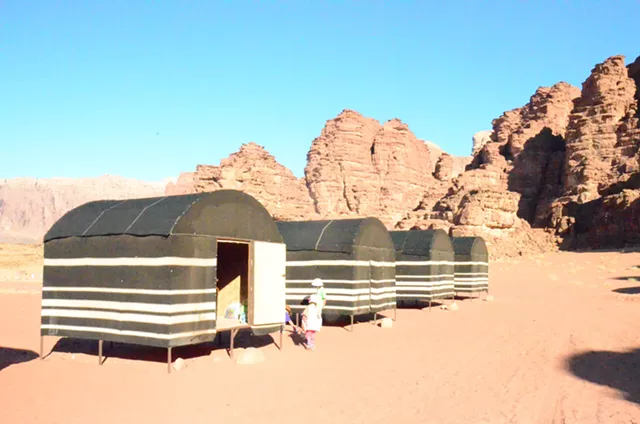 Jessica Lara Ticktin
The Bedouin camp
The Bedouins here are no longer nomads. They settle in villages and only some have what we in Vermont would call a "camp" in the desert. When they say camp, they mean a collection of cloth-covered tents set in the middle of the desert where they retreat for special occasions.
I found this ironic because here we are, Westerners essentially acting out being nomads for four months, and we finally meet the real deal — the desert nomads who for thousands of years have roamed this landscape with their camels and goats and expert tracking and navigational skills — only to find them talking on cell phones and driving big cars.
This rattled my brain. While we, a privileged family from the Western world, seek a slower-paced life and disconnection from technology, others are desperate to access and emulate our fast-paced, constantly connected lifestyle. This has proved to be an interesting discussion point for our family.
While our guide, Mohammed, drove us out to the camp, I improvised a "belly hammock." I sat in the front passenger seat of the 4-by-4 with my pashmina shawl wrapped wide-style around my now very round belly, and Adam sat behind me holding the ends of the shawl over the seat like reins, securing my belly tightly in place while we bumped rather harshly over the sand and rock.
We arrived into our camp at sunset and watched beautiful orange and pink streaks across the huge expanse of sky. As soon as the sun set, the temperature dropped dramatically, and we had to pile on our sweaters, pants and even hats.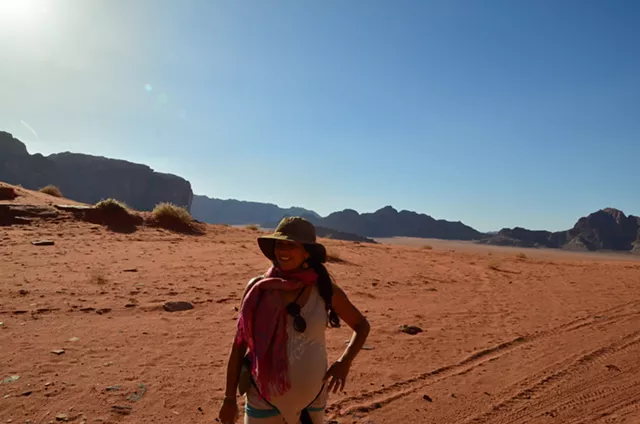 Jessica Lara Ticktin
Jessica in the desert
I must have been the only pregnant woman in the middle of this vast landscape. Mohammed, our smart, young Bedouin guide, told me that pregnant women don't usually venture out here. There was nothing except red, biblical-looking mountains and sand dunes (the girls tried sand boarding — fun, but can be brutal when flipping over into a face full of rough sand).
One morning, Mohammed took us out to a large rock formation and showed us where we were going to climb and where we would make lunch. (We'd already watched him make a fire out of desert scrub and put a black iron kettle of tea on top.)
He laid out a large mat and a cushion and motioned for me to sit. I looked at Adam, concerned, and he looked at Mohammed. "Isn't she coming with us?" he asked.
Mohammed laughed and said, "No! She cannot do this! You think she can climb this? Much too hard. She will wait here for us."
I looked around again. Nothing but desert sun and miles of sand dunes and red dust. "How long will this take us?" Adam asked with some mixture of hope and alarm.
"Two and a half hours" Mohammed replied.
Did he really expect me to sit in the hot sun in the middle of the desert, alone, with nothing to do, nothing to eat and no one to talk to for two and a half hours? Apparently, he did. He is a Bedouin, after all, even with a cell phone.
We managed to explain to Mohammed that if he could take us somewhere else where we could all walk together that would be best. I knew Adam and the girls were disappointed, since the climb he had proposed was the kind of crazy-hard challenge they had done the day before, but even harder and more fun.
But I had already sacrificed half the day for them, waiting around by another sand dune with Kaya while Mohammed's brother watched over us and made us lunch and hot tea. Today, I wanted my fantasy of trekking in the desert together.
Jessica Lara Ticktin
Camels in the north Arabian desert
Mohammed drove us to a different spot and said, "I will meet you there," pointing in a general western direction. "Don't worry, if you think you are lost, I track you and find you."
How comforting! And yet I completely trusted him and knew that this land, which seemed so foreign and unknowable to us, was as familiar to him as our hometown was to us. He spent his childhood in this vastness, climbing the same rocks, exploring the same canyons.
As soon as he dropped us off, we began walking toward a big canyon. Adam left me alone to walk around it while the girls and him scrambled up and through it. I enjoyed the solitude at first, the warm winter sun bathing me with it's red-golden hues.
I didn't think it would take them long, and neither did Adam, but I must have waited an hour and a half in the sun and eery silence, each moment feeling longer as I convinced myself that one of the kids had slid down the rock wall and cracked her head open, or that they were all stuck in some tiny crevice and I couldn't help them.
Not knowing what else to do, I eventually kept walking, spying Mohammed's truck in the distance, like a mirage. Once I made it there, I flopped down on the mat he laid out for me. I tried to keep my thoughts positive but by the time Mohammed broke the silence and told me that he was going out to search for them, I was fighting back tears and panic.
This wasn't supposed to be how things turned out! How would I manage without them all? My pregnancy hormones have made me worry far more than I usually do, and I feel much more vulnerable, too. When the four of them finally emerged, I wanted to lie down and weep with relief.
That night, the beautiful sky lived up to my
English Patient
fantasy. The stars were astoundingly clear in the crisp air. We had a private cook (Saoud, an Egyptian) who made us amazing Bedouin meals that we ate sitting cross-legged on carpets in a big tent while the fire blazed nearby. He showed us how to eat Bedouin style (no utensils, using only the pita as a tool and sharing all the dishes), and the food was delicious.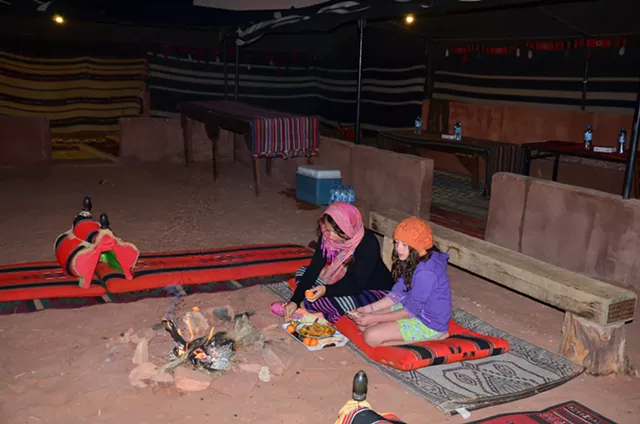 Jessica Lara Ticktin
Eating Bedouin-style
But the wind howled at night and so did dogs… or wolves? One night, I woke up in the tent at 3:30am, freezing and terrified, thinking,
What if my water accidentally breaks? What if I start bleeding or having contractions? How long would it take to get to a hospital?
Or, more immediately,
How can I go outside to pee when I might be attacked by a pack of dogs or bump into a camel?
These are not good thoughts to have when you are stuck in a Bedouin tent camp in the middle of the northern Arabian desert, miles away from everything.
By the time we left our camp, I was ready to leave the desert and let go of my fantasy forever. While the beauty and starkness of this harsh landscape appealed to me on a literary and visual level, perhaps in reality it is not an ideal retreat for a very pregnant woman.
Still, I plan on watching
Lawrence of Arabia
when I get home. After all, Mohammed the Bedouin highly recommended it.
Kids VT
contributor Jessica Lara Ticktin is traveling the world with her family, homeschooling three daughters along the way — while pregnant. She's documenting her family's adventures until they return to Vermont later in December.