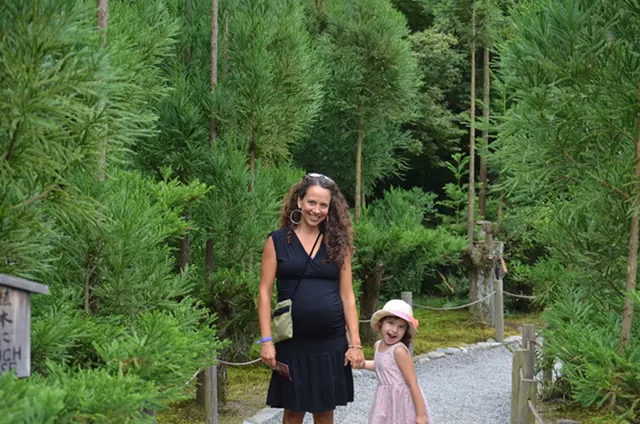 The most striking change in our lives thus far is the way we experience time. We've broken with the fast-paced, busy culture we've lived in for so long, and our days have taken on a new rhythm. Inner forces, rather than outer ones, now drive us.
We haven't used an alarm clock all month — unless we had an early plane to catch. There's no rushing around to get three kids out of bed in the morning, gulping down breakfast, slapping together school lunches and running out the door. Instead, our mornings are peaceful. On this family sabbatical, we eat breakfast at our leisure and take a morning walk when we are all up and ready.
School has a soft start each morning. If the girls need more sleep, we let them rest undisturbed. The other day, Lola got up with me before 8 a.m., while Dahlia and Kaya continued sleeping. It was special to have one-on-one time with my middle child during a quiet hour.
We eat our all meals together and have learned to take our time and serve each other, alternating who makes toast and who sets out plates and washes and sweeps up afterwards. This change of rhythm has instilled a calm in all of us, creating an ideal environment for learning. What a difference it makes to slow down and listen to our bodies and minds.
[jump] Looking back, I can see how the hectic nature of our life in Vermont was creating a disharmony not only among us as a family but within us as individuals. We relocated from New York to Vermont in 2009 to find a slower lifestyle. But it doesn't matter where we live; we create our own family rhythm. Even in Vermont, we've been filling up our days, leaving little time for reflection, let alone meditation.
With three busy children and a husband who travels every week, my life was feeling more and more stressed. I was so harried from trying to fit so many activities into my day that by the time dinnertime came around, I started snapping at everyone. I just wanted to retreat to my bedroom to read, alone. I wondered what message I was sending to my children.
Which is why this trip felt so necessary. It wasn't just about taking the girls on an adventure in foreign lands. It was about spending time together as a family. I wanted us to enjoy each other, to laugh and learn together. I wanted us to be intentional about the way we spend our days.
It seems to be working.
Here in Japan, everything feels intentional. Indoor spaces may be small, but they're thoughtfully designed to create a sense of beauty and restfulness.
Outdoor spaces are similarly serene. Last week we walked the Philosopher's Path, which meanders along a lovely canal filled with huge goldfish and carp. The hike fostered introspective discussions, as hikes normally do in my family. But this time felt different. We weren't hiking to reach a summit, but walking for the sake of thinking.
Every shrine we've visited has a place to sit and reflect. Every house has a
genkan
— a space to leave your shoes before entering — and every time we enter a house, store, restaurant or museum, the host or attendant bows to greet us with warmth.
There is a sense here of always being present. As we move through the world, we are constantly reminded to show respect, to slow down and to find beauty.
This resonates deeply with me, and I can see it having a positive effect on the girls. Lola says she loves the rituals, the design and the kindness here. She wants to move to Japan.
On Saturday, all three girls took an origami class, and Adam and I had one precious hour alone. We walked the Imperial Gardens of Kyoto, and I felt I had come unmoored. How freeing — and disorienting — this time away from home has been.
How do I make sense of these days? Where do I anchor myself? This new rhythm is beautiful and different, and I am learning, like we all are, to find shape in it as it shapes me.
Kids VT
contributor Jessica Lara Ticktin is traveling the world with her family, homeschooling three daughters along the way — while pregnant. She's documenting her family's adventures until they return to Vermont in December.