Jeb Wallace-brodeur
Joey Nagy (left) with farmworker Joe Thompson at Marble Hill Farm in Fayston
The wind whipped through the fields on a recent morning at Marble Hill Farm in Fayston, where Joey Nagy and his partner, Georgia von Trapp, raise livestock and grow vegetables for the Mad Taco restaurants. Nagy checked on the goats in one pasture, said hi to his livestock dogs and pointed out landmarks visible to the north: Ploughgate Creamery, Knoll Farm, Burnt Rock Mountain.
In the barn, he fed hay to a few Kiko goats; then he got in his truck and drove a couple of miles to Waitsfield, site of the original Mad Taco restaurant. I drove ahead in my car. Billowy puffs of smoke and the smell of a campfire cookout signaled our destination in a strip mall on Main Street. In front of the restaurant, two smokers that burn sugar-maple wood — at the rate of a cord every eight to 10 days — were smoking meat.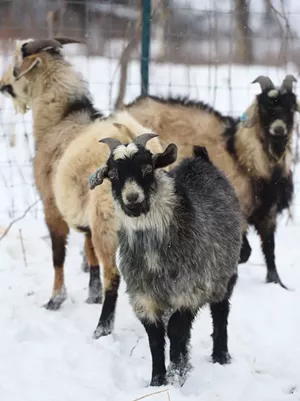 Jeb Wallace-brodeur
Kiko goats at Marble Hill Farm
The Marble Hill Farm goat and turkey, along with other meats, are smoked here for the four Mad Taco restaurants that Nagy owns with business partner Wes Hamilton. (The fourth one opened in late October in Middlebury.) Nowhere is the Fayston farm food consumed closer to home than at the original site.
"Slightly different atmosphere here," Nagy commented, taking a seat at the bar about 10 minutes after feeding his animals. "Polar opposite." With those few words, Nagy articulated what I was noticing, too: the contrast between the cold expanse of the hill farm inhabited by animals and the warm barroom filling with people.
In the coming year, his 10th as a local restaurateur, Nagy intends to increase production at Marble Hill Farm, strengthening its connection to the restaurants.
"It's a lot of work," he said. "But if you want to talk about local food systems, how much more local does it get?"
Nagy and I ate goat tacos for lunch. The meat was about a week off the farm and 14 hours off the smoker. It had been dry-rubbed with curry powder, paprika, salt and other spices, its cavity filled with onions, carrots and garlic. It was then wrapped in butcher paper and smoked for about 10 hours.
Pulled from the bone in the kitchen, the meat was tender and earthy and topped with sliced radishes, chopped onion and cilantro. It didn't need flavoring from the housemade salsa, but I ate a few pieces with a squeeze from a bottle labeled Hawt Sawze, marked seven on a heat scale of 10.
Jeb Wallace-brodeur
Farmworker Joe Thompson with a barn cat
"The goal of the goat farm is to have this on the menu as a regular special one or two times a week, year-round, at each restaurant," Nagy, 38, said.
Hamilton applauds that effort. By telephone later, he called the restaurant industry "a fairly gross and monstrous endeavor" that offers few road maps for more sustainable practices. (Hamilton is also a co-owner of Three Penny Taproom in Montpelier. Nagy manages the overall restaurant operation of the Mad Taco; Hamilton oversees the administrative/financial piece.)
"Before Joey and Georgia bought the farm, we spent a lot of money doing the very best we could, purchasing the highest-quality ingredients we could," Hamilton said. "It's something we're personally committed to." Marble Hill Farm adds "another dimension" to this work, he added.
Jeb Wallace-brodeur
Joey Nagy feeding his Kiko goats
"Some things [in the industry] are easier to overcome than others," Hamilton, 40, said. "We're trying to constantly figure out the better and best ways to do things."
Nagy and von Trapp bought the 297-acre conserved hillside farm with her brother, cheesemaker Sebastian von Trapp, four years ago. The von Trapp siblings share a farming background, having grown up on a dairy farm in Waitsfield. For Nagy's part, he said, "I'm learning as I go."
He's raising goats and turkeys because those products aren't readily available on the local market at a reasonable price. In 2020, Marble Hill Farm intends to increase its turkey operation from 100 birds to 1,000. As the farm operation grows, Nagy hopes to achieve a 50-50 split between agricultural work and running the restaurants.
"I would go crazy if I was on the farm all day," he said at the Mad Taco bar. "I'm very social, and I need to find that balance."
On the produce side, von Trapp grows tomatoes, peppers, greens, tomatillos, butternut squash, cilantro and other herbs. During the height of the season last summer, she harvested roughly 800 pounds of tomatoes a week.
"And they're gone in a week," Nagy said. "There's not enough to put anything away. We're trying the best we can to raise as much as we can." The farm is adding greenhouse space, he said.
The tomatoes form the base of the vegetable stock that the Mad Taco uses to cook rice. This dish and other food, including beans, salsa and kimchi, are prepared in the Waitsfield commissary kitchen and transported three days a week to the Mad Taco's other locations in Montpelier, Essex and Middlebury.
The commissary opened two years ago and further increased the size of the Waitsfield site — an operation that has grown incrementally since it opened as a to-go shop with a few stools in November 2010. A dining room and then a bar were added on either side of the counter-service area. Staff members sometimes call the place "town hall" because it's a hub of activity, Hamilton said.
"I think a huge component [of the growth] is that Joey's a very social person," he said. "The community started coalescing around his personality and his interest in having a good time — not just merely eating good food, but having a good time."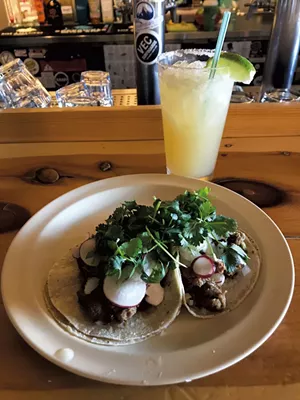 Sally Pollak
Goat tacos and a margarita at the Mad Taco in Waitsfield
Hanging out with Nagy at the bar, eating tacos and drinking a margarita, is a good time that comes with a "town hall" component.
A man picking up an order of carnitas torta asked Nagy if he'd trade pottery for a piece of goat for Christmas dinner. The answer was yes. A guy a few barstools away joined our conversation to report that when people dress up as Nagy on Halloween — as locals apparently do — the key to the costume is Nagy's ever-present phone.
An authentic Halloween getup would also include a worn Carhartt jacket and big work gloves on the farm. For dressing up as the social Nagy, a pint of Hill Farmstead Brewery's Edward on the bar is a realistic touch.
Nagy, who grew up in Chico, Calif., moved to Montpelier in 2004 to attend the New England Culinary Institute. He returned to California two years later and managed banquets for Hyatt Regency, a position that required feeding lunch to hundreds, if not thousands, of people a day, he said. In those SoCal years, the Nagy Halloween costume would have been clean-shaven, with gelled hair and pressed whites.
"Life's too short not to have fun," Nagy reflected. "That's why I'm not in the corporate world anymore."
In the winter of 2010, he returned to central Vermont and had a job cooking at Three Penny. In those days, the taproom didn't have a restaurant and barely had a kitchen. Nagy cooked for bar-goers on a panini press and George Foreman grill.
In the spring, hanging out in Waitsfield with von Trapp, Nagy heard about a little restaurant space coming up for lease in the strip mall. "At the time, I couldn't find any other tacos in Vermont," he said. By mid-November, the Mad Taco had arrived in town.
In November 2020, to celebrate 10 years, Nagy wants to throw a goat-roast party in the parking lot. The meat will come from Marble Hill Farm.
"I think small farms are going to save everything in the end," Nagy said. "The closer that the food is raised or grown to the people who are eating it, the better."