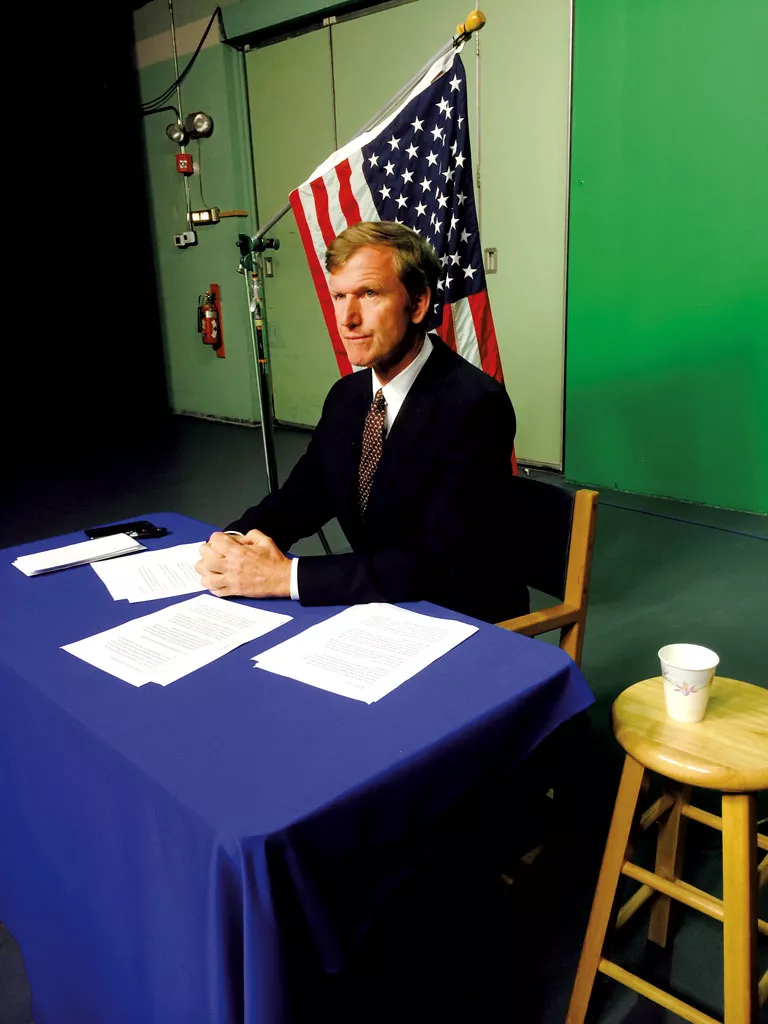 Mark Davis
Scott Milne recording a spot for Vermont PBS
Around 8 a.m. last Tuesday morning, the Wayside Restaurant & Bakery in Berlin was jammed with regulars and tourists. Seniors in jeans and T-shirts sipped coffee at the counter, while businessmen tucked into plates of pancakes. Some people stole glances at a tall, lean man dressed in a sharp navy suit as he folded himself into the booth closest to the kitchen. Others couldn't help but stare. But all the man had to offer were polite nods.
As he slowly ate his oatmeal and dry wheat toast, the man had one request for the waitress. The owner of the place was an old friend. Might he have time to come over and say hello?
"Do you want me to tell him who is here?" the waitress asked.
"Just Scott," the man said.
All together, Scott Milne, Republican candidate for governor of Vermont, managed to spend an hour inside the crowded diner a month before Election Day without introducing himself to a single voter.
His novel approach was consistent throughout a day on the campaign trail, during which Milne drove himself across central Vermont — without an aide — to nursing homes and fire stations, media appearances and meetings with party officials. The 14-hour stretch revealed a candidate uncomfortable with many rituals of modern campaigning.
That's surprising, because Milne grew up surrounded by politics. His parents, Marion and Don, both served in the state legislature, as did his grandfather Henry, who was forever telling his young grandson stories about Vermont political figures from the good old days. A typical Milne campaign speech or interview usually includes references to long-forgotten Vermont politicians and government commissions from the 1950s and 1960s.
His approach to campaigning is old-fashioned, too. Milne explained that he doesn't really want to run for office, at least not in the modern sense of the term. He wants to "stand for election" — simply put his name forward, rely on his reputation and make himself available to answer questions from voters.
"The way political campaigns are run, I don't think is great for democracy. Standing for election has a lot of good attributes," Milne, 55, said in an interview. Being transparent and answering voters' questions is the way to run — not buying TV ads and giving sound bites, he said. "I'm trying to be a modern version of the throwback candidate. I'm not selling it like I'm going to fix all your problems."
Mark Davis
Milne greets an acquaintance on the House floor
Milne has little money, minimal support from state or national groups, no campaign manager or spokesman, and zero experience running for statewide office. His makeshift campaign got under way two months later than he planned. In the eyes of most observers, he has performed poorly in debates and other media appearances, and struggled to give voters a clear sense of what he would do if he were to defeat Democratic Gov. Peter Shumlin.
And yet, while painfully aware of his campaign's faults, Milne believes voters will be more forgiving than political insiders whom, he said, are judging him on criteria that most Vermonters consider to be as trivial as he does. His laissez-faire campaign, he said, is as much a strategic decision as a principled stand.
"It's obvious I'm not knocking it out of the park on my first swing," Milne said. "I think I've got a bunch of good ideas, but I'm running to fix what's wrong, not to shove new ideas down people's throats. My path to victory is, it's a referendum on Shumlin. The question is: Am I a credible alternative?"
Last Republican Standing
Most Vermonters, if they have heard of Milne at all, know of him through his family's business: Milne Travel. (Coincidentally, his opponent worked in a similar enterprise before he was elected governor.)
A Barre native, Milne went to college at the University of Redlands in California and returned to Vermont in 1987 to run the company's office in West Lebanon, N.H. Now the Pomfret resident oversees 70 employees scattered in offices in Burlington, Barre, Middlebury and West Lebanon. The agency, he says, has adapted to the internet age through aggressive expansion, and has bought out more than a dozen competitors in recent years to become the largest family-owned travel agency in northern New England.
While he spent most of his adult life focused on the business and his two children, Milne always followed politics closely — and occasionally engaged in electoral democracy. In the 1990s, he made an unsuccessful bid for a seat on the Pomfret selectboard. A year after his 2005 divorce, he ran for a Vermont House seat — and lost.
Milne was a donor and supporter of Brian Dubie when the former Republican lieutenant governor ran for the state's top job in 2010. His theory is that Shumlin beat Dubie because he was forced into a close-fought, four-way Democratic primary that gave Democrats months of free media exposure and helped sharpen Shumlin's message.
Last spring, Milne let it be known that he would consider challenging the presumed frontrunners for the Republican nomination, Rep. Heidi Scheuermann (R-Stowe) and former state senator Randy Brock.
"I'll run in the primary, take a couple months off in the summer, have some fun, raise some issues, Heidi Scheuermann or Randy Brock will beat me, and I'll go back to my travel business," he remembered thinking.
But as summer neared, Scheuermann and Brock declined to challenge Shumlin. For a few weeks in June, it appeared as though the Republican Party might not put forward any candidate for governor. Milne found himself alone.
When he formally filed for election in the last hour of the final June day on which candidates would submit paperwork, Milne told reporters he thought he had a 1 percent chance of winning.
Lt. Gov. Phil Scott, one of the few Statehouse Republicans with whom Milne has any kind of relationship, offered him similar odds: "Lightning does strike," Scott told Milne when the Republican candidate first told the lieutenant governor of his plans.
Milne's campaign got off to a rocky start: His first announcement was a disclosure that, while in college, he was arrested twice for driving under the influence and once for possessing small amounts of marijuana and cocaine. His children, who are now in their twenties, had never before heard the story.
As for his own parents, Milne figured the gubernatorial campaign would allow him to spend more time with them.
His mother, three-term legislator Marion Milne, was put in charge of his campaign field operations, where she could tap into her extensive list of business and political contacts.
His father, Don Milne, who has worked as clerk of the House for two decades, would have to remain officially nonpartisan, but planned to spend vacation days driving to campaign stops with his son.
A few weeks after Milne entered the race, Don Milne contracted pneumonia. He was hospitalized for much of July. Doctors feared he would not survive.
On July 22, with his father's health finally improving, Milne held a delayed campaign kickoff event at a Barre library. His mother introduced him.
Three weeks later, she died suddenly at the age of 79.
Milne, shaped by his parents, had to soldier on without their help.
In the Name of the Mother
Milne couldn't afford to pass up an invitation from Vermont PBS to film and air a free spot explaining his platform, even though a trip to the station's Colchester studio disrupted a day of campaign events in central Vermont.
His opponent has raised more than $1 million and has been advertising for weeks. Milne has raised more than $130,000, including $25,000 he loaned himself. If he gets to $200,000, he can afford to run one or two commercial television ads closer to Election Day.
At VPT, the lanky, ruddy-complected candidate with strawberry blond hair seemed comfortable at first. He was on a first-name basis with a half dozen station employees, and they greeted him warmly. Milne Travel has long been an underwriter of the station, and he served for a time on its governing board.
But once in the recording studio, Milne's confidence vanished. He had never used a teleprompter and struggled to read his prepared remarks about health care and the economy without fumbling.
"Sorry," he kept saying sheepishly. "Can we do it again?"
After a half dozen false starts, soft-spoken Milne told the producer to shut off the teleprompter. He thought he might do better extemporaneously.
Suddenly, Milne found his voice, rhythmically working his way through a critique of Vermont's economy, a line about Shumlin "flushing $100 million down the toilet" with Vermont Health Connect, and issuing an earnest request for viewers' support.
"You can't do much better," said the producer, with barely concealed surprise. "You nailed it. I'd make that a 30-second spot and send that out."
Milne doesn't have a traditional stump speech, and instead riffs off a small set of talking points he keeps in his head. He mocked Shumlin and Libertarian Dan Feliciano for using notecards during a recent Vermont Public Radio debate.
The emotional high point of any address Milne gives comes when he talks about his mother, whom he never fails to mention. And his money line to voters, "I'm asking you to be naïve enough to believe that your vote can make a difference," is borrowed from her 1994 campaign.
But it seems clear that his mother's influence extends beyond a couple of clever turns of phrase.
In the bitter 2000 fight in which lawmakers made Vermont the first state in the country to recognize civil unions for same-sex couples, Marion Milne was one of a handful of Republicans who voted yes. Long-term, it was viewed as a heroic stand — former governor Howard Dean has said she won a permanent place in Vermont political history.
Short-term, she paid dearly.
After serving three terms as a Republican in a liberal state, she faced a primary challenge from a family friend, who attacked the civil unions vote as a betrayal of conservative principles.
Milne's daughter Elise, a Vermont Law School student, remembers knocking on doors with her dad in support of her grandmother and several residents calling her a "fag." She was 8 years old.
Despite the backlash, Marion Milne made her civil union vote the centerpiece of her campaign. She lost the primary, ran as an independent in the general election, and lost again.
"My mom lived her life that way," Milne said.
He brings up the story repeatedly on the campaign trail, and it echoes when he is forced to explain what is perhaps the most persistent criticism of Milne's campaign: His refusal to give a full-throated attack of Shumlin's push to create a government-run single-payer health care system in Vermont, or to offer sharp distinctions about how he would oversee health care differently.
It would seem to be low-hanging fruit, given the frustration with Vermont Health Connect's escalating price tag and glitchy website.
Milne hasn't ignored the issue entirely. He says that repeated website problems "prove" that the technology will not be ready for single-payer in 2017. He says his travel agency spent 100 hours trying to understand and enroll in the state exchange. But Milne has stopped short of attacking Shumlin on the issue, and even left open the possibility that eventually he would support single-payer if elected. For now, Milne says the state should slow down, abandon plans to unveil single-payer in two years and fix Health Connect as best it can.
Milne's position prompted Libertarian Feliciano, with the backing of prominent Republican strategist Darcie Johnston, to enter the gubernatorial race and potentially siphon away conservative voters from Milne.
"Scott Milne's shocking, weak and timid position on single-payer has revealed him to be another big-government Republican," Feliciano said in an earlier statement. "By not opposing single-payer, Milne opens the door to bigger government, higher spending, higher taxes and lower economic growth."
Why not attack single-payer?
Milne says it would be dishonest.
"Everybody tells me that's what I have to do. That's what's wrong with politics today," Milne said. "You should be able to not pretend that there aren't complex answers. Twenty to 30 percent want single-payer. Twenty to 30 percent think it's the devil. I think we should just follow the facts. Single-payer isn't going to work, but I'm not just going to condemn it, because the people that really believe in it, it delegitimizes them ... I wish I could get that into a 10-second sound bite."
Rookie Mistakes
Milne's reticence is not limited to health care. He has no problem telling reporters or supporters that, on some issues, he does not have a position. For weeks, he has said that he will issue policy proposals on education and job creation at a later date.
"We'll be talking more about that," is a common answer to voters' questions on any number of issues.
Milne insists it is not laziness. Rather, it is scorn for the way other candidates try to woo voters on any issue where they can score a point.
"Have a release every day, have press conferences and pretend you have an idea — that's how campaigns are typically run," he said. "I'm trying to be more thoughtful."
Beyond declaring that he would place a two-year cap on state property taxes, hold down state spending and create a commission to develop a 10-year plan for state government priorities, he has offered few specifics of what a Milne administration would seek to accomplish.
His campaign, then, boils down to a handful of principles. Generally, Milne says he would work to decrease the power of state agencies and give communities more control. He would be "pragmatic" and "practical" and seek to make as few waves as possible. And he says he would try to make the state more business-friendly to foster private-sector job growth.
"I promise to listen before I act," Milne told a group of seniors at a Williamstown nursing home. "I might not win, but I'm not going to make a lot of big promises."
He isn't getting a lot of help. Milne said he hasn't had any contact with the Republican Governors Association, which routinely funds candidates, since he announced his candidacy. He acknowledged he has few ties with the Vermont Republican Party. His campaign manager quit over the summer, and Milne hasn't replaced him.
He also doesn't have a communications director, who could have stopped him from committing a few of his worst gaffes. In September, for example, Milne called in to a radio talk show and spent 20 minutes bashing former Middlebury College professor Eric Davis for what Milne said were a series of erroneous assertions about his campaign.
"People I respect said, 'Hey, Scott, rookie mistake,'" Milne said. "I don't think that's unfair."
As for voters, many of them recognized Milne and greeted him warmly as he campaigned last week. Outside a friend's record shop in downtown Montpelier, in a strip mall parking lot outside one of his travel offices and while he crossed the street in downtown Barre, the greetings rang out:
"Hey Scott, how you doing?"
"Good luck!"
Milne waved politely and thanked them every time.
"Got him right where I want him," he sometimes answered.
But not once did Milne attempt to shake anyone's hand, or engage him or her in conversation.
"He doesn't want to play a role to be a better candidate," said Pomfret lawyer and longtime friend Mike Reese. "Maybe that's a weakness ... there are things you have to do as a candidate that make you more effective. Sometimes, you have to stretch yourself beyond your proclivities. He's not aloof. But he's very soft-spoken."
One minute, Milne mocked the time-honored candidate strategy of discussing what one will do "when" one wins election — Milne always says "if." But a few minutes later, he insisted that he sees a viable path to victory, and said that he was pleasantly surprised when a poll released in September showed him within 10 points of Shumlin.
Milne has a schedule packed with events from now until Election Day, and says he will release a slew of policy proposals in the coming weeks.
In between campaign events last week, Milne swung through Montpelier and visited the Statehouse. He was excited to take a visitor to meet his father, who was recently released from the hospital and has started working again.
He bounded up a spiraling staircase to the second floor of the Statehouse, which brought him right outside the governor's ceremonial office.
In front of him, a dozen middle-age women on a Statehouse tour blocked the way. A few recognized Milne, and even those who didn't seemed to assume that he was someone important.
Milne kept his head down and threaded his way through the crowd, his long legs quickly carrying him away.
"Running for governor," the tour guide explained to the curious people he left behind.
Correction 10/8/14: An earlier version of this story referred to Vermont PBS by its previous name.