It happens: A local hangout shutters its doors after a slow year. A chef decides she wants to move out of state. A popular diner goes bust after a crisis in the family. Vermont's landscape is dotted with the eateries of times past — empty spaces still filled with the tables, bar stools and ovens of a previous life, but waiting like orphans for loving new owners.
The restaurants for sale in Vermont are not always empty, however. In this sagging economy, some go on the block while still in operation. In real estate listings, they're billed as turnkey businesses, some with their identities concealed — such as the "full operational pizzeria" for sale in Burlington or the "family-owned Italian restaurant with over 40 years of history" for sale in Shelburne.
The difficulties of selling a restaurant in this economy can be myriad, according to Peter Yee, an agent with Redstone who specializes in restaurant deals. "Sometimes people have an inflated value of what they're trying to sell. But the banks are also not lending as freely as they did in the past," he says. "Sometimes, sellers are having to finance the sale themselves."
Prospective restaurateurs are still chasing the dream, though. Case in point: St. Johnsbury's Elements Food and Spirit was for sale for many moons before the owners decided to shutter the restaurant last December. The closure was crushing for local foodies, but word came just this week that new owners are hoping to start a resto inside the stunning 150-year-old riverside mill. The agent for the deal, Mary Scott of Parkway Realty Associates, says she can't divulge details for another few weeks.
If you're kinetic enough to take on the grueling life of a chef or restaurateur, a range of spaces await across the state. All come with commercial kitchens; some have perks such as riverside decks, built-in clientele or, best of all, location, location, location.
Current business: Saigon Bistro
Address: 119 College Street, Burlington
Building size: 1800 square feet
For sale: Business and equipment
Price: $89,000
The deal: The current 50-seat eatery opened in this space two years ago, but the family that owns it wants to move on. They prefer that potential buyers contact their agent, Redstone, rather than coming in to look around during business hours.
Features: The restaurant boasts an attractive, historic façade and a stellar location — its huge windows look out on College Street, and it's a two-minute walk from Church Street. All furnishings, fixtures and equipment in the full commercial kitchen are included.
Rumors: Might this be the home of Burlington's next vegetarian restaurant? Time will tell.
*****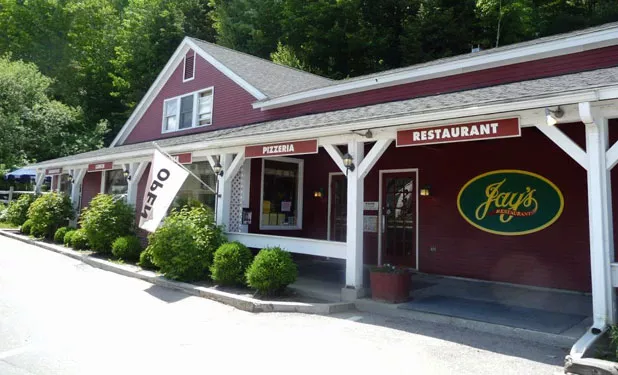 Current business: Jay's Restaurant and Pizzeria
Address: Mad River Green, 114 Route 100, Waitsfield
Building size: 2700 square feet
For sale: Business and equipment
Price: $115,000
The deal: Chef-owner Walter Brink opened this homey eatery two decades ago and has served up thousands of breakfasts, lunches and dinners since then — as well as maintaining a busy catering business. "I've been here for 21 years, and I'm just tired and need to do something different," says Brink. He recently lowered the price from $170,000. "I'm eager to sell," he adds, and thinks the 80-seat eatery's prime position will serve new owners well.
Features: A varied, lively clientele that includes tourists and locals. "We're at the end of the VAST [Vermont Association of Snow Travelers] trail, and that's a good part of our [winter] lunch business," says Brink. Full commercial kitchen and all inventory are included.
*****
Previous business: Santos Cocina Latina
Address: 311 Mountain Road, Stowe
Building size: 7954 square feet
Lot size: 0.55 acres
For sale: Building and land
Price: $2.2 million
Other fees: $13,398.44 annual taxes
The deal: Chef/owner Miguel Garcia Lopez shuttered Santos last year, breaking the heart of anyone who had savored his Latin-inflected fare. Garcia and his wife, Maria Elena Jimenez currently divide their time between Puerto Rico and Stowe, where they still own a home. But they'd like to sell this property, which, prior to Santos, held the French bistro Mes Amis. (It was razed in 2005.) The land is certainly full of good juju from amazing meals gone by.
Features: The soaring, 77-seat dining room and bar on the main floor are filled with light and ambience. Downstairs are an office, walk-in cooler, full commercial kitchen, private dining area and wine cellar. On the third floor, three furnished, one-bedroom apartments have flat-screen televisions and gas fireplaces.
*****
Current business: The Rusty Nail Bar & Grille
Address: 1190 Mountain Road, Stowe
Building size: 9500 square feet
Lot size: 3.9 acres
For sale: Business, building and land
Price: $1.95 million
Other fees: $26,810 annual taxes
The deal: The original Rusty Nail used to share a building on this spot with Stowe Playhouse, but that structure burned to the ground in 1994. Two years later, it was rebuilt by then-owner Bobby Roberts. Roberts sold it to the current owners in 2004, and they have had the Rusty Nail on offer, albeit on the down-low, for months. Business is flourishing, however, under chef Michael Werneke and manager Kate Wise. The mechanical bull may be long gone, but the après-ski scene rages on here.
Features: The price includes a sizable lot as well as a full commercial kitchen, wraparound deck, performance space and built-in cachet as one of Stowe's main après-ski spots. The post-and-beam building underwent a major renovation in 2005. The listing calls this "truly a turnkey business" with 100 parking spots.
*****
Previous business: John Egan's Big World Pub & Grill
Address: 8 Route 17, Waitsfield
Building size: 5247 square feet
Lot size: 0.9 acres
For sale: Building and land
Price: $525,000
Other fees: $11,931 annual taxes
The deal: Egan's Big World was a longtime local and skier hangout where weekend lines were common. (Previously, the space held another beloved local pub, Gallagher's.) Gerry Nooney, who is now the food and beverage director at Sugarbush Resort, used to co-own the business and still remembers it fondly. "I've been cooking all my life in some high-end places, and I've never worked a nicer kitchen than there is there," says Nooney. Even when Egan's was busy, he says, the kitchen's intuitive design ensured "it was never stressful. It just works." Built in 1960, this structure underwent a renovation in 2005. Many locals would love to see this Mad River Valley landmark reopened.
Features: The building includes a full commercial kitchen, large office space, one-bedroom apartment and retail space. It sits in a prominent, high-traffic location at the intersection of Routes 100 and 17.
*****
Current business: Country Pantry Diner
Address: 951 Main Street, Fairfax
Building size: 6000 square feet
Lot size: 0.9 acres
For sale: Business
Price: $79,000 (recently reduced)
The deal: This thriving breakfast-and-lunch spot is "the only sit-down restaurant in the whole area," according to agent Peter Yee. The 111-seat restaurant has been Country Pantry for more than 15 years, offering new owners a built-in advantage. Sales average $60,000 per month, Yee says.
Features: It's a turnkey business with loyal clientele, a full commercial kitchen and a huge basement with storage. It has a visible location on Route 104 and a patio with 35 seats.
*****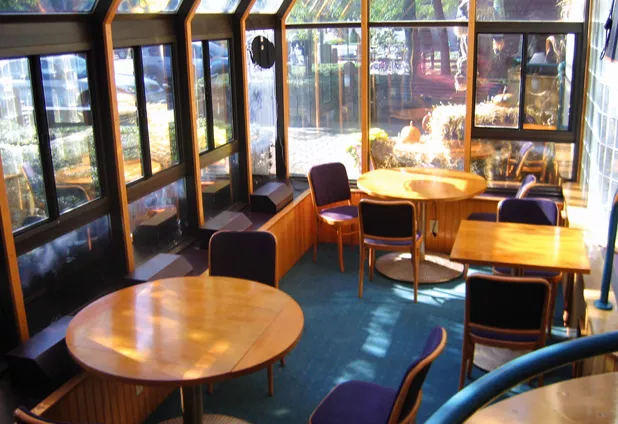 Previous business: The Hideaway Restaurant
Address: 15 Kellogg Road, Essex Junction
Building size: 2600 square feet
Lot size: 0.9 acres
For sale: Business
Price: $249,000
Lease rate: $2500 per month
The deal: The two-floor dining area is full of light and unusual curves. The condo complex it's in has food vibes, too — before the Hideaway, it held the Eclipse Grill and, prior to that, the Wilson Inn. However, the building is decidedly out of the way.
Features: All furniture and commercial kitchen are included. Seller financing is available.
*****
Previous business: East Ender Restaurant
Address: 442 Woodstock Road (Route 4), Woodstock
Building size: 3300 square feet
For sale: Building (condo)
Price: $270,000
Other fees: $4582 annual taxes
The deal: The 124-seat local hangout was a well-loved place to grab a plate of cider-cured ribs or chicken schnitzel — that is, until it closed in the spring of 2011. Before its life as the East Ender, the space held Wild Grass, another popular resto. It's part of a larger condominium complex.
Features: Huge windows fill the space with light. There's a spacious full commercial kitchen, walk-in coolers and parking for 40 cars. The front deck seats 24, and the restaurant also has a private-function room.