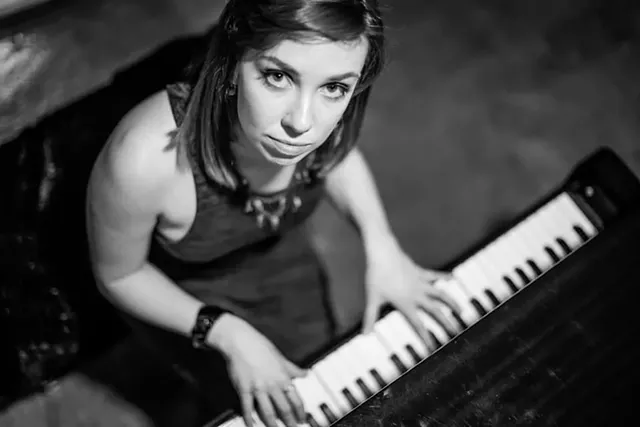 Courtesy of Lyric Theatre
Andriana Chobot
Singer-songwriter Andriana Chobot will premiere a video for a single from her 2022 LP Return to Sincere, "Galaxy Eyes," on Friday, March 17, at the Venetian Soda Lounge in Burlington. To celebrate, Chobot is bringing along singer-songwriter Jesse Taylor — who, after playing an opening slot, will do tarot readings — and a special guest, pedal-steel wiz Cosmic the Cowboy.

Chobot promises a "trippy, visualizer-like" video for a song about "exploring the themes of perception and being perceived," she wrote. The video will be shown twice, at 8 and 9 p.m. Any and all "spacey" outfits are highly encouraged, so go ahead and dust off those moon boots.

---
New band
and
new singles alert! Burlington's latest alt-rock outfit is
Embers in Umbra
. Consisting of singer
Bri Lucas
, guitarist
Matthew Sicard
and drummer
Anthony Girelli
, the trio released its first single, "Ladders," last week, followed by a second single, "Scratch the Surface."
The two hard-rocking tunes are on the band's forthcoming debut album, according to Sicard, who previously manned the drum kit for Jesse Taylor Band. You can stream the two new tracks at reverbnation.com/embersinumbra.
Eye on the Scene
Last week's live music highlights from photographer Luke Awtry
Luke Awtry
Needle in the Hay: A Benefit Concert Celebrating Elliott Smith at Radio Bean, Wednesday, March 8
Needle in the Hay: A Benefit Concert Celebrating Elliott Smith at Radio Bean, Wednesday, March 8: If you needed a good public cry, Burlington's Radio Bean was the place to be last Wednesday, as 11 different acts paid tribute to the incomparable Elliott Smith. The show featured Cosmic the Cowboy, Lily Seabird, Josh Glass, the Leatherbound Books and others, and all proceeds benefited the American Foundation for Suicide Prevention. In a week with so many notable Queen City shows, such as country gunslinger Daniel Donato at Nectar's and Screaming Headless Torsos at Foam Brewers, there was just something special about the tribute at the Bean. The night culminated in everyone coming together onstage to play Smith's "Happiness," and you could see through the tears that the room was all smiles.
On the Air
Where to tune in to Vermont music this week:
"Wave Cave Radio Show," Wednesday, March 15, 2 p.m., on 105.9 the Radiator: DJs Flywlkr and Gingervitus spin the best of local (and nonlocal) hip-hop.
"Rocket Shop Radio Hour," Wednesday, March 15, 8 p.m., on 105.9 the Radiator: Psych-rock five-piece LACES play live in studio.
"The Sounds of Burlington," Thursday, March 16, 9 p.m., at wbkm.org: Host Tim Lewis plays the best of local music.
"Cultural Bunker," Friday, March 17, 6 p.m., on 90.1 WRUV: Host Melo Grant plays local and nonlocal hip-hop selections.
"All the Traditions," Sunday, March 19, 7 p.m., on Vermont Public: Host Robert Resnik plays an assortment of folk music with a focus on Vermont artists.
Listening In
Spotify mix of local jams