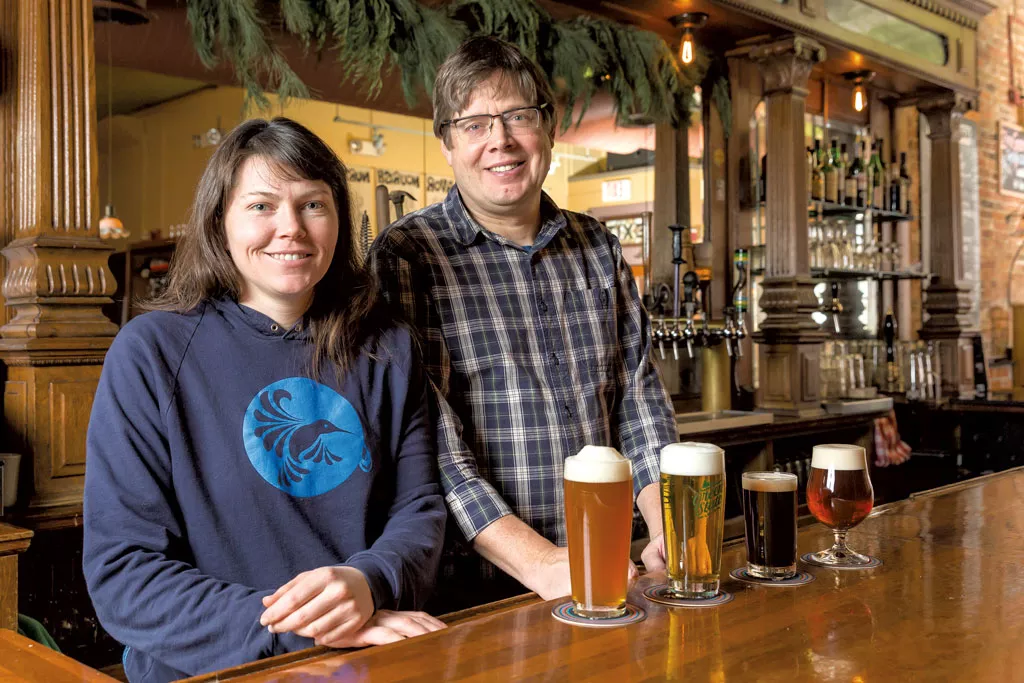 Oliver Parini
Destiny Saxon and Paul Sayler at
Paul Sayler founded Zero Gravity Craft Brewery at American Flatbread Burlington Hearth in 2004. Every day of the week, the restaurant offers a rainbow of beers — Belgian saisons, English bitters, American pilsners, hoppy IPAs, gruits, porters and stouts — in hues from pale gold to black.
With unusual grace, the pizzas and the beers strike a delicate balance between tradition and innovation. New classics emerge from the kitchen and brewery in an alliance that's both provocative and pleasing to the palate.
In 2012, Sayler and head brewer Destiny Saxon — who joined Zero Gravity as a rookie brewer in 2008 — began brewing beers for consumption outside the restaurant. Now Sayler is wrapping up construction on a new, 30-barrel production brewery on Pine Street that will bring canned, bottle-conditioned, barrel-aged Zero Gravity beers to the market this spring.
Last week, Sayler, Saxon and bar manager Margaret Leddy sat down with Seven Days to reflect on their current fixations, future plans and the state of Vermont beer.
SEVEN DAYS: What's the last beer you drank?
DESTINY SAXON: I think it was our Black Cat Porter, yesterday.
PAUL SAYLER: I think it was our pilsner, but that was right after having a Sierra Nevada Estate-grown beer.
SD: What beer is in your fridge at home?
DS: Right now I have a bunch of stouts because I was working on an oyster stout recipe. It's basically a stout brewed with whole oysters. Some people will throw oysters into an oatmeal stout or a sweet stout, but I wanted to keep it traditional, so we did an Irish dry stout, similar to a Guinness base.
SD: Where did you work before you got into brewing?
DS: I got a degree in geology and realized pretty quickly that there were no jobs in Vermont. I started working for this environmental lab, and realized I wasn't really helping the environment at all — I was just exposing myself to all these chemicals — and that I should look for some other work.
SD: What's one beer that really changed the way you thought about brewing?
PS: I took three years between high school and college. At the end of that period, I went to Europe and did a bicycle trip. I started in Germany, and that was really a key moment. In Munich, I had hefeweizen for the first time, and that was a real game changer for me.
But I tried a bunch of German beers, and that got me really interested in beer. I started homebrewing when I got to college.
SD: What's in the fermenter right now?
DS: We have a German bock lager and our TLA IPA, which has been our house IPA since the beginning. There's Bamberg Helles, which is a lightly smoked helles, and aging right now is a Czech dark lager, which we call Tmavé.
MARGARET LEDDY: It's a staff favorite.
DS: It's sort of like a Czech dunkel.
SD: What's the worst beer you've ever brewed?
DS: I made a soured stout, which we called Bermuda Triangle.
ML: People ask for that beer all the time! There are some huge fans of that beer. I had a gentleman in here last night begging me to beg you to brew it.
DS: It just wasn't what I intended. I collaborated with someone on that beer, so I felt really bad that it didn't come out the way we had hoped.
PS: The most disappointing brew we've ever done was probably the dubbel. We got some candy sugar, which you use in Belgian beers, and it wasn't bad but the sugar overcooked, which we couldn't know until the beer was finished. The beer tasted like crème brûlée.
SD: And the best?
DS: One of my favorite hoppy beers we make is Sim City, which is an all-Simcoe IPA. That's going on tap this afternoon.
PS: Probably the Czech Pils. Although the Tmavé is right up there.
SD: What's a major challenge of making beer for a living?
DS: Working alone, there are just so many things you have to stay on top of. Maintenance, cleaning, fitting those things in alongside brewing and kegging. It's stuff you don't necessarily have to do right then, but if you don't, things go downhill fast.
PS: Brewing is something you can never fully take a break from. As long as the beer is fermenting and conditioning, you're always thinking about what's going on with it. It's like having children; it's a 24-7 reality. That's the hardest thing.
SD: How does the collaboration work with you two?
PS: It's really Destiny. I'm mostly here for feedback at this point. She comes up with the recipes. They're really her creations.
DS: We usually talk about everything, especially if I'm doing something extreme like adding herbs or something with unpredictable flavors.
PS: It's important for me to give her lots of space. It's essential that she is fully responsible for the beer. She does all that work to make the beer special; she should also be able to feel the joy of creation and accomplishment.
SD: What are some ingredients you've been playing around with?
DS: Herbs are really my new interest for this winter. We've always made gruit ales, which are beers that aren't necessarily hopped. We're working with a local herb farmer — Hallow Herb Farm in the Intervale. Jeff Philie, who owns the farm, has been very willing to grow whatever we want to use. Also, hops. There are always new varietals of hops coming out; the combinations are endless. But it's a little intimidating because IPAs are everywhere, and there are so many great examples out there.
PS: American brewers draw so heavily on the European tradition, but it's really grounding for us to explore the ingredients that grow here as part of the floral landscape. That's one way we can really root ourselves in New England and also have a wealth of material to work with. There's no way we're going to tap that out.
SD: How has Zero Gravity changed since you founded the company?
PS: Our orientation towards brewing hasn't changed much. But our relationship to our customers has become really rich. It affects our choices about beers and what we brew. That immediate contact with the customer makes brewing in this setting really special — the ability to get people excited about beer by sharing beers and talking about the brews. When we opened this place, that communication and education became just as important as the beer itself.
SD: As a bar manager, how do you handle that?
ML: All of our staff taste the beers, but they also learn the background: how we brewed it, why we brewed it, where our ingredients come from. We get a lot of people in here who know nothing about beer and want to learn, and a lot of people who know a lot. So you can't pull one over on them; you have to be able to have an intelligent conversation.
PS: I think the most important thing about any brewer is their palate. The very best brewers have the best palates in our business — always. Beer is so incredibly complex, biochemically — to produce and maintain. If you're not able to differentiate the styles and know what you want, and able to recognize when you've done something new that's worthy, as opposed to something new that's not worthy, there's only so high you can go.
SD: How's the new brewery coming along?
PS: We're at an exciting stage. [Next week], our tanks come, and then it's a question of getting everything hooked up and testing the system. There are always questions of final permitting that make one hesitant to set dates, but we expect to be testing the equipment mid-February.
SD: Will you continue brewing at the restaurant?
DS: Yes, I'll stay here.
PS: I'll be down at the new place, but we will definitely be sister breweries. There's so much potential synergy between the two.
SD: Do you have a favorite beer and food pairing?
DS: Our London Calling is amazing with food.
ML: One of my favorites is the pils and [American Flatbread's] Medicine Wheel. It's the classic. You really can't beat a pilsner and a cheese pizza.
SD: What has changed about the Vermont brewing industry since you started?
DS: It's exploded! Which is intimidating. People are opening up breweries with barrel-aged beer, which is pretty intense. So it's definitely keeping me on my toes. I'm always learning more and taking in whatever I can. It's a little scary; I don't want to get lost in the sauce.
SD: Do you think that growth is sustainable?
DS: A lot of the new breweries are tiny, but several brewers are opening new, larger breweries now, and I don't think it can all be sold in Vermont. So we'll have to look to Massachusetts, New Hampshire, Maine, New York. But all those places have lots of breweries, too.
SD: What's the best thing about brewing in Vermont?
DS: I've never brewed anywhere else. I just went to Washington State, and it seems like it would be pretty cool to brew out there, too. But since we're a small state, it's easy to have contact with other brewers. We're within two hours of each other. So we have the ability to communicate as a group, and it's still pretty grassroots.