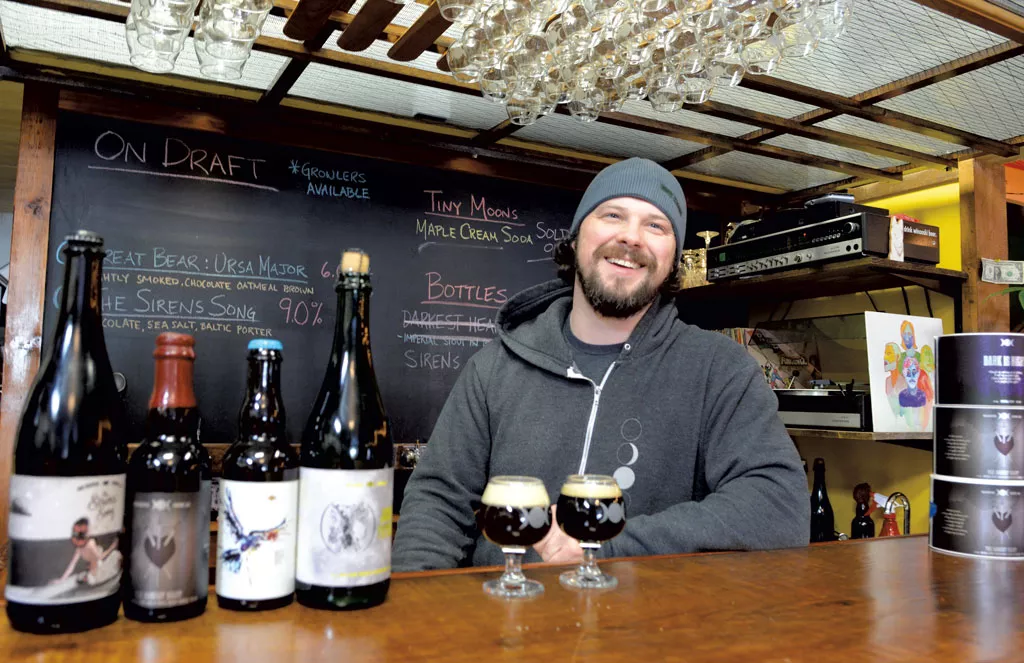 Lee Krohn
Brian Eckert
Last week, Winooski's Four Quarters Brewing looked like the workspace of a mad scientist. Towers of colorful buckets cluttered the floor while lab-style glassware and gleaming metal gear lined the walls. Brewer Brian Eckert stood near the kettle, surrounded by five members of the Sneakers Bistro staff, who were on hand to concoct a special cask brew that they'll tap at the bistro this Saturday, March 14.
On a table next to Eckert, yeast, coffee beans and maple syrup stood premeasured in beakers and flasks. After a brief brewing and beer biochemistry lesson from the brewer, the group poured these ingredients into the five-gallon cask. The beer is one of five that Eckert recently created with local businesses, including Mule Bar, Misery Loves Co., Waterworks Food + Drink and the Monkey House. The custom sips will be on draft at each location this weekend to celebrate the brewery's first anniversary.
Eckert said he started making beer at home in late 1999. When he moved to Vermont eight years ago, his homebrew habit flourished. Still, he never really planned to open a brewery, he said — though he wasn't closed to the idea.
As he grew more engaged with the art of brewing, Eckert's collection of equipment and materials grew. By 2013, he was experimenting with barrel aging and souring, both elaborate processes involving huge oak barrels. The brewer started looking in earnest for a place to house his blossoming operation, and mused on what a business might look like. Things fell into place, and when Eckert threw open the brewery doors in March 2014, locals crowded into the space for weekend tastings and block parties.
Though he just quit his day job at Ben & Jerry's a couple of weeks ago to focus on brewing, Eckert seems to view the past year as something of an experiment — a thoughtfully crafted, deliberate and hopeful trial — to see if his brewing obsession could support his family. Last week, he chatted with Seven Days about his first year in the beer business and contemplated the road ahead.
SEVEN DAYS: What beer is in your fridge at home?
BRIAN ECKERT: There's none in there right now, but I think the last one I drank was this beer called Paradox [from Colorado]. I don't really do a ton of drinking at home.
SD: What did you drink growing up?
BE: I was an athlete growing up, so I was very anti-everything. But my wife and I took a cross-country trip when we first met, and when we hit California, the people we were staying with took me to a beer store. This was in 1999, and they introduced me to all this craft beer. I got this itch, wondering if I could make my own. That Christmas, I got a home-brew kit.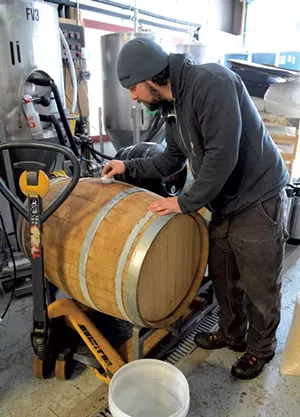 SD: Do you remember what beers you tried on that California trip?
BE: Oh, yeah. The very first one was Red Tail Ale. I still like it, whenever I can get it. I've been on a few trips and it's popped up and I've been like, "Yes! It's all your fault!"
SD: How did you find this space?
BE: One day I just happened to refresh a real estate page on my phone. This place popped up, and it was set up exactly the way I needed it to be. I hadn't even thought about Winooski, but when this popped up, I was like, Winooski, oh my God!
SD: This was in 2013?
BE: Yeah. All this new stuff was happening, and it's set up perfectly for collaboration, not competition. I loved every bit of it. The day I found this, I called my wife to see if she could stop by and check it out, because she worked right down the road. The landlord was there, and she told him about my idea and he loved it. This was a Friday. I met with him on Monday, and he was like, "Let's go see the city managers."
That spring, [the brewery] really started consuming me, keeping me up at night. I had all these journal entries from, like, three in the morning — I was not sleeping, and planning everything out. I had come up with the name and the logo [with the phases of the moon]. And I walk into the Winooski city office, and they have this stained glass in there with basically the same [image] on it. I just thought that was the best sign in the world.
The city managers liked the idea and said they wanted to work with me and make it happen. It was suddenly like, Wow, this is happening.
SD: But you stayed on at Ben & Jerry's for another year.
BE: Ben & Jerry's was really supportive. But toward the end, it just became too much of a conflict. The brewery consumes as many hours as I can throw at it, and I really needed to make a choice. Obviously, this is my future, so I had to do it. I can sell as much beer as I can make at this point, as quickly as I can make it.
SD: The demand is definitely there.
BE: That's my biggest problem: Some restaurants are getting downright upset with me that I haven't given them beer yet. I'll finally get them a keg, and they'll call me the next day, like, "Can we have more?"
SD: Do you plan on increasing your capacity to keep up?
BE: With fermenters, you can essentially flip them out in a day, so that's next. A 15-barrel fermenter has the same footprint as a seven-barrel one, but it's twice as tall. So I can still really grow in here, even though it's already very packed.
SD: There are a lot of barrels around the brewery. Do you ferment in those, or are they more for conditioning and aging the beers?
BE: It's roughly half and half. I have three different beers that I ferment in the barrels, and three more that I'll ferment in stainless steel and age in the barrels.
SD: When you barrel-ferment, how much do you sacrifice since you can't tightly control the temperature and what happens in the barrels?
BE: I don't worry too much, because the beers that ferment in barrels are fermenting with my saison strain [of yeast], which likes hotter temperatures. Most of the time I'm more concerned about it being too low of a temperature. If it's below 70 degrees, that yeast doesn't really move. So when I pull the beer off the kettle, I try to get it in there faster than I normally would, so that yeast can just get going with it.
SD: What are you fermenting right now?
BE: There's the Opus Dei, which is kind of a flagship beer for us. The Misery Loves Co. beer is fermenting in wine barrels, and Mule Bar's beer, which is a saison with lime and ginger. Then there's The Monkey House's beer, called Funky Monkey, which is a hefeweizen that we're going to add bananas to, and Citra hops, which is a really citrusy, pineapple-y, tropical-fruit-flavored hop.
I also have Whitewater, which I did with Waterworks. That's a Belgian witbier brewed with a wild yeast strain called Brettanomyces. Just this morning, we put in some spruce tips and hops. The spruce tips actually give off a lemony flavor, not necessarily pine. And the hops we chose give off a piney flavor, so it's this flip-flop of the two. Then we have this Sneakers cask that you saw us fill and explode. That's our brown ale, and we put it on coffee beans and used maple syrup as the sugaring agent to condition it.
SD: That's quite the variety!
BE: Yeah. [All these businesses] have all been a part of this. They were here the day we opened, and they've all been like, "Whenever you have beer ready, we'll put it on tap." We go to all these places. My family and I go to Sneakers, like, every weekend. When we're done there, we'll go to the Mule Bar or I'll go have lunch at Misery, and I'm always at the Monkey House watching music.
Last summer, when Shaun Hill [of Hill Farmstead] celebrated his anniversary, he didn't do it up at his place, he did a whole tap takeover in Waterbury, and I really liked that idea. And these beers — like the Funky Monkey, I brewed that as a home brewer, and when I came here I was like, I've gotta brew that for Monkey House.
SD: So how much did the restaurants help formulate the anniversary beers?
BE: For Waterworks, [the beer] was something I came up with during this crazy trip through Killington during the summer. I was in the middle of this ridiculous storm and trees were falling. But if you've ever been in the forest after a storm like that, the streams are really rapid, and you get that fresh oxygen coming off them, and the smell of the pine [branches] that snapped. That was kind of the inspiration.
With Misery, I became friends with the head baker. We started talking about this traditional Russian beer called a kvass where they use bread — sourdough rye — and they'll mash it up with hot water and sour it, and put all of that into the beer and boil it all together. It was too much bread for [Misery] to take on, so this beer is kind of a rye-malt saison inspired by the Russian style.
I do a technique called kettle souring. Normally I would throw in more grain, which has a bacteria called Lactobacillus on it [which turns the beer sour]. But instead, we tore up five loaves of Misery sourdough and threw that in. It was an experiment, since all of the bacteria in the bread was baked. But it felt like, since that bread had been in the bakeshop, there would be some residual stuff on it. Of all the batches I've done using that method, this is by far the cleanest one I've ever made. And then the Mule Bar one, I worked with Andrew Leichthammer there, who is an awesome home brewer.
SD: What ingredients are you excited about right now?
BE: Yeast. It's what makes or breaks a beer. Brewers talk a lot about caring for their yeast, and when I started talking to my friend at the bakeshop, he had this whole different perspective. He was like, "I torture the yeast. I punish it, and pull only the strongest ones out, and that's what I use for the bread." So he's been a big influence, thinking about what I could do. Plus, he has done a lot of capturing yeasts from outside: on grapevines, off of hops.
Part of [the Misery Loves Co.] beer process was that I pulled off some wort and took it over to the bakeshop. We left it out to inoculate it and ferment the beer with their yeast. We thought of that a little too late — it takes some time for the yeast to build up and for the colonies to get going. But the flavors you can get from the yeasts are just crazy.
SD: Where does Four Quarters fit into the larger picture of the Vermont beer scene?
BE: I've always been a big fan of Belgian beers. These are the kinds of beer I like to drink, and it's the kind of beer I like to brew. Vermont doesn't have a Belgian beer maker, so it made perfect sense for me to do this.
People come in and say they like that I'm not doing what everyone else is doing, in terms of the IPAs. I like IPAs, but the hops are in such high demand that it's impossible to get them. I got some, but another brewer sold them to me because they had a surplus. So that's the next thing that I'll brew once we get these beers out.
SD: If you could go back a year and have a conversation with yourself when you were just opening, what would you say?
BE: Two things have really served me well. One thing is just really trusting my gut, and these guys can testify to that. I'll send out ideas to them, ask them what they think, and they'll give me an answer, and I'll be like, "No. No."
And the other thing is — like walking into the city manager's office and seeing that stained glass — listen to the signs to let me know that I'm on the right path.