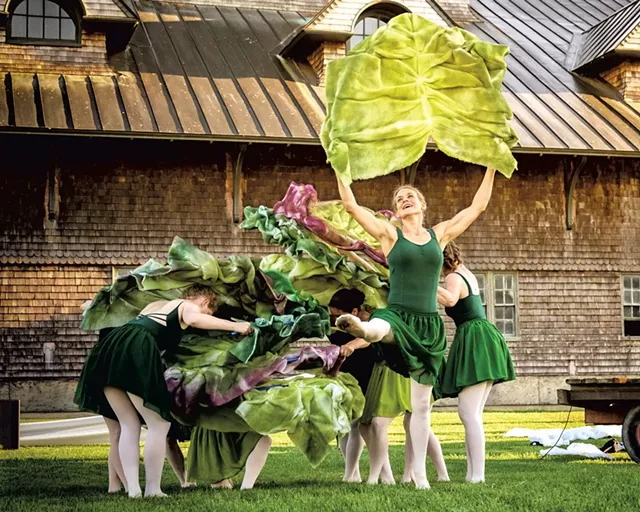 Courtesy of the Farm to Ballet Project
Pirouetting pigs? Leaping lettuce leaves? If these things sound improbable, you clearly haven't heard of the Farm to Ballet Project. Now in its second season, the initiative uses classical repertoire ballet and sections of Vivaldi's Four Seasons to tell the story of a Vermont farm from spring to fall. Ballet instructor and Boston Ballet alum Chatch Pregger began choreographing the performance nearly two years ago, taking inspiration from outdoor adult ballet classes he taught at Burlington's Oakledge Park, as well as the convivial atmosphere at his farm-share pickup. Classical dance isn't always accessible to families, says Pregger, who has two young kids. But during Farm to Ballet performances, which will be held in July and August at eight farms across the state, spectators of all ages can enjoy a packed picnic or food from on-site vendors; little ones who can't sit still are free to frolic in the fields during the 80-minute show. It's a "super easy environment to bring your kids," he says, and "a way to introduce families to ballet in a way that's totally comfortable to them."
To find out more about farm to ballet project performances in July and August, visit farmtoballet.org. Purchase tickets through flynntix.org.