Courtesy of George Lambertson
A pie just out of the oven, its crust golden and streaked with red where the fruit filling has bubbled over. A toddler, hands smeared with dirt, holding up a worm. A Technicolor bowl of ramen featuring the yellow of soft-boiled egg yolks, a sprinkling of green scallions and fatty broth reflecting the light.
Those are three images that Vermonters recently posted on Instagram, a photo-sharing social media app where users create a stream of pictures for any followers to see. Each image can be hashtagged so that those interested in its topic — whether architecture, snowflakes or cute puppies — can find it.
Many of those hashtags indicate that the subject of the photo is delicious. As of February 22, more than 168,375,343 images had been tagged as #food. Given the number of possible tags for edible items — #dinner, #yum and so on — that's clearly a lowball estimate. Instagram is cooking!
For this week's Media Issue, we've assembled a gallery of work posted by three of Vermont's finest food-and-ag Instagrammers. Carey Nershi, otherwise known as @careynotcarrie, is a book designer and photographer. Kate Spring, posting as @goodheartfarmstead, is a writer who runs a nonprofit vegetable operation in central Vermont with her husband, Edge Fuentes. And George Lambertson, whose handle is @gfl3vt, is a chef at Burlington's ArtsRiot. We asked each of these popular posters to tell us why and how they Instagram.
George Lambertson, @gfl3vt
Posts: 362
Followers: 14,600
Most-liked shot: a winter sunset over Lake Champlain, 688 likes
Shoots with: iPhone
Frequent subjects: plated restaurant food, meat, baseball, chefs being chefs
Style: colorful, in-your-face, lots of red and green
Captions: brief blurbs, lots of hashtags, charmingly vulgar
Follows: @fablefarm, @culinarygangster, @woodmountainfish
SEVEN DAYS: When and why did you start using Instagram?
GEORGE LAMBERTSON: A year, year and a half [ago]? I might have been a little bit late to the game with that — realizing its importance. But, seeing the feedback and results, now I can't live without it.
You give [followers] that inside window into what's happening. What's new. What's fresh.
SD: In your opinion, how is Instagram different from other social media?
GL: Facebook sucks. We've ruined it. On [Instagram], there's a lot more entertainment value, a lot more personality and a lot less fucking politics.
Part of it is this silly, egotistical thing ... How do you get people to click the [like] button? There's no way people can say it doesn't tickle you when they do.
[Instagram is] very inspiring. It's supposed to be artistic; it's supposed to be beautiful; it's supposed to be edgy. I don't think everything has to be so perfectly curated. I don't care if I swear a little bit. I don't care if it offends you.
SD: How would you describe your feed?
GL: Color. I love color. When I look at a dish, I think, What does this need, colorwise? What could I incorporate that would make it visually appealing? You want to represent yourself beautifully; you want to attract people to your restaurant. I think it's best when something's happening, and the light hits it; you catch it, give it a little tweak, and boom.
I don't filter; I edit. It's been this incredible social study for me, seeing thousands and thousands of pictures; you learn what works.
SD: Anything else?
GL: [Instagram] connects you to chefs. It connects you to farms. Being inquisitive, being competitive; it scratches a lot of those itches. It's so beneficial to the industry. You can connect to this person who has a cookbook and who you think is unapproachable. They're just dudes.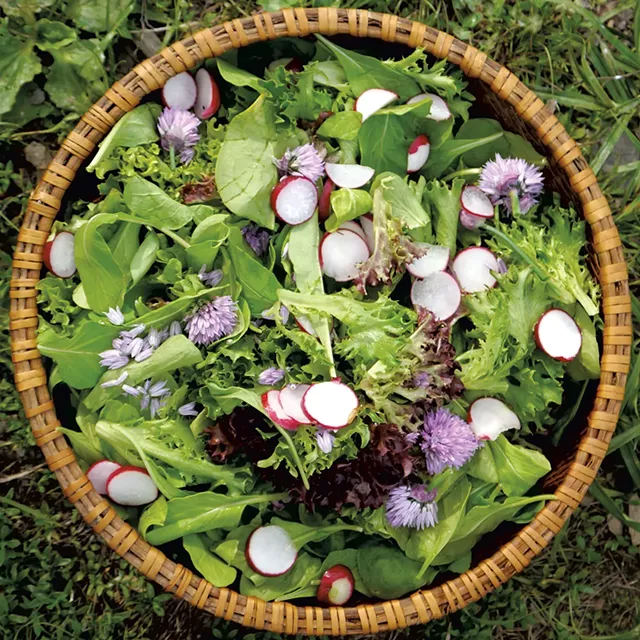 Followers: 2,946
Most-liked shot: a yurt with smoke coming out of the chimney and a dog sitting in front, 483 likes
Shoots with: iPhone and Panasonic Lumix DMC-G
Frequent subjects: life on a farm, vegetables, family, rustic food
Style: realistic, candid
Captions: lyrical, with poetic language, miniature stories and lots of expressions of gratitude
Follows: @eatvt, @eatingwell, @studiohillvt, @ardeliafarm, @longestacresfarm, @tanglebloom
SEVEN DAYS: When and why did you start using Instagram?
KATE SPRING: In the fall of 2015, when I got my first iPhone. I started at first to see what it was all about ... I've always loved taking photos, and I found out that IG offered a fun and powerful way to share photos [with] a larger audience.
SD: In your opinion, how is it different from other social media?
KS: To me, IG is like a mini-blogging platform that puts beauty forward. The visual aspect is really powerful and has the ability to grab people's attention. But I found that once I started writing captions that gave a look into our life on the farm in a more real and vulnerable way, mixed with humor from time to time, the amount of engagement went up.
SD: How would you describe your feed?
KS: Beautiful, joyful inspiration. I think the world needs more positive reinforcement in general. I see beauty and joy as a way of waking us up to what's possible.
We are a vegetable farm, but I love sharing photos of flowers we grow for our CSA member you-pick field. I also love photos that show the movement of life on the farm. From firing up the pizza oven to harvesting in the field, I think seeing the human interaction with the land is a key part of what we do.
SD: Anything else?
KS: Even though we as a society are glued to our phones so much, I've found that people are still seeking beauty and connection.
Freelance book designer and photographer, Burlington; reclaimingprovincial.com
Posts: 626
Followers: 47,000
Most-liked shot: a cherry pie, 10,978 likes
Shoots with: Canon EOS 5D Mark III with a 24-70mm f/2.8L lens
Frequent subjects: baked goods, well-laid tables, cooking or plating in progress
Style: cool colors, curated, professional
Captions: descriptive
Follows: @vermontcreamery, @seasonsinvermont, @missweinerz, @halfpintfarmers, @dedaluswine
SEVEN DAYS: When and why did you start using Instagram?
CAREY NERSHI: Oh, gosh, I think it was about three and a half years ago. I had a pretty active food blog at the time. I didn't want to [do Instagram]; it was already a lot [keeping up with other social media, but] all of my food friends from the blog world were on IG, and I was like, "I need this."
SD: In your opinion, how is it different from other social media?
CN: It felt so much more conversational [than Facebook] but really visually driven, which I like. A little bit looser. A little bit more casual. It fits me much better.
SD: How would you describe your process and your style?
CN: I do a little post-processing in [Adobe Photoshop] Lightroom. I like playing around with color in images. A lot of them tend to be cooler tones — a blue to neutral feel; that's about it.
You wouldn't necessarily get this from my Instagram, but my absolute favorite thing to shoot is probably people working with food ... a chef sprinkling cheese on something or sprinkling on salt. I like shooting something in its natural state. It's more relaxed. With food styling, you have total control, and, if you can't get it right, it's on you. [When shooting candid], if you don't get the shot, it's like, "Oh, it just wasn't meant to be."
SD: You're a professional photographer. Anything to say about that?
CN: I have a freelance day job doing book layout and design. The photography I do on the side [is] for funsies. I take on clients I already love anyway. I work very heavily with Vermont Creamery, the Red House [Vermont maker of canvas bags and other goods], Food52 [a blog and online kitchen shop] — they've been a big supporter of mine since back in the day. I tend to like working with people I already have a connection with. There's no way for me to properly represent a brand without it being authentic to me, also.
Correction, April 5, 2017: An earlier version of this story misstated Carey Nershi's most popular Instagram photo.