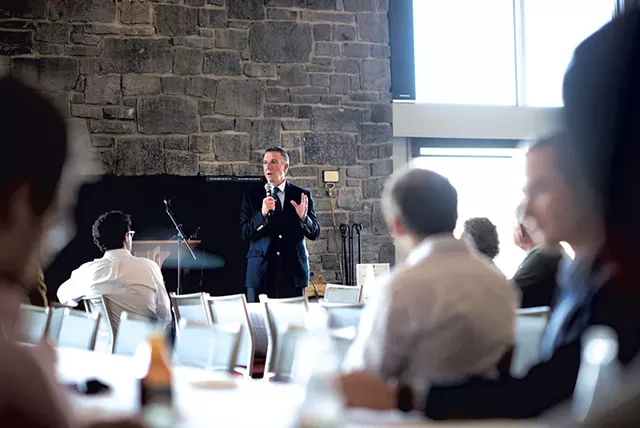 Caleb Kenna
Phil Scott at Middlebury College
Carolynn van Arsdale faced a dilemma. Should she vote back home in Connecticut via absentee ballot? Or should the University of Vermont freshman register in the new home she is eager to embrace?
"I haven't really lived here yet. However, I see this place as my home," the Westport, Conn., political science major said.
At a meeting of the UVM College Democrats earlier this month, van Arsdale was one of 15 students who heard a strong pitch from Jim Dandeneau, the state party's political director, to make Vermont their political home before Election Day.
"We need your help," he told them. In the governor's race, "UVM could be the deciding factor."
Political parties can often count on strong interest from students in a presidential election year. But this year, neither Hillary Clinton nor Donald Trump is generating much enthusiasm. Worried that students might skip voting altogether, both parties are hoping to persuade them to turn their attention to state races.
David Zuckerman, the Progressive/Democratic candidate for lieutenant governor, and David Goodman, husband of Democratic gubernatorial candidate Sue Minter, joined Dandeneau to rally young Democrats.
Zuckerman, a 1995 UVM graduate, told the students how he was once in their shoes. Inspired by then-congressman Bernie Sanders, the Massachusetts native ran for the state House in 1994, knocking on scores of doors and registering 1,400 students to vote. He lost by just 59 votes, he said, before winning a seat two years later.
"These votes can make the difference," Zuckerman asserted.
"This is a competitive race," Goodman told the group. Minter would be just the second female governor in Vermont's 225-year history, he emphasized. "I would encourage you to be part of making some history here."
Indeed, UVM's 11,000 undergrads represent a potentially important page in a political playbook, particularly for Democrats. Minter is in what many expect will be a close race against Republican Lt. Gov. Phil Scott for the open governor's seat. If a sizable share of the mostly liberal student body votes in the Vermont election, it could tip the scale.
That's why, on a Monday evening at the height of the campaign, Goodman, Zuckerman and Dandeneau managed to squeeze in a meeting with 15 students.
The 2010 open-seat governor's election was decided by 2,600 votes, Dandeneau told the group. "There are more than 2,600 students here," he said of UVM.
The university's students have swayed past elections. In 2008, their overwhelming turnout to vote for Barack Obama also helped sweep brand-new UVM grad Kesha Ram into the Vermont House representing the legislative district that includes the university.
Terri Hallenbeck
University of Vermont freshman Carolynn van Arsdale staffing a voter registration table with Andrew Champagne for the Vermont Democratic Party
"They were significantly energized," recalled Rep. Chris Pearson (P-Burlington), the incumbent who lost his seat to Ram that year. He returned two years later to win back the second House seat in the same district.
In 2016, can UVM students make the difference for candidates such as Minter and Zuckerman? "There's a huge question mark there," said Pearson, who is running for state Senate this year. "It really depends on whether they show up."
History suggests a student voting surge won't be enough to catapult a gubernatorial candidate to victory, according to UVM political science professor Garrison Nelson.
In 2008, Obamamania wasn't strong enough to keep Republican Jim Douglas from handily winning his reelection bid. Douglas did the same in 2004, when Democratic presidential candidate John Kerry won Vermont.
"This is not a state where coattails work," Nelson said.
Eight years ago, UVM students paraded down Main Street to celebrate Obama's victory, recalled Phil Baruth, a Democratic state senator and UVM English professor whose course on postmodern American literature and culture opens the door to talking politics with students.
"I don't think they're jazzed enough about Hillary to go out in the streets like they did for Obama, but I think they will vote against Trump," Baruth predicted.
Students confirm their lingering love for Sanders, lukewarm sentiment for Clinton and dislike of Trump.
When Jason Maulucci, chair of the UVM College Republicans, asked members at a September 12 meeting if any of them wanted to volunteer to campaign for Trump in New Hampshire, not a single hand went up, according to the clean-cut senior from Connecticut.
"The GOP nominee's values don't necessarily align with UVM Republicans," said Maulucci, who also serves as Student Government Association president. "He doesn't have the temperament to be president."
Who's Maulucci voting for? "Not Donald Trump," he insisted. "I could see myself voting for Hillary Clinton," he added, sounding almost surprised at his own words.
His group decided not to focus on national politics at all this year, he said. Instead, they're doing like the Dems: Last week college Republicans from UVM, Castleton University and Middlebury College met at Middlebury's Kirk Alumni Center to fire their members up about local elections. Four of the five GOP statewide candidates addressed the group of 25, along with former governor Douglas, a Middlebury alum and professor.
"You can make a lot more difference in one of these races," said Maulucci, who is working on Republican gubernatorial candidate Scott's campaign. His goal, he said, is to persuade students that state government affects their lives more directly than the federal government.
That includes their employment prospects. Republicans, Maulucci argued, have a better plan to create jobs in Vermont.
"Our goal is to make this a place you want to stay," Randy Brock, the party's candidate for lieutenant governor, told the young Rs last week at Middlebury.
Maulucci said that while there's no question Democrat-voting students outnumber those who lean Republican at UVM, he still thinks his party's candidates can find supporters among students.
"If we do a good job of taking Phil's message ... we can win a lot of votes on campus," he said.
If campus Republicans are retreating from their party's presidential candidate, student Democrats aren't necessarily stampeding toward theirs.
Van Arsdale reserved all her ardor in the 2016 campaign for Sanders, volunteering for his campaign during his surprisingly strong but unsuccessful bid for the Democratic presidential nomination. "I was all in for him," she said. "I saw Sen. Sanders as my iconic hero. It's taken time to reconsider my options."
Now that Clinton is the Democratic nominee, she's decided the former secretary of state is the best option to continue Obama's progressive political path.
"I'm all for Hillary," the red-haired freshman said, then amended her statement: "I'm not volunteering for her campaign, however."
Other students who swooned for Sanders were less sure about their Clinton commitment.
Matt Gorstein, a freshman from Yorkdale, N.Y., who stopped by a voter registration table in the UVM Dudley H. Davis Student Center, said he, too, was a Sanders supporter.
Of Clinton, he said, "She's all right, I guess."
Gorstein, who opted to give up his New York registration to become a Vermont voter, said he hasn't decided how he'll vote for president. "I'm seriously considering Jill Stein," he said, though he said he's worried that voting for the Green Party candidate could help Trump win.
The post-Sanders sorrow is palpable on campus, said Frances Workman, president of the UVM College Democrats. Sanders was so strongly favored there that many Clinton supporters are afraid to go public, she said.
As the Vermont senator was in the thick of his campaign last spring, more than 200 students converged for a debate-watching party.
But the 15-student turnout at the October 3 UVM College Democrats meeting was typical of more recent times, she said.
Workman, a senior political science major from Montpelier, said she's consciously trying to make sure her group is welcoming to all Democrats.
"We really are trying to get people who aren't Hillary people," she said. "If you're still not over Bernie, we still want you."
At her group's meeting, the party pushed those attending to get students on the local voting rolls. Only four of the 15 said they were registered in Vermont.
Without inquiring whether they knew anything about the candidates on Vermont's ballot, Dandeneau passed out voter registration forms, urging the out-of-staters to rethink where home is and get their classmates to do the same. Some might claim they need to vote at home because they're from a presidential swing state, he said, advising students to "lean on them a little bit."
As Zuckerman, Goodman and Dandeneau spoke, the students sat quietly around a table. But when the meeting ended, van Arsdale spoke up. They shouldn't take her silence for lack of interest, she said; she was ready to pitch in.
Just a month into her college career, van Arsdale came away from the meeting motivated to get involved. She never had the sense that she was welcome in local politics as a teenager in Connecticut. Vermont has a different vibe, she said, describing Burlington as "the perfect city for me."
Two days later, van Arsdale was volunteering at a Vermont Democratic Party voter registration table, alongside party staffer Andrew Champagne. Bite-size Milky Way bars served to lure students, though only a few inquired about voting.
Van Arsdale filled out the form to switch her own registration from Connecticut to Vermont. Then she set it aside.
"I haven't really decided this yet," she said, wondering aloud whether she should look more closely at her hometown politics first.
A day later, she'd made her decision: She will stay registered to vote in Connecticut this year.
"I think it's best for me to become informed through working on politics here for a year first before I completely commit to switching over," she said.
She will continue to help Vermont Democrats register students and will help get out the vote in November. But at least this year, she won't fill in any ovals for Vermont politicians.
Or Burlington ballot items. Mayor Miro Weinberger met with the SGA last week, and members unanimously supported a downtown mall expansion plan on which local residents are voting. What won them over? Maulucci said the project promises long-needed student housing.