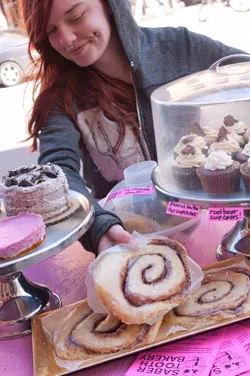 When Evie Michaelson set up shop on a downtown Burlington sidewalk selling vegan cupcakes, cookies and cheesecake from a hot-pink bicycle trailer, it was hardly a surprise. Really, it was only a matter of time before someone brought a bakery on wheels to town. Given the number of bicycle-related businesses that have proliferated in Burlington over the last year, the only wonder is that it took someone this long.
First came the bicycle delivery service Crucial Couriers. Then came the bicycle hauling business One Revolution. After that, August First's bicycle bread-peddling operation and the neighborhood vegetable bicycle cart run by Diggers' Mirth Collective Farm hit the streets. A more recent arrival was Revolution Compost, a bicycle compost pickup enterprise run by One Revolution. And now comes Michaelson's Sabertooth Bakery.
Michaelson, a 23-year-old Bristol native, is in some ways exactly the kind of DIY punk you'd expect to see operating a vegan bakery from the back of her bike. Tattoos cover her hands and arms — including a depiction of a rabbit with the words "cruelty free" on her left arm, and her first name inked across the fingers of her right hand. Barbells pierce the dimples in her cheeks, and her clothes are covered with homemade patches from hardcore bands.
At 15, Michaelson left home to live with her sister in Texas. Since then she has lived in Austin, Philadelphia, Minneapolis, Olympia, Wash., and Portland, Ore. It was in the last bike-obsessed city that Michaelson caught the baking bug. During an apprenticeship with renowned vegan Sweetpea Baking Company, she honed her baking chops and learned the art of cake decoration.
"I like decorating stuff all fancy," says the soft-spoken Michaelson. "I like giving it to people and having them be all happy."
Sweetpea's early mornings were a killer for Michaelson, so working full time in a traditional bakery was out of the question. Still, she wanted to bake. After a recent stint as a bike messenger in Philadelphia, Michaelson thought she could combine her two passions — baking and cycling.
After moving back to Vermont in January, she started Sabertooth Bakery. With the help of her roommate's father, Michaelson built a cart to haul her confections from her home kitchen on St. Paul Street to her College Street location, just outside the Burlington Free Press offices.
She would have preferred a Church Street spot, but the cost was prohibitive. This year, the Church Street Marketplace issued permits for 19 vendors — 14 for food and five for retail. Depending on the location, they paid $1800 to $2400 for a spot. Michaelson is one of 10 vendors licensed to operate on Main, College, Cherry and Bank streets by the city of Burlington, which issues its own side-street permits. She's not that far from the shopping thoroughfare, she reasons. Plus, at $800 a year, the side-street permits are a relative bargain for a small start-up business.
In the few weeks her bakery has been in operation, Michaelson has been experimenting with her offerings. She's made banana-split cupcakes with vanilla frosting, chocolate drizzle, walnuts and a cherry on top; creamsicle cupcakes topped with vanilla/orange-swirled frosting; chocolate-chip-cookie-dough cupcakes with peanut butter frosting capped with a mini chocolate chip cookie; and cupcakes made with Chick-O-Stick — a sort of vegan Butterfinger candy that's been manufactured since the Great Depression.
Michaelson also makes cheesecake in a number of flavors — peanut butter/chocolate, raspberry/vanilla and root beer, to name a few — and a variety of cookies. Sabertooth's cupcakes go for $2.50 each; doughnuts and cookies run between $1.50 and $2; and the cheesecake will set you back $3 to $4.
The response has been largely positive: "All the vegans are really stoked about it," Michaelson says.
But for many who abide by conventional diets, vegan baked goods seem like an oxymoron at best, a cruel joke at worst. What makes cookies and cakes so delicious to omnivores are the copious eggs and butter slabs churned into the batter. When you take those away, you start losing the traditionalists.
That's one of the reasons Michaelson doesn't splash the word "vegan" all over her cart. She'll let customers know her products are vegan if asked, but she doesn't want to scare off people who worry the sweets will taste like cardboard.
The trick, for Michaelson and other vegan bakers, is to make treats that don't try to replicate the taste of conventional cakes and cookies but have their own, equally palatable, flavors and textures. Michaelson's cupcakes don't need to taste exactly like cupcakes made with butter and eggs, as long as they're as toothsome and satisfying.
Since becoming a vegan at 15, Michaelson has had to get creative with ingredients in all her food preparation. Since she doesn't use commercial egg replacers, she's experimented with such products as applesauce, bananas, soy yogurt, and a mixture of vinegar and soymilk to thicken the batter. In lieu of butter, she uses a vegan spread made from expeller-pressed vegetable oils and soy protein. The result is a cupcake more dense and moist than its conventional cousins. Tofutti or another vegan "cream cheese" goes in the cheesecakes.
Michaelson's creations are the result of a "lot of trial and error," she says. Some of her products have fared better than others. Cheesecake has been a big hit; tea cupcakes made from chai and matcha haven't sparked the same interest. She's still perfecting her gluten-free offerings.
In the future, Michaelson would like to expand the nascent business to include a bicycle delivery component and, way down the road, a small brick-and-mortar bakery. Until then, she'll keep pedaling her sweets in her hot-pink bike trailer. Maybe she can start a two-wheeled coffee shop to go with them.