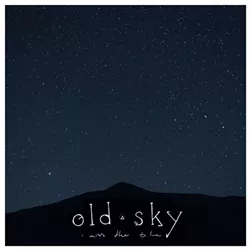 (Self-released, CD, digital download)
Andrew Stearns and Shay Gestal seem to have a thing for color. The primary architects of the local Americana outfit Old Sky released their debut recording in 2015, Green on Fire. That EP presented a sparse take on (mostly) acoustic twang, shaded by themes of love and loss and set to the mournful hues of Stearns' downcast vocal rasp and Gestal's elegiac fiddle. Recently, Old Sky released a follow-up EP, I Miss the Blue. Perhaps not coincidentally, Stearns was also a founding member of local whiskeygrass band Gold Town. So, yeah. Colors.
While the new EP bears some of the same nostalgia heard in their debut, it's less a sepia-tone print and more Kodachrome. In other words, the presentation here is vibrant, yet still harks back to a bygone era.
The EP opens on "Silver Dagger," which Stearns refers to as a "locally sourced cover." It's a traditional tune, but the arrangement comes by way of noted Vermont fiddler Neil Rossi. Fittingly, Gestal's fiddle is featured front and center, taking the melodic lead alongside Josh Halman's fluttering mandolin. Gestal also provides pretty vocal harmony in a duet with Stearns. Though already a fine player, she seems freer and more confident this time around. In the opening stanza, Gestal tweaks the melody with a sour bend that nips at the ears. But it's intentional, framing the song's dark, gothic theme of wayward love.
"Honey in My Coffee" is the first of three Stearns originals. Couched in lively Appalachian stomp, it could pass for another trad tune. Gestal is again featured, this time letting loose energetic fiddle lines that flit and swirl with abandon. Perhaps she snuck some of Stearns' joe from the second verse: "Put a little whiskey in my coffee, and I'll drink it down."
The title song comes next and represents the finest showcase of Stearns' songwriting. The melancholy ballad evokes the wintry chill of a broken heart through the delicate lyrical use of color. "I miss the blue and the look in your eyes / When winter has covered the hours of life," Stearns sings. Then, "Pale becomes the stillness that beats through the night / I miss the blue that's with you on the other side."
On "Hard Wood to Chop," Stearns and Gestal take us to the woodshed with a fiery banjo, fiddle and guitar instrumental. Stearns proves as talented a picker as he is a vocalist, not just hanging with Gestal's exquisite runs but matching her note for note.
Intriguingly, given the penultimate cut, I Miss the Blue ends on an a cappella rendition of the traditional "Never Grow Old." The contrast between the instrumental and vocal tunes is stark and beautiful. It brings into sharp focus just how multitalented Old Sky are, which might make some listeners green with envy.
I Miss the Blue by Old Sky is available at oldskyvt.bandcamp.com.