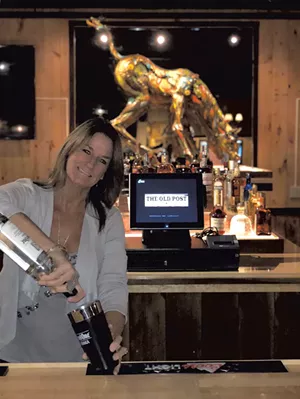 COURTESY OF STEVEN MACOMBER
Kim Rouille at the Old Post
The black Hummer parked outside 733 Queen City Park Road in South Burlington has vanity license plates that read MRSRULE. Inside, you'll find the owner of the car, Kim Rouille (pronounced rule). She's the owner of the Old Post, a refurbished bar in the space that will serve casual pub fare. A soft opening is this week, and a grand opening is planned for mid-November.
"I can't wait," Rouille said. "It's going to be exciting."
The Old Post, renovated by Rouille's contractor husband, Dennis, takes over the space previously occupied by Franny O's and Sugarhouse Bar & Grill. For Rouille, it's a new gig in a familiar neighborhood: She's been a manager at the Lakeview House Restaurant and a bartender at the Fraternal Order of Eagles, both in South Burlington. The Old Post is the first bar she's owned.
"I love to bartend," Rouille said. "It's more fun than work." She's especially pleased to be joined by employees who are also family and friends, she added.
Customers will find Rouille behind the bar, an island in the center of the room. Behind it is a sculpture of a bronze horse flanked by a pair of TVs. A wood carving of two bears, sculpted with a chain saw, stands near the front door.
"I've tried to make this like my living room," Rouille said. "I want single women to come in here and feel comfortable and safe."
Open daily starting at 11:30 a.m., the Old Post will offer a menu that includes burgers, chicken wings, mac and cheese bites, salads, and nachos. Live entertainment on a corner stage will include karaoke and open mic nights. In the spring, Rouille plans to put a TV outside on the rebuilt deck.