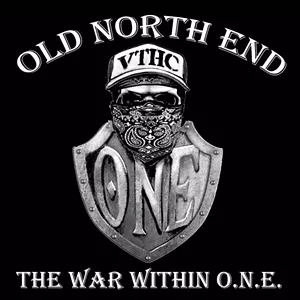 Old North End, The War Within O.N.E.
(Self-released, CD, digital)
Old North End — usually abbreviated, like the Burlington neighborhood itself, as O.N.E. on flyers and among fans — are a band of hardcore metal disciples from the Queen City. There aren't a lot of Vermonters still flying the hardcore flag in 2020. When I was growing up, though, you could catch a packed bill of nothing but hardcore bands at fabled Burlington punk club 242 Main. You could also catch some boots to the face and elbows to the stomach. It was a great time to be alive.
The War Within O.N.E. is the band's sophomore project, and it's a tight improvement over its 2019 debut, The Truth The Struggle. The EP is billed as "5 songs of unrelenting power," and this is absolutely true. In fact, I felt like a sullen 17-year-old at an Earth Crisis show about 30 seconds in.
The opening one-two punch of "War Within" and "Only the Real" brings impeccable, anthemic hardcore, a solid wall of sound. These are lean, carefully honed songs, and the sound quality is outstanding. The latter is thanks to Ryan Cohen at Robot Dog Studio, who wore every hat for these sessions: engineering, mixing and mastering.
The biggest improvements, however, are simply the band's songwriting and performances. O.N.E. honed those crafts the old-fashioned way through constant live shows, a crucible that always forges new bands into something better. It's appropriate that the EP centers on "242," clearly a tribute to a certain beloved all-ages venue in the heart of downtown Burlington. Close your eyes, and you're back in the mosh pit.
What separates hardcore from heavy metal? It's much more than just genre convention; it's about mentality. Where heavy metal is about shock value and excess, hardcore is rooted in community, often overtly political and big on self-improvement.
The fourth cut, "Voiceless," is something of a manifesto. Lead singer Chris Lamothe aims to "give hope when there's none left" and "enlighten the young ones." The track also features one of the best riffs on a project packed full of them. Album closer "Why" is another call to reflection that wraps up with a crushing outro sequence.
Any metal band is only as good as its drummer, and Jon Dapo is simply a machine. What really separates O.N.E. from lesser hardcore outfits, though, are their melodic riffs. While ferocious, this is also a deeply musical project, miles away from the primitive simplicity of the genre's early days. The interplay between guitarists Jim Tye and Jason McSweeney, backed by bassist Eric Hodgson, elevates every song to deafening greatness.
Obviously, The War Within O.N.E. ain't for everybody. This is a short, violent project that sounds like it's at 130 decibels no matter how much you turn it down, with shouted vocals that often get overwhelmed by the pummeling drums and howling guitars. If you can appreciate that kind of outsider art, though, I have good news: This is one of the best local metal projects in years.
O.N.E. perform Friday, January 24, at Hardcore at the Guardhouse! in Colchester. The War Within O.N.E. is available at oneoldnorthend.bandcamp.com.