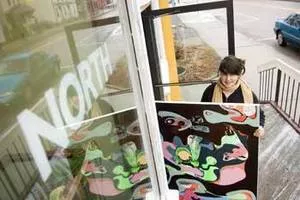 Matthew Thorsen
Sage Tucker-Ketcham
BURLINGTON - Last Thursday, Burlington's South End Arts and Business Association (SEABA) held its annual meeting at Lake Champlain Chocolates, with a speech by Mayor Bob Kiss and about 100 attendees, according to board member Bruce Seifer. The trade association of artists and entrepreneurs in Burlington's former warehouse district has come a long way since the 1980s, when it was founded as the Pine Street Business Association.
Is the Old North End ready for its own version of SEABA? Studio STK owner Sage Tucker-Ketcham and Erik Hoekstra of development company Redstone - an ONE resident - think so. A few days ago, they registered "Old North End Arts and Business Network" as a trade name with the Vermont Secretary of State. Tucker-Ketcham says the organization will be a nonprofit with a $25 annual membership fee and a first-year budget of $11,750. Any profits will be donated back to the community.
As of Monday, the group has 14 committed members, says Tucker-Ketcham, a gallerist and painter. Besides the founders' respective companies, they include Opportunities Credit Union, Panadero Bakery, Viva Espresso, Hands On Production, Delicata Catering, Burlington College, Draker SolarDesign, Shoeless Konstruction and more.
About 20 people showed up at ONEABN's second organizational meeting, held on June 6 at Studio STK on North Street. At the meeting, Hoekstra described his plans for "a loosely organized networking group that promotes art and business interests in the Old North End." Tucker-Ketcham said ONEABN would take advantage of pre-existing events such as the Farmers' Market and Ramble, rather than "starting anything new. A lot of people, 'cause it's such a big area, don't even know about a lot of this stuff. We're educating." Fresh from door-to-door canvassing with Hoekstra, she estimated that the ONE has more than 140 businesses, "when you count home businesses."
However, more traditional businesses in the working-class neighborhood haven't become involved so far. Tucker-Ketcham admitted to attendees that when she approached the owner of Waggy's Deli, which adjoins the gallery, he "laughed at" her. The owner of Dion Security was also skeptical, she said, but "I hope they'll come around."
Will ONEABN take SEABA as its model? "It's going to have its own distinctive qualities," Tucker-Ketcham said. Whereas the South End group has a volunteer board and a paid director, Hoekstra said he and Tucker-Ketcham were "talking about keeping ONEABN volunteer-based." Tucker-Ketcham said the pair met with SEABA's executive director, considering a partnership, but the other organization had too many things on its plate. "If we waited for them to partner with us, we were going to wait a long time."
One major topic at the meeting was the fourth annual ONE Ramble, coming up on July 28. Lee Anderson of Radio Bean, who organizes the event with Heather Driscoll, says he wanted it to stay "more grassroots" and "less corporate" than SEABA's wildly successful South End Art Hop. To foster a sense of ONE unity, he proposed offering a historical tour of the neighborhood, preferably on bikes. Cynthia Christensen of the city's Community and Economic Development Office showed off the prototype of a banner proclaiming the "Old North End Historic District." The fruit of a grant that's soon to expire, the banners should appear on North Street before the Ramble, Tucker-Ketcham says.
In a follow-up interview, she acknowledges that the 4-year-old event hasn't always brought crowds: "The people who attend it feel it was great, but . . . this year we're trying to get it more attended," Tucker-Ketcham says. ONEABN will make sure festival site maps are made available sooner than they have been in the past, she adds.
But as artists and funky, youthfully helmed business ventures become fixtures in the ONE, Tucker-Ketcham hopes ONEABN will pull them all together. "It's about getting excited about not being alone in this community," she says, "'cause it's so spread out."