OLIVER PARINI
The open-concept first floor
Locals who've frequented Burlington's Champlain Club in recent years have witnessed dramatic changes in the house across the street. For many months, 19 Crowley Street in the city's Old North End sat empty, dark and quiet. Then, in early 2013, someone bought the two-story, 820-square-foot house, gutted it and began to renovate it from the ground up.
At first, the structure was reduced to framing that hovered over a newly dug foundation. Then a basement wall materialized; a shingle roof was installed; new windows went in. Over four years, visitors and residents on the street watched the century-old structure slowly morph into a contemporary, energy-efficient home.
OLIVER PARINI
The renovated kitchen at the home of Graham and Cayenne MacHarg
In November 2017, children's toys began to appear on the front porch, interior lights went on every night, and vehicles came and went from the driveway. Clearly, the owners had finally moved in.
Intrigued by the building's evolution, a reporter left a note in the mailbox, hoping for a glimpse inside. Soon thereafter, Graham and Cayenne MacHarg welcomed Nest; ensconced in their dream home, the thirtysomethings were pleased and proud to show it and share their story.
"We had a vision of what we wanted in a house," said Cayenne. "Everything would be new and small and manageable, not high maintenance."
After the MacHargs purchased the structure, it appeared they had done things "a little bit backwards," she noted, "because we took on an enormous and very time-consuming project." But, Cayenne added, "This was what we wanted. This was what we were trying to get to."
Gorgeous Vermont maple flooring extends the length of the open first level, from the living room through the dining room and into the kitchen. Sun streams in from all sides, washing the light-colored walls and comfortable furniture in a welcoming glow. A handcrafted iron chandelier and wall sconces add touches of rich, dark color.
On a bitterly cold February day, the homeowners were clad in T-shirts inside their snug, warm home. That comfort was hard-won.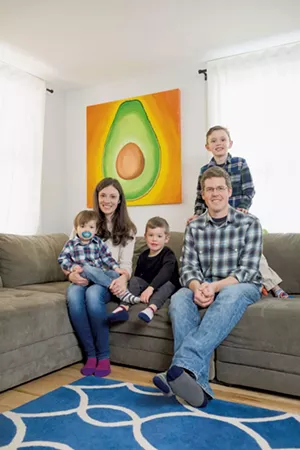 OLIVER PARINI
Cayenne and Graham MacHarg with their sons (from left) Ethan, Ryan and Calvin
"Graham did most of the work himself on weekends," said Cayenne. "I picked out furniture and fixtures and helped with insulation."
Born in California but raised primarily in Charlotte, Cayenne is a part-time bookkeeper at Reconciled in Burlington and a full-time mom to the couple's boys, ages 7, 4 and 1.
Graham, born and raised in Hinesburg, "grew up building with my dad," he said, and then worked as a carpenter for Classic Home. He credited owner Justin Wygmans with teaching him "how to build a house from start to finish — energy-efficient houses that people can actually afford."
Now a project manager at Church Hill Landscapes in Charlotte, Graham loves the freedom his finished house provides. "On the weekends, we can do fun things as a family rather than spend all day Saturday fixing something," he said.
The couple was house-sitting in Charlotte in 2011 when they decided to invest in the Queen City. Faced with high real estate prices and a limited budget, they purchased 19 Crowley for $135,000, calculating that, even with the cost of renovations, it would be a good investment. One of 12 houses on a small, residential cul-de-sac, it's close to schools and downtown. And should the couple want to take up swing or tango, the Champlain Club hosts events open to the public on a regular basis.
Their house, which had been home to a family of seven for approximately 50 years, was clean and well maintained when they discovered it. "As far as old houses go, it was in completely livable condition, but it needed that big overhaul of the century," said Cayenne.
With savings in the bank and low-interest loans from family members (which, they emphasize, they've since paid back in full), the MacHargs dug into the first phase: demolition. Graham took off the exterior porch and mudroom, then removed heavy, artificial-stone siding, as well as the original wooden clapboards beneath. He tore out walls — made of Sheetrock layered over lathe and plaster — that had made rooms small.
"The amount of stuff we took out was dump trailer after dump trailer," Graham said.
Courtesy Of Graham Macharg
March 2013: When purchased, the circa-1913 house had concrete siding and an enclosed porch. A chain-link fence ran the border of its property.
But as he uncovered the house's history, his appreciation for the previous owners grew. "They had made very practical decisions," Graham noted. "The concrete fake stone siding would've lasted forever. It didn't need any painting. It's a very old-time Vermont thing. You might sacrifice a little aesthetic, but it's practical and functional and not too expensive."
The most unexpected project and expense was the basement. Previous owners had dug out areas of the 3-foot-high crawl space to create 6-foot-high areas for walking and washing machine installation. A brick buttress system had been constructed in dug areas to shore up the original stone foundation — but it wasn't foolproof.
"I was working to get the house more level and shimming it up, and one day a whole section of the original basement wall caved in," said Graham. Supported by a jack and a metal I-beam, the house didn't topple, but he decided to demo the whole front basement wall and rebuild it.
Once the basement was complete, Graham removed and rebuilt all of the floors and walls.
The wide stair treads to the second floor add grace and whimsy to the home. They're made of ambrosia maple, which is striped naturally with gray streaks created by the fungus of a burrowing beetle. Walking up the stairs evokes hiking over tree roots or crossing pebbled streams.
Indeed, the couple's children have turned the stairs into a playground. "They love the fact that the stair railings aren't in yet, so they can jump off the fourth step into the living room," said Graham.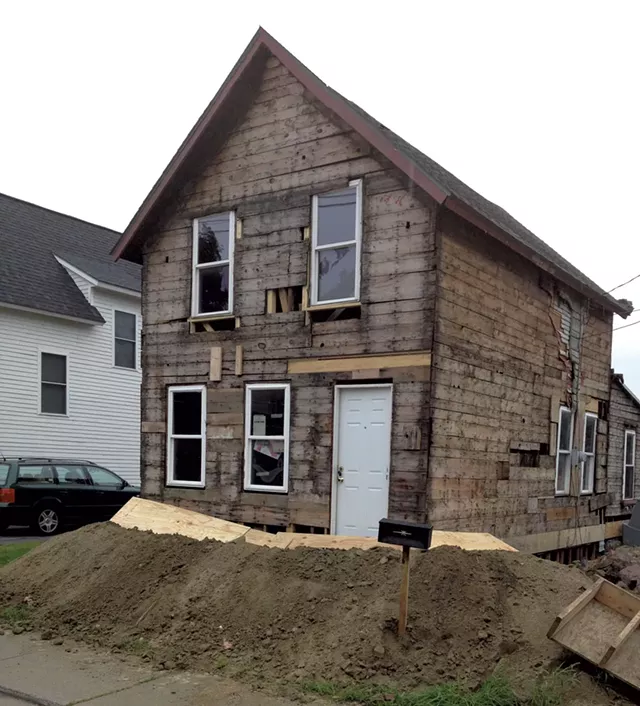 Courtesy Of Graham Macharg
August 2014: The house is stripped back to the frame and jacked up to allow work on the basement foundation.
The second floor was redesigned to make the bathroom more functional and the two bedrooms slightly larger. Cathedral ceilings make the upstairs feel even more spacious, drawing one's eye up to collar ties made of the house's old floor joists. Originally designed for storage, a loft above the bathroom has become a sleepover spot for the boys, who access it from the top of their bunk bed.
The couple went to great lengths to properly insulate and seal the house. Graham extended the original 2-by-3-inch exterior wall studs to full two-by-fours to create more room for insulation, and he attached and taped 2.5-inch foam insulation on the exterior before installing clapboard siding. Inside, the couple filled the Sheetrock walls with cellulose; they insulated roof rafters in a similar manner.
"You want 20 in the basement, 40 in the walls, 60 in the ceiling," said Graham of ideal insulation R-values, or thermal resistance values. "I don't think I quite got to 60, and the walls are really only 25 to 30, and there's not much in the basement yet. But I counted on really good air sealing."
Courtesy Of Graham Macharg
July 2015: The house is completely reframed and has new windows and doors. Exterior insulation is done. Trim is going on, and the house is nearly ready for siding.
To ensure proper airflow in the living space, Graham installed a good bathroom fan, "the poor man's way of doing it," he said. To deter moisture buildup in the roof, he built a 3/4-inch soffit-vented space between the rafter foam and the roof deck.
The payoff for all that work is a home heated and cooled comfortably with electric heat pumps: one downstairs and one in each bedroom.
"Most Vermont houses with a heat pump also have another, less-efficient source of heat," said Cayenne. "The layout of our house, combined with our insulation, made heat pumps doable."
Whether it's 5 degrees below zero or 95 and humid, she added, "It stays just a constant, perfect 67 degrees inside."
The couple's electric bill is $200 to $250 per month in the winter and about $100 in the summer. They expect the winter bill to decrease when the basement is fully insulated and an electric space heater is no longer needed. Their gas bill — for hot water and cooking — is about $25 a month.
The MacHargs estimated that the renovation cost $100,000, not including labor. Cayenne noted that the exact number was hard to determine because they invested in some equipment. "But we know how much we borrowed from our families," Graham piped in with a laugh.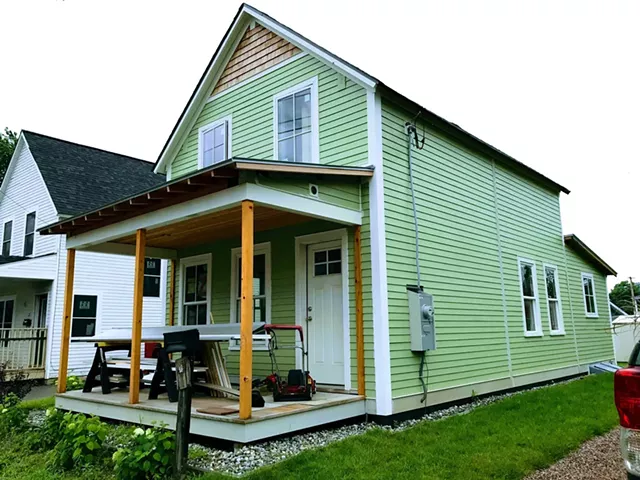 Courtesy Of Graham Macharg
September 2017: The house is complete but for some carpentry projects.
Family contributed far more than loans, which came primarily from Cayenne's uncle. Graham's father helped rough in the plumbing and electrical work and install the kitchen. Cayenne's father landscaped the backyard with evergreens, lilac and forsythia. And from 2015 through most of 2017, the couple and their children lived in a house owned by Cayenne's father on Dodds Court in Burlington. They had thought the Crowley project would take two years, but "We weren't even close by the time we had to move out of Charlotte," said Graham.
"Graham did all this work, but we couldn't have done it if we weren't given the opportunity by our families," Cayenne added.
Neighbors and friends helped, too. Some loaned equipment, offered encouragement or turned a blind eye to the half-finished house. "Can you imagine living next to this for four years?" exclaimed Graham. Others in the trade installed tile and did masonry work. The couple got leads on everything from a free sink to alternative uses for construction debris.
As the MacHargs contemplate someday enlarging the house with an addition, they're pretty sure they'll hire someone else to build it. Working on their home with a team of supporters "was a really awesome experience," said Cayenne, "but we don't need to do it again."