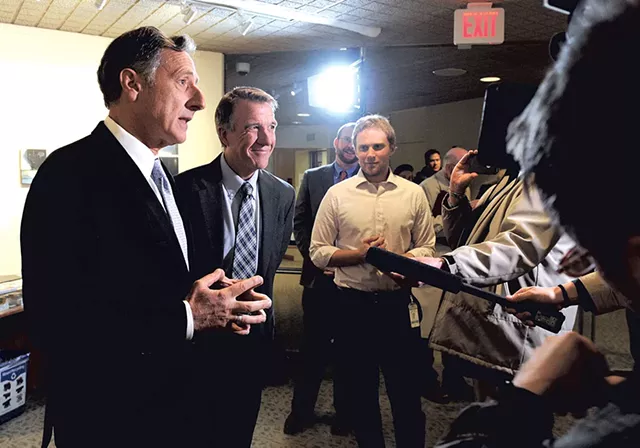 Jeb Wallace-brodeur
Far left: Gov. Peter Shumlin and governor-elect Phil Scott
Last Thursday, governor-elect Phil Scott and Gov. Peter Shumlin convened for a half-hour, all-this-will-soon-be-yours meeting. Asked afterward for one piece of advice the departing governor had for him, Scott revealed: "the importance of hiring good people."
Selecting scores of employees became Scott's main task the day after voters promoted the Republican lieutenant governor to Vermont's top job. He has eight weeks to decide who will help him run state government starting January 5.
Fewer than 24 hours after the election, Scott's transition team had a website, transition.vermont.gov, that was accepting résumés and suggestions from the public. Hundreds of applications have already come in, according to Jason Gibbs, a transition team member.
The buzz is intense: Just what will a Scott administration look like?
During a press conference the day after he prevailed over Democrat Sue Minter, the 58-year-old excavation company executive said he was looking "outside the box" for his cabinet members. "Being a Republican isn't a litmus test," he insisted.
Yet Scott's first move that day was to appoint three men who served as high-level aides to former Republican governor Jim Douglas to lead his transition team. This week he took a two-day trip to an Orlando meeting of the Republican Governors Association. Those two moves didn't exactly send a signal of nonpartisanship.
Tim Hayward, once Douglas' chief of staff, is leading the transition. Gibbs, who served as spokesman to the former governor and then commissioner of the Department of Forests, Parks and Recreation, is Hayward's assistant. Neale Lunderville is heading up Scott's budget-planning committee after serving as secretaries of administration and transportation under Douglas.
Those familiar names caught the attention of Rep. Chris Pearson (P-Burlington), who won election last week to the state Senate.
"My fear is that he will really mirror the Douglas administration; he's already leaning in that direction," said Pearson, who recalled persistent budget battles with the last Republican governor.
"My hope is that he picks a cabinet that reflects his more moderate nature. I think he's proven to be somebody who appreciates the challenges of working Vermonters."
After his meeting with Shumlin, Scott walked down State Street in Montpelier back to his transition office, accompanied by Hayward, Gibbs and his new state police security. Though he was operating on just a few hours of postelection sleep, the governor-elect had a spring in his step and confidence that came with having just learned that voters really do like him. A passing driver honked in support.
Scott showed no sign that he's overwhelmed by the task ahead — being in charge of nearly 8,000 executive-branch employees and building the fiscally responsible budget he promised voters.
The time frame is short, so Scott needs experienced people to get started, Gibbs explained. Douglas suggested he's wise to hire some of his own former staff. "I had a very good team," he said.
But Douglas, Gibbs and Scott himself predicted that the new administration would be a hybrid. While "I think we share the same vision of trying to have an effective government," Scott said, "this is a Scott administration, and we want to think outside the box. I think we're different."
Scott said he would likely appoint not only former members of the Douglas administration, but also those who worked for Shumlin and former governor Howard Dean.
"There will absolutely be a lot of new talent, new ideas, new perspectives in this administration," Gibbs said.
Scott may be the first governor since former farmer George Aiken, who served from 1937 to 1941, to come from a world where people don't wear suits. Those watching closely say they expect his administration will be more reflective of his Barre blue-collar roots.
"It wouldn't surprise me if we see people from ... backgrounds that aren't normally people you expect in state government," said House Speaker Shap Smith (D-Morristown), who advised Minter's campaign.
Smith pointed to two people Scott appointed to help him recruit staff: Rep. Laura Sibilia (I-Dover), who works for Southeastern Vermont Economic Development Strategies, and Debbie Winters, owner of Firetech Sprinkler in Colchester. "Those are people who are outside the box," Smith said.
"I think Phil, as a businessperson, is looking for people who are oriented to that area — who are not politicians," said Senate Minority Leader Joe Benning (R-Caledonia).
Lunderville said different political views won't be a disqualifier, either. "It's OK if they supported Sue Minter in the election," he said. "The question is, can they help us move the state forward?"
"Governor-elect Scott is going to be looking for fresh eyes," predicted Betsy Bishop, president of the Vermont Chamber of Commerce and Douglas' former deputy chief of staff. "I see him reaching deep into the young-professional community."
It'll be important, too, for Scott to find someone with broad knowledge of health care policy, she said. President-elect Donald Trump's vow to toss out the Affordable Care Act means the new governor has to be ready to react to health-policy curveballs, Bishop noted.
What about her? Bishop said she hadn't thought about working in the Scott administration. "Phil Scott needs to look for really talented people," she said. Is she talented? "I certainly do have talents."
Two of Scott's three transition team leaders have already indicated they aren't interested in long-term jobs in the administration.
Lunderville said he's happy as general manager of the Burlington Electric Department. Hayward, who worked for Douglas and Republican governor Richard Snelling, has no plans to come out of retirement to work in Scott's administration, according to Gibbs.
Gibbs, on the other hand, appears likely to play a significant role in the administration. He was a volunteer senior adviser to Scott's election campaign and speaks for the transition team.
"The governor-elect and I have talked about roles I might play," Gibbs said. "He has not made any decisions." Gibbs said the first hires could be announced by week's end.
Regardless of how many former Douglas staffers end up on the new governor's payroll, Montpelier lobbyist Kevin Ellis said he considers Scott "a more modern guy than Jim Douglas."
"He would not have vetoed the gay-marriage bill," Ellis said, referring to Douglas' 2009 veto that the legislature overrode by a one-vote margin. "That's a huge difference."
Ellis said he will be watching to see if Scott comes through with unexpected appointments. "He needs to go find them," Ellis said.
Ellis threw out names, without knowing whether the people were available, interested or could be persuaded to leave higher-paying gigs. Green Mountain Power CEO Mary Powell would make a good secretary of administration, he offered. Scott would be wise to keep some of Shumlin's staff, Ellis said, naming Administration Secretary Trey Martin as a good communicator.
House Majority Leader Sarah Copeland Hanzas (D-Bradford) offered a short list, too, of state officials Scott should hang on to, including Transportation Secretary Chris Cole and Health Commissioner Harry Chen. "I hope people like that get a nod," she said.
Benning chimed in: Keep Michael Snyder, commissioner of the Department of Forests, Parks and Recreation.
When Shumlin was scouting for staff, he looked to the legislature. Will Scott? The Republican minority doesn't have many senior legislators to spare.
Dave Bellini, president of the Vermont State Employees' Association, urged Scott not to rely heavily on legislators, ex-legislators or political favor seekers.
"If you're going to be in charge of Human Services, you ought to know human services. Let's get people with credentials and expertise," he said, arguing that Shumlin appointed too many "political pals."
Scott's appointments will shape what kind of relationship he builds with the legislature. By the end of his eight years in office, Douglas had increasingly testy dealings with the heavily Democratic majority in the Senate and House. Along with the same-sex marriage bill, he vetoed the budget bill in 2009; lawmakers overrode that one, too.
Scott said at his first postelection press conference that he expects he will get along fine with the legislature. He spent 10 years in the Senate and the last six presiding over the chamber as lieutenant governor. "I can find ways to work with everyone," he promised.
Scott said voters sent him a mandate that fiscal issues are the priority. That's one area where the governor and lawmakers might feel friction, as in the Douglas era.
Scott has said he'll limit state budget growth to match increases in Vermonters' incomes or inflation. Given state salary contracts and other expenses, he realistically cannot do that without cuts.
Lunderville, who spent last Friday poring through the Shumlin administration's budget documents, said the governor-elect has asked him not to look for cuts. "We're looking where we can innovate and modernize state government," he said. "We want to look at places to propose investments."
Aside from the budget, lawmakers might differ with Scott over other issues. Some will support gun-control legislation; others will want marijuana legalization after Massachusetts voted for it last week. Scott has said he'd veto the former and wait on the latter.
Benning said he thinks Scott will navigate those differences with the same approach he's used as lieutenant governor — with a coffee machine in his office, dispensing free joe to lawmakers of all stripes. Said Benning: "Every legislator has felt free to have a cup."