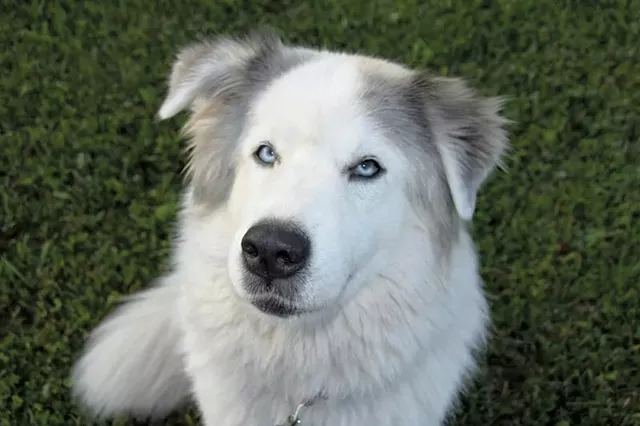 Courtesy of Ashley Husk
Keira
Ashley Husk was at home in Ferrisburgh, and nine months pregnant, when she heard a distant gunshot on August 8. She stepped outside to see her dog, Keira, running down the street toward her. Husk wasn't surprised; loud noises had always startled the animal.
But once inside, Keira paced nervously and wouldn't sit down. Husk saw that the dog's hindquarters were covered in blood. She combed through Keira's thick fur and realized the animal was bleeding from multiple wounds.
Husk rushed Keira to the Vergennes Animal Hospital, where vets pulled more than 40 birdshot pellets from the 10-year-old Great Pyrenees and huskie mix.
A neighbor, Michael Roberts, 57, had fired birdshot at Keira from close range after she wandered onto his front yard, authorities say. State police arrested him on a felony charge of aggravated animal cruelty — the first such case since a fortified law went into effect on July 1 allowing harsher penalties for that offense. Roberts is due in Addison Superior Court next month.
During a brief interview in his front yard, Roberts said he intends to fight the charge in court and suggested that there is more to the story. "It's a neighborhood thing," he said. "It's not something I wanted to do." He declined further comment.
Husk, 29, seemed genuinely puzzled by her neighbor's actions. She said neither she nor her husband, Andy, was feuding with him. Roberts lives across Sand Road about 100 yards from her family's home in a quiet, rural area between Lake Champlain and a patchwork of dairy farms. She said Roberts had never complained — or even mentioned — that Keira was wandering onto his property or causing any problems.
"If he had, we would have put an end to it," Ashley Husk said. In an imaginary interaction with Roberts, she addressed her neighbor: "If you don't want her on your lawn, that's fine. But why would you shoot the animal?" She added, "You can't just get angry and resolve your anger with a firearm. You have to be an adult and talk to people if you have a problem."
Husk said she and her husband aren't close to Roberts but have enjoyed a cordial relationship with him: They chatted pleasantly at a mutual friend's wedding in July, she said.
Her husband confronted Roberts after the shooting, according to Husk, who said that Roberts invoked Ferrisburgh's leash ordinance as a justification for what he did. The town bans dogs from running free and empowers an animal-control officer to impound wandering dogs. Husk acknowledged that Keira has free rein of their 20 acres but said the dog rarely leaves the property.
Animal-control conflicts are part of life in Vermont. But a recent cruelty case revealed the wanton brutality so many innocent creatures face. In October 2016, a Barre man, Quinton Clayton, trained his compound bow on a 23-year-old horse named Bunny — and killed her. After he reportedly admitted the deed, he explained, "It wasn't a big deal. It was just a horse and not a person."
In response, Bunny's owner, Regan Howard, launched a crusade for tougher sentences in animal cruelty cases, and Clayton was eventually sentenced to six months behind bars. That was noteworthy: Animal rights advocates say it was the first time in many years they'd seen someone sent to prison in Vermont for that particular crime.
Howard and animal rights activists used Bunny's death to persuade lawmakers to enhance the potential penalties for aggravated animal cruelty, from three to five years in prison. The charge is a felony used when somebody causes serious injuries to an animal that were intentional and "without just cause."
For good measure, lawmakers also made bestiality a crime, since state law hadn't specifically addressed it.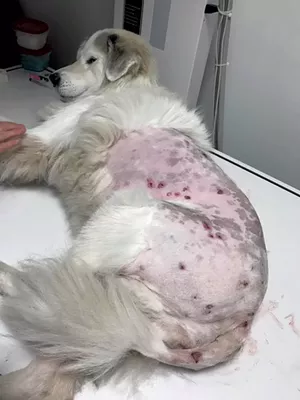 At the veterinarian's office
The law as it's being applied to Roberts is exactly what activists had in mind when they lobbied for the cruelty bill, Addison Humane Society director Jessica Danyow said.
"Animal cruelty is a real thing in Vermont, and it's not something that's necessarily easy to prosecute or prove sometimes," Danyow said. "But in instances like this that are egregious, it is nice to have laws that are strong in response."
Addison County State's Attorney Dennis Wygmans declined to comment on the case, saying he had not yet reviewed the file.
Husk said she was unaware of the recent change to the law. She said she just wanted to see Roberts punished for targeting Keira, a beloved pet who is part of her family.
In fact, the dog was her first dependent. When Husk and her husband were building their home in 2009, they talked about adopting a pet. Husk began casually searching online. She came across a picture of Keira, who had been rescued from an American Indian reservation in northern New York and was living in a nearby shelter.
"When I saw her face, I felt like I had to have her," Husk said. "You could just see something in her eyes."
When they picked Keira up, she weighed less than 50 pounds, and her ribs were visible. Back in Vermont, Keira was skittish around men, leading Husk to conclude that she likely had been abused. But before long, Keira put on weight and grew into an energetic, loving dog.
Since adopting her, the Husks have taken in two more pets. They've also had three children — including a son who was born just a week after Keira was shot.
The dog is devoted, according to Husk. "If my daughter runs out to the end of the driveway to get on the school bus in the morning, and I'm trying to get my shoes to catch up with her, Keira will run outside and stand between my daughter and the road. She won't let anything happen to her."
Husk made an appeal on GoFundMe for Keira's veterinary costs, describing what had happened, and online donors quickly covered the expense. After two days of surgeries and a regimen of pain medication and antibiotics — $2,300 worth of care — Keira was back home and healing last week. Veterinarians expect her to make a full recovery, Husk said.
Still, she said that Roberts should be held accountable and "made an example out of" for a crime that used to get swept under the rug. "People need to be held responsible for any type of animal cruelty," she said. "Some jail time to think about what he did is absolutely necessary."