Sarah Priestap
Nick Charyk of Western Terrestrials
Nick Charyk was halfway through a Segway tour of Savannah, Ga., during a family vacation in March when he had an extraterrestrial encounter of sorts. The leader of one of his favorite bands, Old Crow Medicine Show, had made an out-of-this-world proposal on his own group's Instagram page.
Singer and fiddler Ketch Secor wrote: "y'all gotta cool vibe. let's cowrite a song. I'm gonna give you the title and u take from there: Ethan Allen Wuz An Alien."
As Charyk's friends noticed the post, the Sharon resident recalled, "My phone started blowing up in my pocket." He quickly responded to Secor: "We're game. How 'bout we call it Ethan Alien??" For the rest of his vacation, Charyk imagined an alternative history in which the Green Mountain Boys leader was actually a little green man.
He also pondered how collaborating with Secor — a Grammy Award-winning member of the Grand Ole Opry — might launch his career. "Ketch is a big deal in my music world," said Charyk, a 34-year-old former political operative. "I was like, I gotta land this one."
Four months and one global pandemic later, the track is set to be released on Saturday, July 4, as part of Back in the Saddle of a Fever Dream, the sophomore album from Charyk's Upper Valley-based alt-country outfit, the Western Terrestrials. The up-tempo tune features Secor sharing vocal duties with Charyk and providing frenetic accompaniment on blues harp. Band member Asa Brosius' pedal steel is suitably prominent, and there's even a bit of yeehawing.
"I was so happy with the song," Secor said. "It really captured the weirdness and wiliness of a UFO sighting."
Weird it is, and surprisingly catchy. On first listen, references to other apparent "Ethan aliens" who have made Vermont home might suggest a novelty song: "Ben and Jerry? Ethan aliens," Charyk sings. "Snowflake Bentley? Ethan alien. Neko Case and a band called Death? Ethan aliens."
But the tune has a political message, too, which is unsurprising given Charyk's professional pedigree: He managed former state senator Matt Dunne's 2016 gubernatorial campaign, served as political director of the Vermont Democratic Party and ran Planned Parenthood's Vermont super PAC.
"It was immigrants from outer space [who] helped to make this country great," Secor sings, conjuring up an alternative to President Donald Trump's red-hatted brigade. "In the parts of the galaxy where we came from, visitors are always welcome," Charyk adds later. "And from outer space, y'all are all aliens."
Charyk's message of Vermont as "a sanctuary state for weirdos and aliens and other outsiders" is, he conceded, a bit aspirational. He cited the opposition to resettling Syrian refugees in Rutland in 2016 and 2017 as evidence that the state isn't always as welcoming as Vermonters would like to think.
The fusion of humor and progressive ideology in "Ethan Alien" would be familiar to fans of Old Crow, who are as likely to sing about the assassination of Martin Luther King Jr. and the Iraq War as corn whiskey and conjugal visits. In the last few months, the band released both the somber "Pray for America" and the riotous "Quarantined." The latter features the mostly masked band performing at a social distance. "I long to hug you and to hold you tight, but I gotta wait 14 nights," Secor sings.
The origin story of "Ethan Alien" is about as strange as the song itself.
After buying his first smartphone last winter, Secor recalled, he was poking around on Instagram and encountered the Western Terrestrials, whose debut album The Clearlake Conspiracy came out in September 2019.
"I listened to those guys play, and I was like, Oh, man, they're like a new-wave cow-punk band from my favorite state in the union," Secor said. "They're odd ... And yet, they look like they're going to play at the next, you know, baked bean supper in Vershire."
The Western Terrestrials' roots were definitely part of the appeal, Secor said. The native Southerner fell in love with Vermont while attending Phillips Exeter Academy in New Hampshire. He recalled one memorable trip that he and his then-girlfriend took to Burlington when he was 16.
"It was the dead of winter, and we were too young to rent a hotel room ... so we ended up at the homeless shelter," said Secor, now 42. "I think it was the first shelter I slept in, and it was the beginning of sleeping in shelters for me."
A year and a half later, while his girlfriend attended a writers' program at the University of Vermont, Secor forked over $6 at Burlington City Hall for a permit to busk on Church Street.
"I thought that Vermont was the coolest place up north," he said.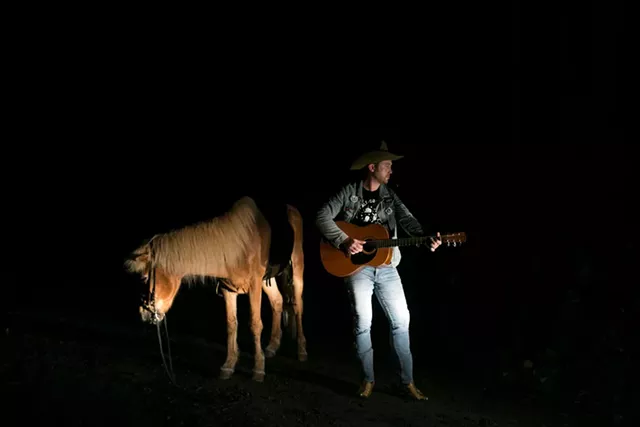 Sarah Priestap
Nick Charyk of Western Terrestrials
The Western Terrestrials aren't the only musicians Secor has randomly pitched via Instagram. "Just the other day, I was trying to get it on with some kid in Colombia," he said. "But Nick was the only one that took my bait."
Secor likened the collaboration with Charyk to his work with one of his own musical idols, Bob Dylan. Secor wrote Old Crow's breakout tune "Wagon Wheel" around a song fragment a bandmate discovered on a 1973 Dylan bootleg. After Darius Rucker's cover of the fully realized "Wagon Wheel" topped the charts, Dylan sent Secor another song fragment from the same era, called "Sweet Amarillo," and asked him to complete it.
Secor said his collaboration with the Western Terrestrials "felt like it was a continuation of that same kind of spirit."
After Charyk sent him an early version of "Ethan Alien," Secor offered the same advice that Dylan had given him. "I said, 'Kill the second verse and go straight to the chorus. We don't need all that information. Just give us one good, strong verse and then take us into the hook.' That's what Bob said to do."
According to Charyk, Secor provided more key input. "When I sent the first draft, he said, 'Pretty good, but you forgot Fred Tuttle,'" referring to the late dairy farmer-turned-Senate candidate and star of the John O'Brien film Man With a Plan. "He has an amazingly detailed knowledge of obscure Vermont popular culture," Charyk continued. ("I had a 'Spread Fred' bumper sticker on my journal when I was 16 years old," Secor explained.)
When Secor first contacted the Western Terrestrials, they were already scheduled to record their second album in Nashville, his hometown. Charyk hoped they might persuade Secor to sit in with them, but he was preparing for a European tour. Then, two disasters struck. A week before the Western Terrestrials arrived in Nashville, a tornado battered the city. Three days into their session at Cinderella Sound Studios, the coronavirus pandemic forced an early return to Vermont.
Charyk later sent Secor a rough cut of "Ethan Alien," the last track the band had recorded in Nashville, and he agreed to provide vocals and blues harp accompaniment.
"It's really quite a challenge to paint yourself into a canvas that has the kind of esoteric and idiosyncratic styles of this particular band," Secor said. "I mean, they didn't leave a whole lot of room to do what it is that I'm known for doing, and so I sort of put on my own triangular alien mask and just sort of freaked out somewhere between the margins."
If strange, "Ethan Alien" fits in with the rest of Back in the Saddle, which features the similarly themed "Space Cowboy's Got the Blues" and "Flying Saucer Rock N Roll." Produced by Dean Miller, son of country music legend Roger Miller, the album also includes odes to Miller père and George Jones; it also features a duet with Jones' and Tammy Wynette's daughter, Georgette Jones.
Charyk is only recently back in the musical saddle. The cofounder of Pariah Beat, a Boston- and Upper Valley-based Americana collective, had turned to politics a decade ago and worked his way up the Vermont Democratic campaign ladder.
"One of Nick's greatest strengths is recruiting and inspiring other young people into a cause, whether it is about political change or creating a new sound," said Dunne, who now works at the Center on Rural Innovation with Western Terrestrials keyboardist Alex Kelley.
Charyk, who most recently was a spokesperson and lobbyist for AllEarth Renewables, said that Trump's election had soured him on his political career path. "It led me to question how effective pushing for incremental change in Vermont was going to be at this moment," he said.
So Charyk decided to give music another go, recruiting two Pariah Beat alums — bassist Jason Pappas and drummer Jared Croteau — along with Kelley and Brosius to create the Western Terrestrials. "This was something I missed and something that was fundamental to who I am," he said.
State Rep. Dylan Giambatista (D-Essex), a former member of Rough Francis, has known Charyk since the two played in punk bands as teens. They reconnected at the Statehouse and, for a time, attempted to start a band covering the Clash. Giambatista said he's not surprised to see Charyk reengage in music.
"Nick was always a performer, and his skill set deserves an audience," he said. "He is very talented, and political opportunities are always there, but you have to kick down the doors to make it in music."
Charyk and Secor still haven't met in person, but the Old Crow bandleader said he was thrilled to add to the cosmic endeavor.
"Let's just sing and, hell, let's collaborate with people that we don't know. It's a big world, but let's make it a lot smaller by loving on one another and making friends out of strangers," Secor said. "And maybe that's the message here. Like, let's look even beyond and look for an interstellar, interspecies kind of collaborative love affair."