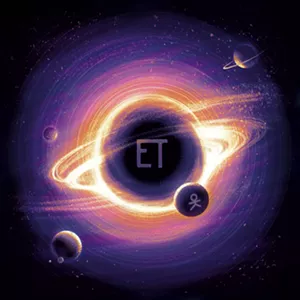 (Milkhaus, digital download)
Vermont hip-hop has had a strong run in 2017, with more shows, more artists and more albums than any year in recent memory. That trend is largely due to the hard work of young, tight-knit collectives such as artisan record label and studio Milkhaus. Hungry, bursting with ideas and constantly improving, this crew has been fun to watch.
In particular, LoKi — aka Liam Corcoran — has been a constant presence this year. He collaborated with rapper/producer Pensive for Avanti, a promising homebrewed celebration of their Milkhaus studios retreat. He also made a 25-track album for which he concocted one beat per day for 24 days leading up to his 25th birthday, on which he wrote a song for each beat.
This kind of Andy Warhol-level output is fitting, though, since LoKi is the gravitational center of the collective. Further evidence of his powerful influence can be heard on his latest project, ET, a collaboration with rapper Ol' Crow.
Ol' Crow is the rap alias of Evan Tillson. He has yet another alias as a producer: ET. His appearance on Avanti, rapping on a concept track called "Golden Record," was an album highlight. It was also clearly the seed from which the concept of the new album grew: a meditation on humanity's place in our universe, half De La Soul, half Carl Sagan.
For the LP treatment, LoKi and Ol' Crow push that concept even further, structuring the album as a nine-track cycle built around spoken-word invocations from featured rapper Hanni. It's fully committed art rap, reminiscent of West Coast legends such as Blackalicious or Aceyalone. LoKi's experience on previous projects really pays off here, because ET is a lean, potent set.
The duo's vision isn't about actual contact with extraterrestrial life as much as how much mankind will have to grow when that happens. This concept gives them a canvas nicely suited to mixing the personal and the cosmic, and both of these young MCs make the most of it.
A concept album about space had better sound huge, and ET delivers. Between Ol' Crow's lush, bottom-heavy production work and the careful mixing and mastering of SkySplitterInk, this is one of the best-sounding rap projects of the year. The vocals are carefully layered, and every detail has a psychedelic sheen. Ol' Crow's beats are distinctive, both in terms of his sonic palette and his orchestral, minor-key melodics.
With previous Milkhaus releases, it was clear the label was working toward its breakout. ET is exactly that: a cohesive, professional album that allows the collective's signature sound to really shine. This is light-years away from the bedroom-studio sound of its earlier work.
Still, ET is not for everyone — art rap never is. Introspection abounds, and, while they're wise beyond their years, Ol' Crow and LoKi are also clearly young writers. Milkhaus is experimental and earnest to a fault, but that's what makes ET such an interesting listening.
This album is a real milestone and certainly LoKi's best effort so far. In a year full of impressive local hip-hop releases, Milkhaus has an undeniable standout here. Anyone looking for a quick out-of-body experience is strongly advised to give this a spin.
ET is available at milkhaus.bandcamp.com.