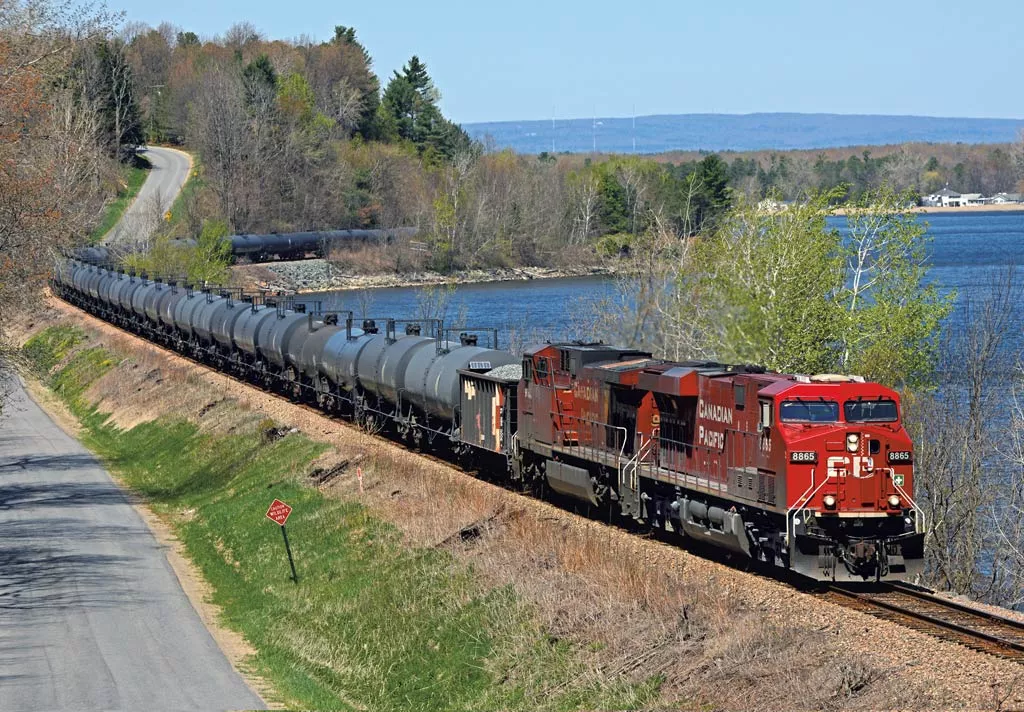 Kevin Burkholder
A train hauling tanker cars at Port Kent, N.Y.
The first railroads that snaked north into the Adirondacks carried iron and lumber. Later, they accommodated tourists. Today, the tracks that follow the western shore of Lake Champlain are ferrying something else: crude oil. Apparently a lot of it.
Canadian Pacific, which owns the tracks, isn't required to release traffic data to the public. But the company revealed that across all Canadian Pacific railways, crude oil transport increased from 53,500 carloads in 2012 to 90,000 carloads last year.
The increase is a result of the boom in North American oil production, which is affecting rail lines around the country. The Association of American Railroads said there were just 9,500 carloads of crude oil transported by rail in 2008. In 2013, U.S. railroads moved 407,642 carloads of the stuff.
According to Lori Fisher, the executive director of the advocacy-focused Lake Champlain Committee, 20 trains cumulatively carrying 60 million gallons of Bakken crude oil from North Dakota now traverse the tracks on the shore of Lake Champlain every week. Much of that oil is transported in antiquated rail cars, prone to puncturing in the event of an accident.
In places, the tracks run just feet from the lake's edge.
John Sheehan, communications director of the Adirondack Council, another environmental group, noted that, while the route ensures "a wonderful scenic trip" for passenger trains, "it makes it a very dangerous location for volatile chemicals to be transported."
Fisher echoes his concerns. "This is flowing through those lovely little hamlet communities, over vulnerable waters," she said. "A spill on Lake Champlain would be devastating, and very hard to recover from."
Mollie Matteson, a senior scientist with the Center for Biological Diversity based in Richmond, said a spill could threaten wildlife, drinking water and even tourist dollars.
As concern grows nationally about the safety of crude oil transport, this coalition of local environmentalists is beating the drum for stricter safety regulations and updated, comprehensive plans to clean up after a spill should one occur.
In towns along the western shore of the lake, residents are watching the tanker traffic with curiosity and sometimes concern. Plattsburgh resident Mary-Alice Shemo has even recruited senior citizens at a senior center next to the tracks to note the times of passing trains.
"The people that direct the emergency services in the towns along the line are hoping it can't happen here," said Shemo — "it" being a major derailment or accident. "I think they're not really prepared."
Town officials don't contradict that assessment.
Tom Scozzafava, the Moriah town supervisor, is a self-described railroad buff who lives a few hundred yards from the tracks and works in an office even closer to them.
He said he sees at least one train a day, sometimes with as many as 120 oil tank cars, heading south — a "tremendous" increase over the traffic from just a year ago.
Local officials like him are worried about both the safety of residents in the region and the environmental health of Lake Champlain. Scozzafava pointed out that some residents in Moriah live sandwiched between the rails and the lakeshore. Should a derailment force an evacuation, they'd have to leave by water.
Scozzafava said that "all in all," Canadian Pacific has been a good neighbor, and he credited the company with investing in rail maintenance, repairs and training for local emergency responders. The training is helpful, Scozzafava said, but he added that the region just doesn't have the capacity to deal with a major fire or explosion.
Don Jaquish, Essex County emergency services director, said first responders are "as ready as we really can be." First responders in Clinton and Essex counties trained last year in how to respond to an ethanol fire — and learned techniques that could apply should a crude oil spill take place. Just this week the county is collaborating with Canadian Pacific on two training classes in Port Henry.
But Jaquish, like the environmental advocates, is worried about more than just a fire; he worries about the health of the lake. The Environmental Protection Agency would oversee any cleanup efforts should an oil spill occur. Jaquish said the local U.S. Coast Guard office out of Burlington doesn't have the "booming" capabilities to respond to a major spill, which would entail setting up a temporary, floating barrier to contain oil floating on the water. His office has some small booms, but ultimately the region would rely on contractors to step up in the event of a major spill.
"It's going to cost a lot of money if it happens," he said.
The scenario isn't far-fetched. Scozzafava said there are still a few grain cars sitting at the bottom of Lake Champlain after a train left the tracks just north of town in 1996. Jaquish has seen five derailments in his time as an emergency responder in the region.
Lake Champlain Committee staff scientist Mike Winslow said that in 2007, 12 cars derailed near Route 22 in Essex, N.Y., and two tanker cars carrying chemicals overturned. This happened on the same stretch of track used today to carry Bakken crude.
Bakken crude oil is what fueled the massive explosion that tore through the Québécois town of Lac-Mégantic last July. A runaway train derailed and caught fire, killing 47 people and incinerating much of the downtown. The accident still weighs heavily on the minds of regional activists, who are organizing a demonstration in downtown Plattsburgh for the July 5 anniversary.
The scope of that disaster launched crude-oil transport into the national spotlight, and, in the year since, a series of subsequent derailments and accidents have only strengthened critics' resolve to reform that mode of transport. In late April, 15 train cars derailed in downtown Lynchburg, Va., spilling 30,000 gallons of oil into the James River and prompting hundreds to evacuate. A derailment of 21 cars in Pennsylvania in February led to an oil spill of between 3,000 and 4,000 gallons, according to the Norfolk Southern railway.
The criticism since the Lac-Mégantic disaster has focused primarily on the design of older oil tankers, called DOT-111s. The ubiquitous black cars are the workhorses in the transportation of crude oil by rail, and have been on the tracks since the 1960s. Each car can carry an estimated 30,000 gallons of oil. But their steel walls are less than a half inch thick and prone to puncturing or tearing in an accident. The then-chair of the National Transportation Safety Board testified at a Senate hearing in April that the car's design flaws "create an unacceptable public risk."
"Frankly, switching from a tanker that appears to be made of eggshells to one that has a double hull would be an excellent first step," said Sheehan of the Adirondack Council.
But it's not just the way oil is being carried that worries environmentalists, both in the Champlain Valley and beyond. It's also the type of oil. The Bakken crude oil is particularly light and flammable, making it especially dangerous during an accident.
Environmentalists are also concerned that the Lake Champlain tracks could be enlisted to ferry oil from the western Canadian tar sands in the future. An Albany oil refinery is seeking permission to install boilers that would heat and process tar-sands oil; if that happens, the Port of Albany would be one of the first places on the east coast to handle tar-sands fuel. Environmental groups are calling for a full environmental-impact assessment of the project, including the risks associated with oil transport.
Unlike Bakken crude, tar-sands oil is heavy — and therefore extremely expensive and difficult to clean up in the case of a spill.
CP spokesman Ed Greenberg said that the railroad is investing resources in upgrading the tracks in New York, and has "stepped up" track inspections in the region over the last several months to coincide with the increased traffic.
"Safety is this company's number one priority," said Greenberg.
He stressed that railroads, as so-called "common carriers," can't pick and choose what kind of freight to haul. CP doesn't own the tank cars that travel along its tracks, and so long as those cars pass federal regulatory standards, CP is obligated to haul them.
But Greenberg said that CP is encouraging its shippers to move to newer, updated tank-car designs, and is imposing a $325 surplus charge on each older tanker per trip.
Regulators are also taking note of the traffic.
In early May, the U.S. Department of Transportation issued an emergency order that requires railroads to provide state emergency commissions with detailed information about their shipments of Bakken crude, including the number of trains each week and the specific routes those trains will travel — information that railroads were formerly under no obligation to disclose.
CP is complying with that order, which went into effect earlier this month. DOT is advising the state to release information from the railways only to emergency responders, but more detailed information about CP's route may be released under New York's public-records laws.
In New York, state and federal regulators are gearing up to evaluate some 500 miles of railroad track statewide this summer. The EPA also announced last month that it will craft specific oil-spill cleanup plans for areas where crude is being transported.
It's a step in the right direction, Sheehan said, but he's still nervous.
"Given the fact that the oil companies are expecting to perhaps triple the amount of traffic coming down that line in the next year or two, we have very big concerns about this operation," Sheehan said.
The original print version of this article was headlined "Oil and Water: Trains Hauling More Crude Along Lake Champlain"