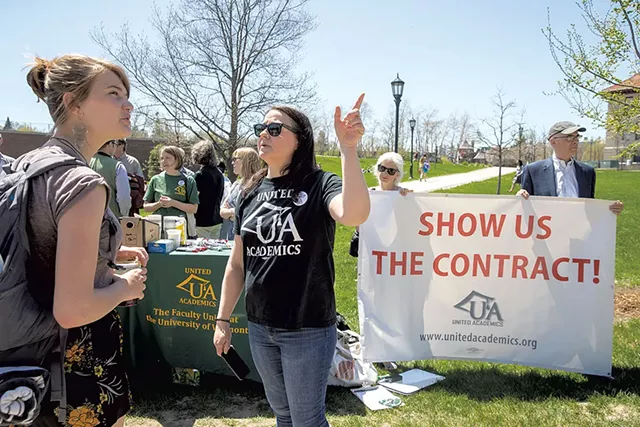 James Buck
Associate professor of English Sarah Alexander (center front) speaking to passersby
Grades are in for the University of Vermont provost David Rosowsky. On April 17, liberal arts faculty members voted to express "no confidence" in the university's No. 2 official and chief budgeting officer.
"I didn't take it personally," Rosowsky explained genially during an interview in his spacious, book-lined office. He carefully defended what set off the profs: UVM's 3-year-old "incentive-based budgeting" model, which allots funding to the university's seven colleges based on enrollment.
It's been a boon for growing programs such as business, health sciences, computing and engineering, but not so great for English literature, history and foreign languages. Increasingly, the humanities are losing in the Hunger Games of higher education.
From his office overlooking Burlington's church spires and slate rooftops, the campus looks bucolic. But in fact, the simmering controversy is roiling arts and sciences faculty and, some say, signals fundamental and painful shifts at UVM.
Still, Rosowsky insists that IBB, the acronym by which the new budgeting model is known, will not, as his critics insist, mean the humanities get shortchanged — or worse.
"The word is 'eviscerate,'" said associate French professor Meaghan Emery. She helped push the no-confidence vote that dinged Rosowsky, the primary overseer of IBB.
Its detractors contend that the model has led to cuts in courses, lecturers and tenured faculty slots, jeopardizing UVM's reputation for promoting a breadth of learning that has defined the institution since its founding in 1791.
Emery asks, "How we can say we are truly offering a well-rounded program when our academic programs are being sapped of their integrity?"
Molly Walsh
Provost David Rosowsky
Rosowsky and other UVM leaders point to ominous enrollment numbers that mirror a decline in the popularity of liberal arts across the country. UVM must respond to protect and position itself to thrive for another 200 years, say Rosowsky and his higher-ups, UVM president Tom Sullivan and board of trustees chair David Daigle.
Enrollment in the university's College of Arts and Sciences dropped 17 percent between 2009 and 2017 without a corresponding cut in teaching jobs. The student-faculty ratio fell from roughly 17-1 to 14-1 over the same period, which Rosowsky warns is unaffordable for a state university and unfair to other UVM departments in which ratios have ballooned to 30-1.
More sobering statistics: The College of Arts and Sciences incurred a $4 million budget shortfall this year. Despite a $2 million infusion from the central university coffers, the university plans to "pink-slip" some nontenure-track faculty. Four full-time positions are being cut July 1 in Asian languages and literature; art and art history; classics; and English. Part-time reductions are planned in Romance languages and linguistics, as well as theater.
In total, 11 positions will be cut — the equivalent of five full-time jobs. As many as 14 additional nontenure, full-time equivalent positions will be eliminated over the next five years, according to a February memo from College of Arts and Sciences dean Bill Falls to faculty and staff.
Decisions on whether to replace retiring tenured professors will depend on the college's "progress toward meeting revenue and cost targets," Falls wrote.
The shrinking might be more bearable if it were happening university-wide. But that's not the case. Enrollment is shifting but stable overall at about 10,500 undergraduate students.
The changing preferences of those young learners are directing construction cranes, too.
The new $104 million Science, Technology, Engineering and Mathematics Complex, the largest capital project in UVM's history, is partially open this year and will be complete in 2019. Even on a campus sprinkled with grand buildings, it stands out and makes a clear statement about UVM's direction.
First-year student Matt Hill noticed. He was impressed with the STEM Complex when he visited UVM as a prospective student, and now that he's enrolled, he loves the building. "It definitely helped me decide I wanted to come here for biomedical engineering; it tells me they care about the major," he said on May 8, during finals week.
Hill, who is from Exton, Pa., chose the biomedical engineering major, a new one at UVM, partly because it's got "really high job growth" in a field that "pays really well," he said. Advice from his father — who is an engineer — to pick a major that would provide a return on the tuition investment also influenced his decision.
Out-of-state tuition and board at UVM is $53,000 this year, meaning the sticker price for a bachelor's degree is $212,000. The annual in-state price tag is $30,000 — still a hefty investment.
Granted, many students qualify for aid. Hill plays on UVM's Division I lacrosse team and receives a partial athletic scholarship, as well as academic merit money. But his parents are still on the hook for $25,000 to $30,000 a year, and Hill said he'd have to take out some loans to chip in.
Given the enormous tab, does it make sense to major in something such as ... French?
Not to very many students. About 10 French majors graduated from UVM last year, and at this year's undergraduate commencement on Sunday, the total is expected to be similar.
Those who opt for the major are passionate, though. Chris Melby finds French a "million times" more interesting than business, his initial major at UVM. Still, the 21-year-old from Harvard, Mass., concedes that his parents "were a bit apprehensive" when he switched majors from biz to français, but they are happy to see his increased motivation.
James Buck
A new residence hall
"I'm working harder now. It's just that I don't hate every single second of what I'm doing," said Melby. "Now I'm taking classes that are really cool and make me think."
Emery, one of Melby's professors, noted that many French majors end up working for companies that value reading, writing and cultural fluency.
Melby believes the IBB model at UVM is "really dumb" and said the university's long-term reputation is at stake over what could be a short-term interest in majors that, in his view, don't offer the cerebral, big-picture thinking that defines the humanities.
"If you only invest in STEM, everything else is going to atrophy," said Melby.
At a faculty union demonstration on May 9, some professors sounded a similar theme as they lobbied in front of Bailey-Howe Library for a new union contract. The IBB, which is not unique to UVM, pits departments against each other, said United Academics union president Tom Streeter.
Streeter and other faculty spent 90 minutes handing out flyers that questioned the logic of spending on construction, a rebranding campaign and new deans and urged students to "tell President Sullivan to fund the faculty, not marketing and administrators." Only a few students stopped to find out what the activism was about.
Rosowsky and other defenders of IBB contend that the approach is breaking down some of the bureaucratic silos in academia that worked against innovation. The model has helped create new majors that respond to student interest and spur cross-disciplinary collaboration, Rosowsky said.
"What we've seen is a tremendous introduction of new academic programs at a rate we've never seen before," he said.
A compact man with a carefully trimmed beard, Rosowsky is himself an engineering grad but said he could just as easily have majored in music. He played classical violin and viola growing up in Boston, where his father was an associate professor at Harvard Medical School. Rosowsky earned his bachelor's at Tufts University and along the way sang tenor in an a cappella group, the Beelzebubs.
He embodies the sweep of interests that he said a good university should nourish.
Rosowsky said he understands that humanities faculty might feel "under siege" — and not just at UVM — given the decline in the popularity of their disciplines. But he insists that he is committed to the idea that the humanities should play a central role at UVM going forward, as they have since its inception.
Although IBB is a permanent budget model, the intention all along was that a steering committee would review the process at the three-year mark. That review began in January. Some of the concerns of the faculty are being examined, Rosowsky said, including competition between UVM colleges for students.
But there's been no immediate change to IBB, and Rosowsky tends to flip criticism back onto the leaders of individual colleges and their faculty. Under IBB, he said, it's up to them to attract students and to evolve.
"We're trying to enable people to be innovative, to be adaptive," he said.

Corrections, May 16 and 17, 2019: An earlier version of this story misidentified the a cappella group with which Rosowsky sang. Also, photo captions misidentified Sarah Alexander as well as a new dorm.