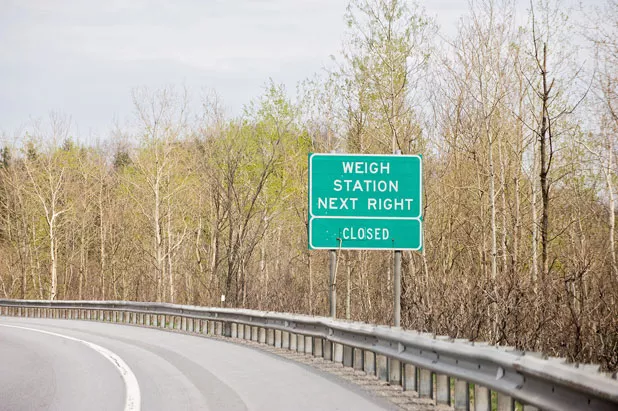 Behold the truck. As if you have a choice. Behind an 18-wheeler struggling uphill on a country two-lane, or in front of one barreling down the Interstate, you will behold it, like it or not.
In 2002, there were 1.28 million trucks with at least five-axles and 18 wheels in the United States, and they logged more than 82.3 billion miles. About $10 billion of the estimated $13.2 billion of consumer and manufacturing goods on sale in America - everything in every store and warehouse - reached its destination by truck.
According to the Chittenden County Metropolitan Planning Organization (CCMPO), 6 million tons of freight comes into Chittenden County every year, and 91.4 percent of it arrives by truck. A 2005 Middlebury College study reported that, based on data collected by the Vermont Department of Transportation (VTRANS), 862 trucks traveled between Middlebury and Burlington every day, and the average weight of each truck was 40 tons, or 80,000 pounds.
As their numbers have increased, trucks have also grown bigger. The standard in most states, Vermont included, is 53 feet. But 21 states, including Massachusetts and New York, now allow what are known as "longer-combination vehicles." LCVs have names like the "turnpike double" (a tractor with two 40- to 53-foot trailers), the "triple trailer" (a tractor, plus three 28-foot trailers), and the "Rocky Mountain double" - a tractor with both a 53-foot and a 28-foot trailer attached.
Right now, federal law limits trucks on the Interstate system to 80,000 pounds. The trucking industry has been trying to change that with an aggressive effort to increase the 40-ton limit to 97,000 pounds. Having failed to change federal law, the industry, led by a group euphemistically called Americans for Safe and Efficient Transportation, have been targeting state legislatures to at least establish pilot programs for heavier trucks.
As Vermont Rep. Steve Howard (D-Rutland) pointed out to colleagues in a 2005 letter, the industry's efforts could put pressure on the state to increase the weight of trucks on state highways, "making roads more dangerous and costly."
Indeed, right now, trucks on Vermont's state highways can weigh as much as 99,000 pounds as long as they are hauling milk, logs or quarry ore. This despite the fact that, according to the CCMPO, Vermont's major truck routes are inadequate for the standard 53-foot tractor-trailer, "which limits access to Chittenden County and hurts the region as national carriers move towards larger trailers and use of multiple trailer sets."
In his letter, Howard concluded that allowing heavier trucks in Vermont would stymie the effort to improve Vermont's rail system. "I support a more viable rail system nationally and here in Vermont," he wrote. "Heavier trucks are incompatible with a sound and more environmentally sensitive rail system."
Whether or not you like trains, it's been increasingly harder to like the trucking business, even though life as we know it currently depends on them. A February 2003 national poll of likely voters found that 89 percent oppose triple-trailer truck operations, and nearly three out of four disagreed with the trucking industry argument that decisions on size and weight should be left to the states.
Perhaps as much as military defense, the trucking system is a product of national economic planning in the nation that pretends it has no such thing. Hundreds of state and local entities like the CCMPO work with the federal transportation agency to coordinate the supply and demand, as it were, of the national freight system. They have helped the government decide where trucks may travel, how big they can be and how much they are taxed. They have influenced where highways are built, how wide they are and their speed limits.
The U.S. Department of Transportation has opposed both the increase in LCV use around the country and the industry's attempt to change the law state by state. It has said it believes "an appropriate balance has been reached on truck size and weight." The DOT argues that a "piecemeal approach" to policy would contribute little to consumers or business. Moreover, according to the department, there remain "many uncertainties about the safety of substantially increased use of LCVs."
An organization called the Coalition Against Bigger Trucks has fought LCVs by pointing out how much more they would cost American taxpayers. The coalition argues that heavy trucks underpay their share of highway costs by nearly $1.9 billion a year nationwide. A federal study of highway cost allocation estimated that an 80,000-pound, five-axle tractor-trailer pays just 80 percent of its highway maintenance costs. A 129,000-pound double-trailer combination pays only 60 percent of its costs, while a triple-trailer truck registered at 110,000 pounds pays only 70 percent.
In Vermont, the Vermont Department of Transportation calculated that, in fiscal year 2004, the biggest trucks - five or more axles - cost Vermont $34,452,000 more in road and bridge maintenance than the industry paid in taxes, fees and fines. Three and four-axle trucks cost the state another $4.5 million.
Not surprisingly, the trucking industry does not accept the validity of these studies. Advocates for continued deregulation of trucking say that the industry contributes significantly to the Gross National Product. Every gallon of diesel a trucker buys includes an excise tax. "Most [of those studies] don't realize all the taxes truckers pay," said Tom Weakely, director of operations for the Owner-Operators Independent Drivers Association. "There are excise taxes on the tires and other taxes besides the fuel tax."
One way for the state to cut down on the damages trucks cause is to more rigorously enforce the state's commercial vehicles. The primary tool for that enforcement is the weigh station. But, in the year ending last September 30, VTRANS weighed fewer than 20,000 trucks, issuing 501 violations that netted $361,858 in fines for the State Transportation Fund. Capt. William Elovirta of VTRANS acknowledged that the state's weigh stations aren't catching most of the violators. One reason is that "the bulk" of the inspections are on the federal interstate highways, which account for only about 320 miles of the roughly 2600 miles of rural and urban roadways in Vermont. Another reason is that Elovirta has just 22 uniformed patrol inspectors working for him. Meanwhile, truckers have gotten savvier about avoiding weigh stations.
"When we set up (the portable scales), probably within a half hour everyone within a 25-mile region knows we're there," Elovirta said. "Some do try to bypass enforcement."
He's also aware that some truckers might be "sitting at a restaurant" somewhere, waiting until the weigh station closes. "We may move on and then come back" to try to catch them, he said.
Of course, another way to improve the roads for both trucks and cars is to build more highways. But to reduce the congestion and prepare for the expected increase in freight, Vermont would need to build about 62 miles of new lanes, at a cost of $132 million, according to a study of traffic congestion by the Reason Foundation, a free-market think tank.
John Stilgoe, a Harvard professor of visual and environmental studies, and author of the new book Train Time: Railroads and the Imminent Reshaping of American Society, said that new technology such as global-positioning systems could help enforcement efforts. If GPS systems were universal, Stilgoe says, states and cities could chart truck traffic.
At that point, he said, "A lot of communities will figure out they'd rather have one freight train a day than 60 trucks. They're not getting a payback for the 60 trucks. If trucks are going to pay their fair share, they're going to lose out to the railroad, which pays taxes on every mile of its track."
In 2001, Vermont did look at the benefits of expanding its rail freight system. A Statewide Freight Survey Study by VTRANS, launched to "identify and prioritize future investments in the freight transportation system," proposed a bigger investment in "intermodal freight traffic," or a combination of road, rail and sea to move freight in, within and through Vermont.
Right now, though, trains carry just 8 percent of the total freight in Vermont. And to increase that would be almost as costly as building more highway lanes: About $112 million - four times the state's 2008 railroad budget.