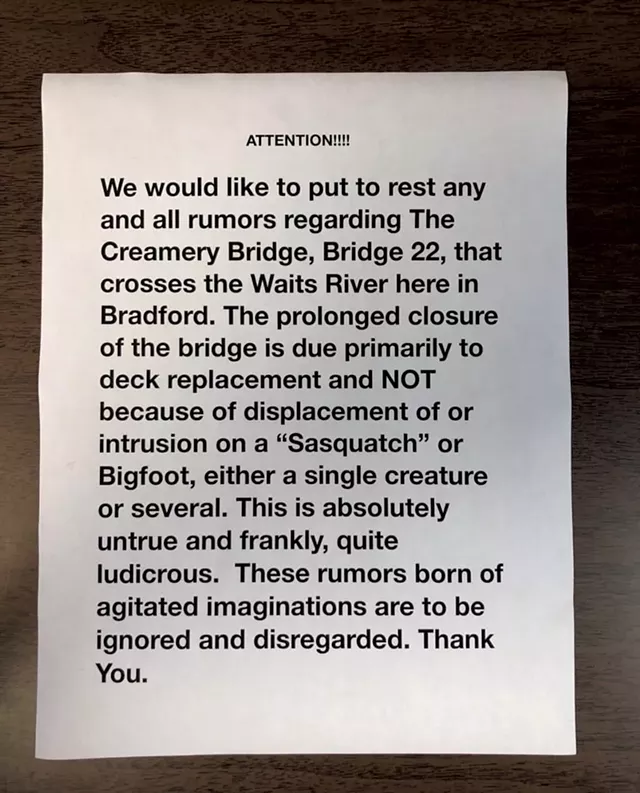 Courtesy of Dustin Schell
The note
Sasquatch is not to blame for delays on a bridge project in Bradford.
That was the message delivered Monday at the Upper Valley town's post office, where someone left an unsigned flyer warning those with "agitated imaginations" to stop spreading rumors about the Creamery Bridge.
"The prolonged closure of the bridge is due primarily to deck replacement and NOT because of or intrusion on a 'Sasquatch' or Bigfoot, either a single creature or several," the note reads. "This is absolutely untrue and frankly, quite ludicrous."
Alexander Chee, a Bradford resident, novelist and associate professor at Dartmouth College, posted a picture of the sign on Twitter. He told Seven Days that the lengthy closure has sparked discussion in town about what, exactly, is holding up the project. The one-lane span across the Waits River isn't more than 100 feet long, Chee estimated, but has been closed for about a year.
"Bigfoot is actually the most plausible reason, because I feel like you could build several new bridges in the time that that bridge has been closed," Chee said with a laugh. "And if you can't, what's wrong with you? Really, what is going on?!"
JB McCarthy, the Vermont Agency of Transportation project manager for the Bradford bridge, said the work is simple enough, but errors in design drawings have delayed it. Sasquatch hasn't played a part, he said: "I wish I could blame it on that!"
Construction is expected to begin this fall. The project has an estimated price tag of about $355,000.
As for the flyer, no one has fessed up to hanging it.
"It's definitely nothing that's postal related," said Steve Doherty, the U.S. Postal Service spokesperson for northern New England.
Sonya McLam, the Bradford town clerk, saw the sign Monday but hadn't before heard the rumor of a yeti-related construction delay.
"Maybe [the state] put the poster up," she said. "I'm not sure!"
And though Chee writes fiction, he swore that he wasn't behind the flyer.
"I teach a class at Dartmouth called Imaginary Countries," Chee said. "Maybe I'll bring this sign in for the first day as a writing prompt."