Jeb Wallace-brodeur
Redstone
A stately brick Victorian overlooks Montpelier from 11 wooded acres atop a hill. A fairy-tale turret adorns the third floor. Birds chirping from tree branches break the silence. The property feels like a forest retreat, but the 127-year-old home is little more than a stone's throw from the Statehouse.*
The prime piece of real estate, known as Redstone, has been empty for seven months while its owner, the State of Vermont, has continued to pay $15,000 to $20,000 a year for heating and electricity. After more than a decade of indecision, the legislature and Gov. Phil Scott's administration agreed earlier this year to sell it.
This state office building might not be typical, but the government's vacillation over what to do with it is.
The state owns 3.2 million square feet of office space in 236 buildings across Vermont. Some 143,000 square feet, or 5 percent, of that space is currently empty, according to Buildings and General Services Commissioner Chris Cole. He expects that vacancy rate to fall to about 3 percent after four buildings at the Waterbury State Office Complex are renovated and returned to use.
Meanwhile, the state is paying rent on another 911,000 square feet of office space. Some of that, too, is vacant — including 10,000 square feet at Barre City Place, a privately owned building that was part of a 2014 downtown redevelopment project.
Does it make sense for the state to keep cutting rent checks as it underutilizes facilities it already owns and leases?
Juggling state office space is complicated, according to Cole, who assumed responsibility for state buildings in January after serving as transportation secretary under former governor Peter Shumlin.
Asked which job was tougher — managing the state's 2,700 miles of roads and bridges or managing its 236 buildings and 122 leases — he didn't hesitate.
"This one," said Cole, who had just fielded a call about a bomb scare at a St. Albans state office building.
Location, building condition and staffing needs all play into where it makes the most sense to place state workers, Cole said, so flexibility is in order.
His goal is to reduce Vermont's leased space from 20 percent to 15 percent by making better use of property owned by state government. Math makes that a clear choice, he said, since the state spends $26 million a year to operate the 80 percent of office space it owns and $14 million a year to operate the rest.
According to Cole, the average cost of state-owned office space is $13.44 per square foot. Lease prices vary widely but average about $22 per square foot, he said.
Shifting to a greater percentage of owned office space could not only save money but would make state workers happier, according to Vermont State Employees Association executive director Steve Howard.
"They much prefer to be in buildings owned by the state," Howard said. The state generally has less control over such issues as security and cleaning in leased space, he noted.
Cole also hopes to reduce the state's vacant space, he said. Asking lawmakers for approval to sell Redstone was one obvious move, he said, but others will take longer.
"I was reluctant to sell any additional buildings until I was sure we didn't need them," Cole said. "I will be making additional recommendations and seeking authorization to sell additional state property next legislative session."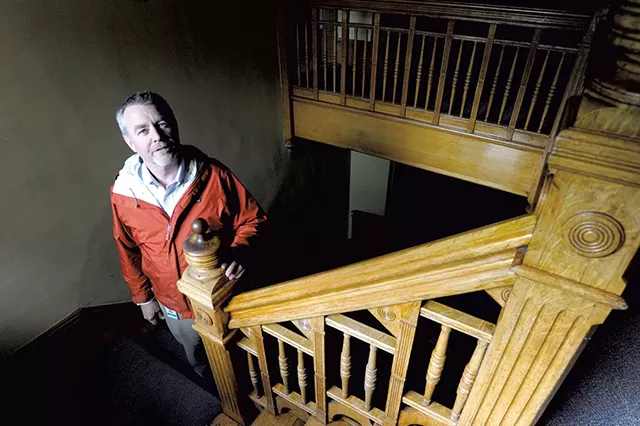 Jeb Wallace-brodeur
Chris Cole
Redstone was built around 1890 as a summer home for a wealthy couple, according to state curator David Schutz. The state bought the property in 1947. It isn't the only quaint Victorian used as government office space, but its isolated location — just outside Montpelier's capital complex — limits its usefulness.
The building once housed state police headquarters and, later, the Secretary of State's Office. In 2011, before Tropical Storm Irene struck Vermont, Shumlin's administration proposed turning it into a conference center and gubernatorial apartment. After Irene, the home became a temporary refuge for the Department of Mental Health. The last tenant was the Vermont Occupational Safety and Health Review Board, which landed there briefly during renovations of its offices.
Cole said Redstone will go on the market after a historic analysis is done. Any buyer would have to preserve the building's interior and exterior historic character.
Not wanting to reveal his hand, Cole pegged the sale price at "as much as I can get." The City of Montpelier assessed the property at $926,300 in 2016.
"I don't think this one's going to be hard to move," Cole said as he stood May 31 in what once might have been Redstone's drawing room. "This could be a private home. This could be an inn ... This could be any number of things."
One thing that doesn't make sense, he said, is for the state to sink more money into the building while no state agencies are clamoring to use the space.
Decisions over what to do with Redstone have ping-ponged back and forth for years, in a manner worthy of an Abbott and Costello routine. Since 2005, lawmakers have alternately directed the state to sell the building and repealed authorization to do so.
In January, Cole asked lawmakers to once again consider the building's fate. Rep. Alice Emmons (D-Springfield), longtime chair of the House Corrections and Institutions Committee, was receptive this time.
"The question becomes, do you invest in the building, or do you sell it?" Emmons said. "We came down to the point where we'll sell it."
Even as the decision to dispose of Redstone is at hand, some still object.
"I think the state's making a huge mistake if they sell it off," said Secretary of State Jim Condos, whose office moved in 2011 from Redstone to a downtown Montpelier Victorian house of the same era designed by the same architect. "I just think it hasn't been well thought out."
Condos favors turning Redstone into a conference center. "It's a beautiful building," he said. "The state is always looking for conference room space."
Dissent over the future of Redstone illustrates why it's taken so long to act. For state government, the decision to buy, sell, rent or own office space is never straightforward.
State policy favors owning over renting — unless renting helps a community revitalize its downtown. Politics also plays a part. The state's 8,000 workers are located in dozens of legislative districts; lawmakers have provincial interests and competing ideas about where and how those employees are housed.
"Decisions are not made quickly," Emmons conceded. "There's a lot of questions asked and a lot of deliberation. That's just part of the process."
Some purchases backfire. The most notable blunder in recent memory was the state's 2006 acquisition of an IBM building in Essex for $6.4 million. After spending $3.2 million to maintain the empty space, the state finally off-loaded it for $2.4 million in 2013.
The House and Senate dickered more recently over whether to sell or keep two of the smaller Waterbury state office buildings damaged by Tropical Storm Irene, according to Emmons.
"My committee was adamant we were not going to let go of that," said Emmons, who prevailed in the debate. "You never know what we might need them for."
Cole said he is glad to have those buildings. He hopes renovating them will help solve two problems: putting vacant space back in use and moving hundreds of workers out of leased office space elsewhere.
Plans are afoot to do the same with a squat, vacant one-story building at 144 State Street in downtown Montpelier. The space was used as the governor's transition office until his January inauguration but was without a tenant for most of a year before that, Cole said.
After the building gets $300,000 to $500,000 worth of renovations, the Green Mountain Care Board is expected to move there from leased space nearby, Cole said.
The Buildings and General Services commissioner said he knows of no rule of thumb for how much space reasonably should be empty at any given time, though some flexibility is always needed. The amount of vacant space the state had last year was the lowest since Tropical Storm Irene's disruption, according to his department's data.
In the commercial world, there are also no set standards for vacancy rates, said Ernie Pomerleau, president and CEO of Burlington-based Pomerleau Real Estate. "I have an axiom, 'Empty is bad. Filled is good,'" he said. "I do pretty much anything to keep things from being empty."
*Correction, June 8, 2017: An earlier version of this story misstated the age of the Redstone building in Montpelier. It is 127 years old.