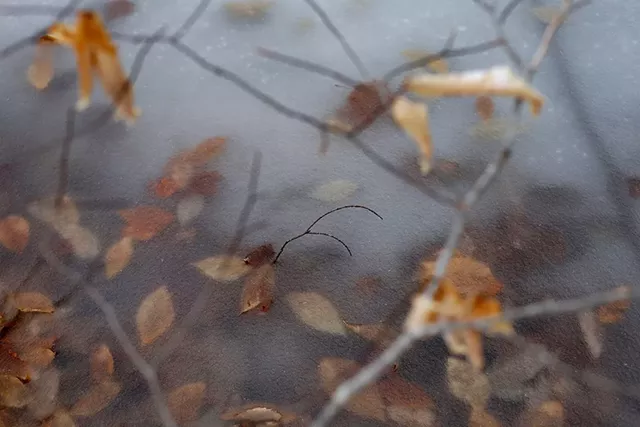 Sarah Priestap
Strafford's Podunk Wildlife Management Area
Steve Faccio gingerly moved saplings aside as he trudged through the brush, taking care not to snap off any spindly branches. The young trees were tipped with expectant buds and daubed with late-season snow. According to the calendar, spring had arrived, but that doesn't mean much in Strafford's Podunk Wildlife Management Area. Four days after the seasonal equinox, about an inch of the white stuff turned this 924-acre preserve into a picturesque wonderland.
Pretty as it was, the snow threatened to derail Faccio's plans for the day. A conservation biologist and cofounder of Norwich's Vermont Center for Ecostudies, he was at Podunk to research the health of its vernal pools. Specifically, he aimed to complete his survey of one such pool by finding a salamander. The dip in temperature made that unlikely, but this winter has been so atypically warm that Faccio speculated a few plucky amphibians might be on the move.
For this ongoing series about Vermont's wild areas, Seven Days tagged along.
Sarah Priestap
Steve Faccio
Faccio's current work at Podunk, part of a multiyear collaboration of VCE and Dartmouth College, involves measuring mercury levels. Coal-burning power plants in the Midwest emit that toxic pollutant, Faccio noted, and prevailing winds ensure that Vermont is on the receiving end.
"Mercury itself isn't too bad of a problem until it becomes chemically changed into methylmercury," the biologist explained. "Then it becomes very bioavailable and gets into the food web."
The methylation of mercury occurs in low-oxygen environments where certain bacteria are present — exactly the conditions found in vernal pools. Methylmercury, a neurotoxin, is then absorbed by bottom-of-the-food-chain pool dwellers such as various beetles and amphibians, even small creatures called fairy shrimp that resemble their marine namesakes.
A preliminary analysis of VCE's data found that, in a process known as bioaccumulation, older salamanders had higher levels of mercury than did younger ones. Those results also pointed to the "biomagnification" of methylmercury in creatures that live in and near vernal pools.
"The higher you move up the food chain, the more mercury [organisms] have," Faccio said. "The predatory beetles that live in these pools, they're loaded with mercury. Lots of it."
Why is this important? Because the toxins inside beetles living in Vermont vernal pools are passed along to salamanders, then to snakes, then to raptors, then (via bird droppings) to reservoirs and aquifers, then to drinking water, and then to human water drinkers. All from a beetle that just happened to live where the wind deposited particles of pollutants. Life on Earth is truly interconnected.
Since multiple plant and animal species closely interact in such wild areas, you might say Podunk is on the front lines of the battle to save the environment.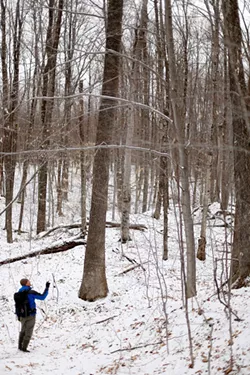 Sarah Priestap
Steve Faccio
One wouldn't expect such drama from the preserve's name — a word that has acquired the connotation of a tiny town where nothing much happens. The Vermont Fish & Wildlife Department's info sheet on the preserve says that the precise origins of "podunk" are unknown, but it may be "a Natick Indian word meaning 'a boggy place.'"
Purchased from the Malmquist Wood Products company by the State of Vermont in 1963, Podunk was settled long before the lumber companies came to town. Low stone walls snake alongside stands of shade trees, relics of the farms that once occupied these lands.
If you were dropped in the middle of the Podunk preserve, you might never make it out without a good internal compass; GPS and cell reception are nil. And that business about moss growing on the north sides of trees has been debunked — right? Anyway, locating north wouldn't be too helpful, since that direction out of the park is filled with trees, trees and more trees. Also, bears.
Yet Faccio walked through the vast preserve as if it were his front yard. Like a homing pigeon, he headed straight toward the vernal pool from which he hoped to extract that one last salamander. Specifically, he sought a spotted salamander, which lays its eggs in vernal pools in early spring. Whenever Faccio finds an adult spotted salamander, he said, he takes a blood sample and a tiny piece of tissue from its tail.
On the way to the pool, Faccio identified several of the tree species that make up much of this northern hardwood forest. Oaks are relatively rare here, but sugar maple, ash, birch and beech are abundant. Black bears — which, along with bobcats and coyotes, are the primary apex predators — have a special interest in beech trees, which produce nutritious nuts.
Faccio scanned a few beeches and quickly found claw marks on one. Seeing them made it easy to imagine a young black bear scrambling up the tree to chow down on beechnuts.
Later, Faccio pointed out a "bear nest" in the crook of another beech, easily 80 or 90 feet in the air. "Bears will find a tree with a lot of nuts, then get into a comfortable spot, a nice spot they can lean against, and they'll pull branches into them," he said. "When they leave, there's this big pile of branches. But it's got nothing to do with nesting. It's a feeding place."
Faccio reasoned that the nest he spotted was made last fall, since brown leaves still clung to its branches.
After traipsing over several small rises, we finally arrived at the vernal pool. Unfortunately, nary a salamander was in sight. Despite the mild winter, the pool was capped with a solid sheet of slush-frosted ice that rendered it inhospitable to amphibians. Faccio would have to return in the next few days, once incoming warmer weather jump-started a thaw.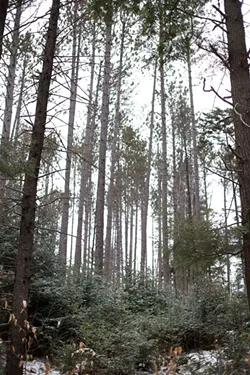 Sarah Priestap
Strafford's Podunk Wildlife Management Area
As something of a consolation, Faccio led the way across a stump-studded slope to one of Podunk's main attractions. Jutting up spikily at shin height, the stumps were left over from the industrious gnawing of beavers, and they indicated a nearby body of water that the critters had dammed.
Right in the middle of the Podunk preserve is a beautiful pond, about three and a half acres in area and ringed with conifers. Their green stood out against the still-denuded deciduous trees around them. The pond's surface was ice-free, and its waters coursed through the branches of a sizable beaver dam.
Faccio said that local and state officials have been debating whether to remove the human-made dam that dwarfs the adjacent one made by beavers. For now, concerns about flooding have prevailed, keeping the dam in place.
Removing it would drain the pond and deprive visitors of one of the preserve's loveliest features. From a strictly aesthetic standpoint, that would be a shame. The Podunk Wildlife Management Area is a valuable site for scientists and conservationists, but it's also valuable for its glorious views — with or without spotted salamanders.