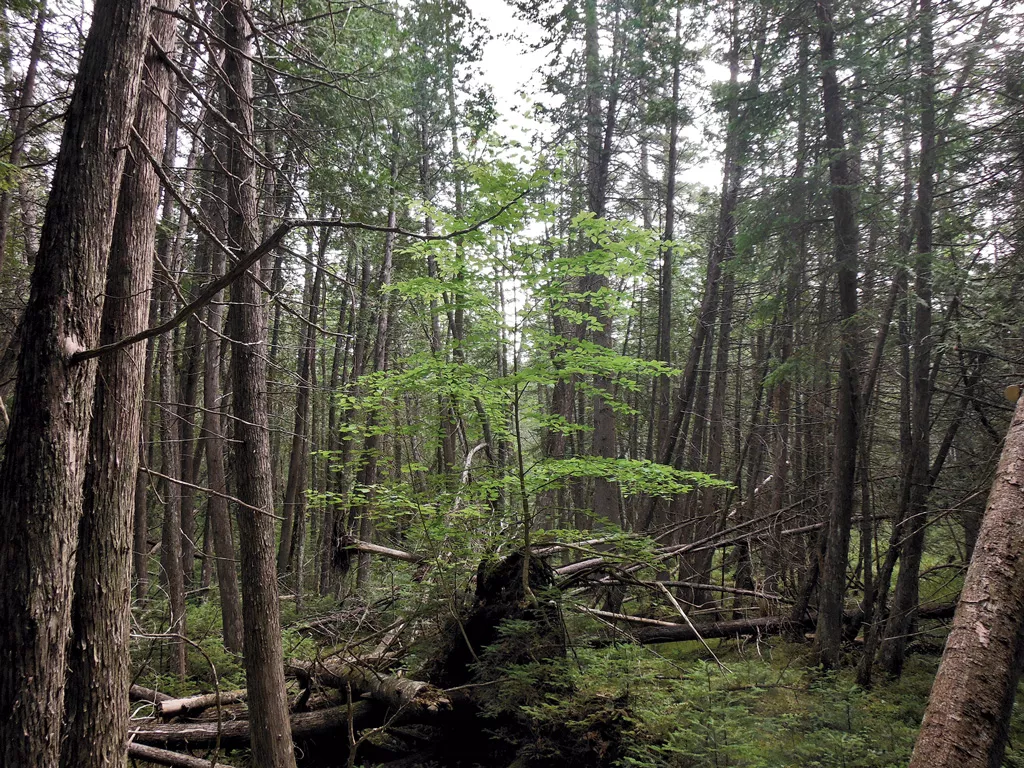 Ethan De Seife
Yellow birch growing out of a fallen tree
Mosquitoville Road, which I had to take to reach the Roy Mountain Wildlife Management Area in Vermont's Caledonia County, seems like a bit of cartographical humor. In fact, the road brings travelers within bug-biting distance of the remarkable cedar swamp that was my destination. So maybe the road namers in the area do have a good sense of humor. Taking no chances, I packed heavy artillery: bug repellent with 34 percent DEET.
To my amazement, I didn't need it. During the two hours I spent mucking about on a tour of the swamp, guided by biologist Chris Rimmer, I encountered surprisingly few mosquitoes, blackflies or other pesky, flying irritants. What I did see was an ecosystem without equivalent in Vermont.
The Roy Mountain WMA swamp — which, as far as I know, has no official name — bears more than a passing resemblance to Georgia's Okefenokee Swamp, which I visited some 15 years ago. Standing, brackish water; richly mossed hummocks; densely packed cedar trees — the only things missing were alligators and the cast of "Pogo."
No top predators, crocodilian or otherwise, make their homes in this swamp. Rimmer remarked that bears might live in the woods nearby, but they wouldn't have any interest in prowling around the swamp — there's nothing here for them to eat. The biggest danger to visitors might be losing a boot to the slurping, knee-deep muck.
Rimmer, executive director of the Vermont Center for Ecostudies, had suggested that I join him on a Roy Mountain swamp stomp for the second installment of this series. He's been visiting the location for 25 years to survey the local bird populations, so he knows the area well. The blue plastic ribbons tied to trees here and there are his: He uses them to mark the path on which he slogs between his five regular observation posts.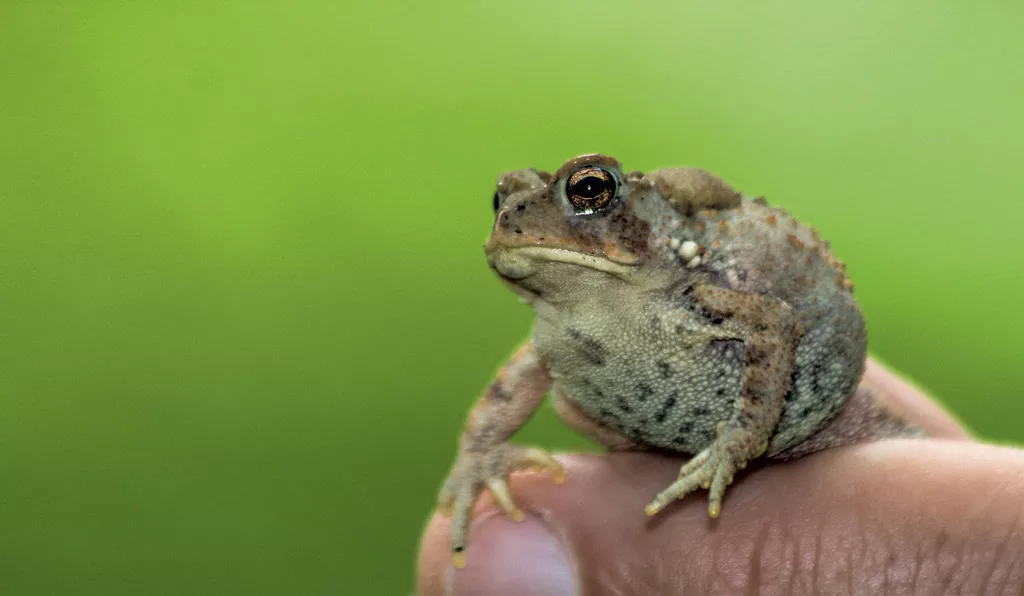 Nancy Piette
Toad
Rimmer loves this place and likely knows it better than anyone. "It's quiet, there are no trails, and nobody knows about it," he said. "There are very few spots like it in the state of Vermont."
It's a good thing Rimmer was there to lead a Seven Days photographer and me through the strange terrain. Not only is he highly knowledgeable about the swamp's plant and animal life, he has a keen sense of direction. Take just 40 or so paces into the swamp from adjacent Jewett Brook Road, and you're likely to lose your way. The stands of trees are so dense and the landscape so unmarked that it's easy to get disoriented.
In fact, let that be an official warning. By all means, go visit this unique swamp. But do so cautiously and intelligently — and, if possible, with a guide. Or at least a compass. Though the Roy Mountain swamp is only about 20 acres in size, it's easy to get lost, and cell service in the area is nonexistent. If you break an ankle climbing over a dead tree, you might become a well-preserved example of Homo sapiens for future explorers to find. And note that the swamp is not a recreational area but a protected natural ecosystem. If you visit, be kind to it.
Decay is everywhere in this swamp. Deadfalls obstruct every potential path; as many dead trees as living ones poke out of the acidic muck. The stagnant water is stained deep brown with the tannins released by rotting plant matter.
But the swamp also explodes with life. As we approached it, Rimmer and I noticed that Jewett Brook Road was hopping with tiny toads, all of which had been tadpoles just days earlier. They are the exact color of the unpaved road and were only noticeable because they bounced around just enough to catch the eye. We later met plenty more frogs and toads. (Rimmer had to remind me: Frogs have moist skin; toads are dry and "warty.") But I saw none of the colorful salamanders I'd hoped to spot.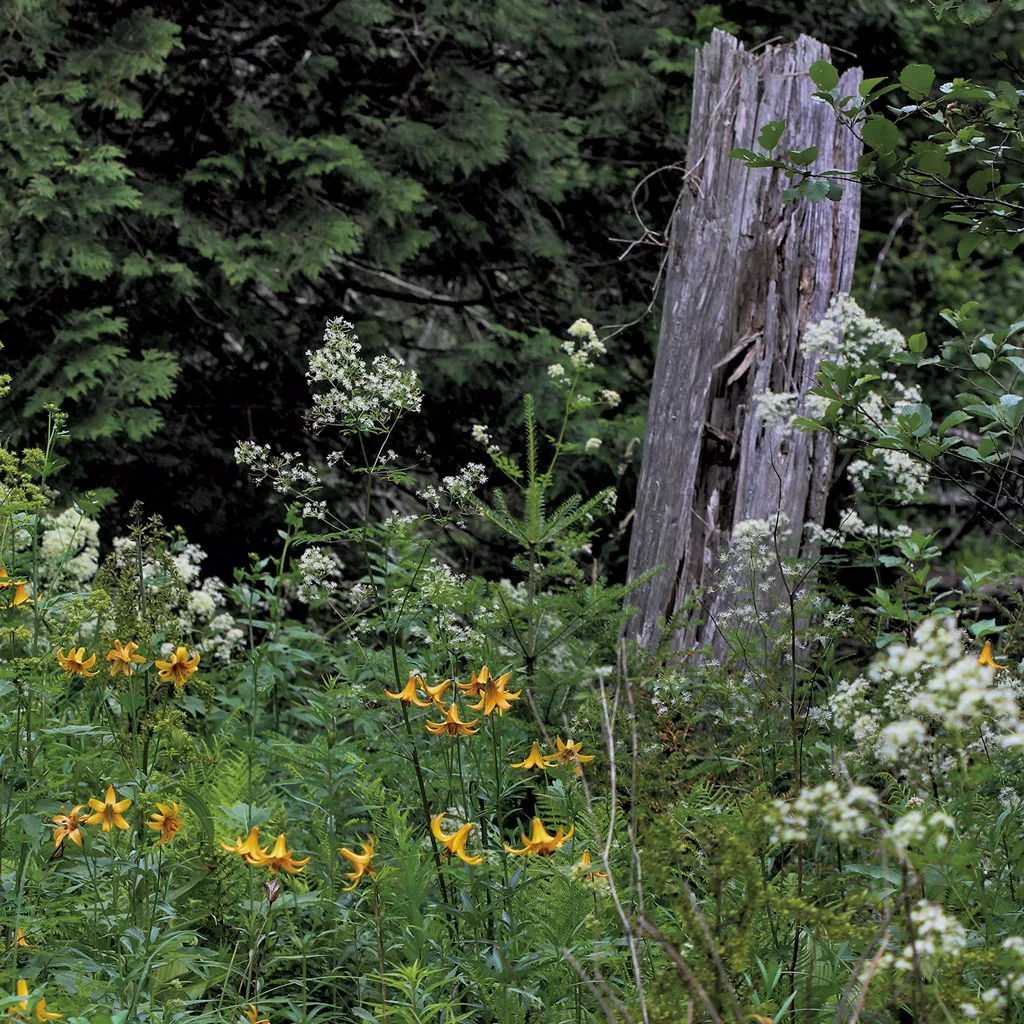 Nancy Piette
Lilies
Scores of birds flitted overhead, though none descended from the canopy to investigate us, even when Rimmer judiciously deployed the birdcall app on his iPhone. Though he wasn't here this time to conduct an official avian survey, he identified just about every bird that piped up — Nashville warblers, winter wrens, northern parula — in just a few notes.
Closer to the ground, too, the swamp teems quietly with life. Some of it is opportunistic, such as the yellow birch that's taken root atop the carcass of a fallen tree — which, in falling, allowed in the light needed by the birch. Rich, green sphagnum covers nearly everything in the swamp; ferns also flourish here.
The near-uniform greenness makes the tiniest fleck of any other hue stand out, so it's easy to spy all kinds of minute berries and flowers. A local species of mint has an eye-catching purple flower; the carmine fruit of a raspberry plant is equally arresting. We were even more fascinated by two white plants, one a rigorously symmetrical, five-petal flower that Rimmer tentatively identified as a variety of orchid. The other was a snowberry, whose bright white berries give the species its name. Most of these early blooming plants lost their fruits by mid-July, said Rimmer, so we were fortunate to catch a glimpse.
The real stars of the swamp, though, are the cedars. Relatively rare in Vermont, they give one the impression of trudging through a Louisiana bayou, even though the New Hampshire state line is just a few miles away. Cedars thrive here because of the relatively low temperatures, abundant water and acidic murk.
Rimmer's many visits to the swamp have generated a great deal of data for VCE's Vermont Forest Bird Monitoring Program, which surveys avian populations in "undisturbed forest areas," he explained. "We wanted to monitor birds where we knew the populations wouldn't be affected by things that humans were doing — other than climate change and things you can't really control."
Rimmer conceded that the site's uniqueness makes it arguably less valuable than the hardwood forests that are the program's bread and butter. But as an ornithological crossroads, the swamp has yielded useful information. VCE is currently creating a quantitative study from a quarter century of the project's findings.
For Rimmer, the swamp is more than a place to gather scientific data. He's spent a good chunk of his adult life here, and though he joked about getting us hopelessly lost, he plainly knows his way around this weird landscape. More than once, he described the place as "evocative," and he was right: It's somewhat alien and almost completely untouched by humans.
Slogging through the swamp was more exercise than I'd expected — I developed some nasty leg cramps that evening — and it took five times as long to cover ground here than it might have on an even surface. We visited four of Rimmer's five observation points, and toward the end the birds were less talkative and we were pretty grimy. He led us up a rise, and, somehow, the road was right there in front of us.
Just as hopping amphibians had welcomed us to the swamp, a bounding snowshoe hare sent us off, before escaping down the toady road beyond reach of the camera lens. It was the largest animal we saw that day, though the swamp is not so remote that we couldn't occasionally hear the telltale signs of a larger one. The growl of a distant chain saw reminded us that "civilization" surrounded us, even here.
Off Trail is an occasional series in which Seven Days joins researchers from the Vermont Center for Ecostudies in exploring Vermont's lesser-known ecosystems.