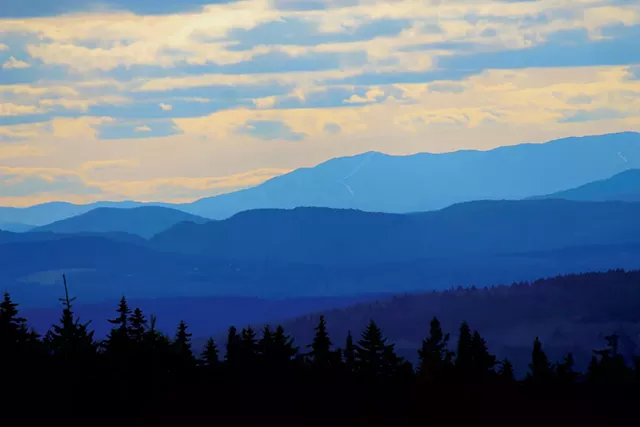 Tristan Von Duntz
Barr Hill Natural Area
In one of the many shady groves along the trail at Barr Hill Natural Area in Greensboro, the branches and pine cones blanketing the forest floor seem to have been arranged with artistic intent. But surely no natural force could have positioned these items to resemble tiny cottages. Have the red squirrels in the nearby balsams suddenly made an implausible evolutionary leap?
As biologist Eric Hanson explained, this section of the trail is known as "the fairy village," and hyper-evolved rodents did not, in fact, carry out its construction. Over the past five years or so, visitors have wittily commented on the sylvan landscape by constructing teensy "homes" for whatever Tolkien-esque creatures might live there. Traversing the area with Hanson on a gorgeous late November morning, as flakes of tree-fall snow twinkled like fairy dust in the sunlight, a visitor found it easy to understand why people consider this place magical.
In reality, Barr Hill and the surrounding lands are beautiful but hardly the stuff of fancy, Hanson said. They represent what he called a "classic working landscape": areas of outstanding natural beauty interspersed with farms and logging operations — or remnants thereof. Though remote, Barr Hill is accessible; though rugged and largely unspoiled, it has a long history in the service of human work and recreation.
Hanson, a Craftsbury resident, knows this hill as well as anyone. Since 1998 he has run the Vermont Center for Ecostudies' Loon Conservation Project. During the warmer months, the migratory birds frequent nearby Caspian Lake and Long Pond. In the colder seasons, Hanson is a trail guide for the Craftsbury Outdoor Center. He helps maintain the extensive network of cross-country ski trails that weave around the region known as the Northern Vermont Piedmont, where Barr Hill is situated.
At barely more than 2,100 feet, Barr Hill does not loom large in Vermont's montane landscape. But what it lacks in height it makes up for in the vistas it offers. At various points in the 0.8-mile trail that extends along the hill's sloping summit, visitors can spy Jay Peak to the north, New Hampshire's Mount Washington to the southeast and even Killington, some 75 miles to the south. When Seven Days visited, a crystalline sky afforded views of those peaks and many more. It felt like standing on the rooftop of Vermont.
In 1972, the Gray family donated the 256-acre Barr Hill Natural Area to the Nature Conservancy, whose volunteers have abetted sightseeing by clearing trees from vantage points. Such selective cutback does not run counter to conservation, Hanson stressed, but is actually essential to habitat maintenance. The cutbacks have "been maintained for the view, but at the same time, it's also providing young [boreal] structure for rodents, which will do better in this area," he said.
"That also provides food for birds of prey, coyotes and foxes ... as well as producing a lot more seeds for the little critters, the base of the food chain," he continued. "To have this mix right next to a mid-growth — 50 to a hundred years old — forest is really important from a wildlife perspective."
The trail guide in Hanson is drawn to Barr Hill because its surrounding terrain provides for extraordinary cross-country skiing; the naturalist in him appreciates the hill for its unusual mix of arboreal species. The soils atop Barr Hill are only one or two feet deep and rich in calciferous lime. That compound was deposited by the shells of the bivalves that once inhabited the Iapetus Ocean, a prehistoric body of water that covered a vast swath of the Northern Hemisphere.
Those soil conditions are perfect for the huge old conifers, mostly red and white spruce, that dominate the landscape. In the past century, Barr Hill has also seen the encroachment of such northern hardwoods as red maple, sugar maple, and white and yellow birch. These younger trees are gaining more ground every year. "It'll be interesting to see what this place looks like in a hundred years," Hanson said.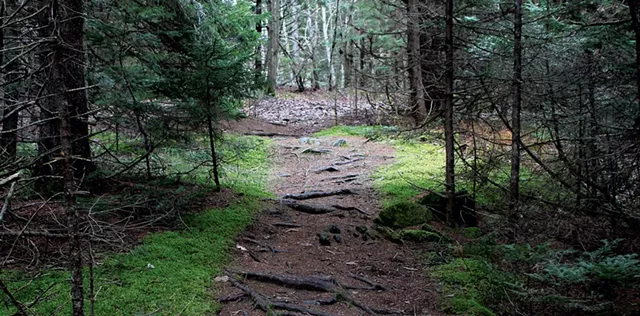 Tristan Von Duntz
A path through woods at Barr Hill Natural Area
Given the hill's history, it'll most likely look a lot different than it does now. Only a century ago, Barr Hill was almost fully denuded, so thorough were the logging operations there. The website of the University of Vermont's Landscape Change Program features a photo of picnickers on Barr Hill in 1912. Not a tree in sight.
The hill's calcium-rich, or "sweet," soil is also excellent for farming, an industry that used to dominate what is now a densely forested landscape. Barr Hill was farmed intensively in the 19th century. In the first part of the 20th century, said Hanson, farmers abandoned the hill in stages; crumbling portions of some of their old stone walls still line parts of the hillside.
By the time the farmers left, their cows had cleared the land of just about everything except the conifers that are now the prevailing species. Another species that escaped being chomped to extirpation by hungry bovines is the sprawling juniper shrub that has taken root in some of the hill's more open areas.
For enthusiasts of local spirits, those juniper berries may bring to mind Barr Hill Gin, produced by Hardwick's Caledonia Spirits. But Hallie Picard, Caledonia's marketing coordinator, said the gin contains no actual products of Barr Hill: Its name is simply intended to evoke "the natural essence of Vermont."
Though there are no longer any farms on Barr Hill, it's easy to spot ones from atop the summit. Pastureland extends from the base of the slope in nearly every direction, nestling around hills, stands of trees and ponds. "We're still seeing a decline in the number of farms, but we're seeing a resurgence in the small farm," said Hanson. "The whole resurgence of food in [places such as] Hardwick — this is part of it."
Pete's Greens, located just beyond some low-lying hills called plutons, is one such success story.
A walk on Barr Hill's easily accessible nature trail doesn't take long, but it can reveal a great deal about the area's natural history to the careful observer. It's easy to spot the familiar brass marker of the U.S. Geological Survey, fastened to a stone to identify the peak of Barr Hill. Unless you know what you're looking for, it's less obvious that the stone to which that marker is affixed was exposed by glacial gouging that occurred some 10,000 years ago.
It takes a powerful imagination to envision the hill's surface being scraped by a gargantuan mass of slow-moving ice, but the evidence for such events is everywhere. Take the very presence of the boulders that jut here and there from the landscape: Only a glacier could have deposited them.
To learn about the science of Barr Hill, it helps to hang out with Hanson. In his pocket, he keeps a folded piece of beat-up paper — his "cheat sheet" for identifying the area's plant life. He pulled it out to jog his memory about the varieties of lycopodium that grow in incredible numbers here.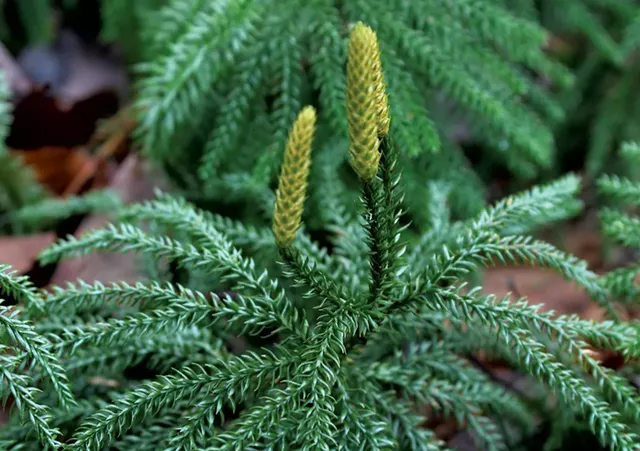 Tristan Von Duntz
"Princess pine"
The formal name for a genus of plants called the club mosses, Lycopodium (the Latin means "wolf foot") is actually more closely related to ferns than to mosses. Like ferns, these low-lying plants spread out to cover huge parcels of land, and reproduce by the dispersal of tiny spores. Hanson has an old guidebook that names six Lycopodium species as native to Barr Hill; he's found five of them and is on the lookout for that outlier. That's what the cheat sheet, complete with schematic drawings of the subspecies' morphologies, is for.
Certain species of Lycopodium are better known by the folk name "princess pines," a moniker that reflects the plants' resemblance to needly evergreens. As they spread in a thick carpet, the plants create a miniature, dollhouse version of the conifers in whose shadows they grow. Viewing them from just the right vantage, and with a dash of fancy, one can easily imagine them as a kind of second forest — the fairy-tale equivalent of the gorgeous spruce trees that define the natural character of Barr Hill.