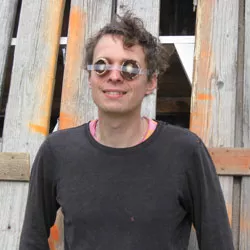 It's tempting to describe Kurt Weisman as a hippie. He lives alone in a cabin without electricity near Putney, Vt. He works at a farm during the day and a co-op in the evenings. He prefers riding a bike to driving a car. In fact, once he showed up at a Boston gig and nonchalantly told his friend, Burlington-based musician Greg Davis, that he had ridden his bike — from Vermont.
" target="_blank">Feathers, an eight-piece Brattleboro band that was part of the "freak-folk" or "New Weird America" groundswell that helped levitate Devendra Banhart into international fame. The mostly acoustic, utterly psychedelic Vermont collective even released an album on Banhart's label, Gnomonsong, before the group, in Weisman's words, "fizzled out."
"It was going to continue to be a really big obligation to be able to go on tours and to try to make another record," says Weisman in a recent phone interview.
To say Weisman is laid back is an understatement. Recently, he returned from a month of touring in Europe with friends Micah Blue Smaldone and Asa Irons. They played nearly 30 gigs in as many days. And yet, when asked if he plans to tour in the U.S. to support his new album, Orange, he pauses before responding.
"Since the European tour, I've just been taking it easy," he says in his high tenor. "I don't know, man. I guess I might go on a tour. Maybe in the winter." He sighs, then concedes, "I guess the answer is, I just don't know."
Orange is Weisman's second solo album. It was released in February by Davis' label, Autumn Records. It is a collection of acoustic-guitar instrumentals and folk songs that sound like John Fahey jamming with a quieter version of Daniel Johnston.
"You listen to that music and you're, like, 'Holy shit,'" says Burlington musician and producer Ryan Power, who has known Weisman for nearly 15 years. "It has all these little melodies traversing in all these different directions. It's very complex and beautiful."
The album is pastoral, even mystical. It sounds like it was conceived in a cabin in the woods. Perhaps Joanna Newsom was there. The music gathers around Weisman's harmonically inventive fingerpicking on acoustic guitars and his unadorned, emotionally vulnerable falsetto to create tiny confessionals outside of time. It's a stark contrast to his previous solo album, Spiritual Sci-Fi.
"With Spiritual Sci-Fi, there's a ton of electronics, a lot of computer work, really highly detailed editing and processing and stuff," says Davis over a pot of tea in Burlington. "I think for Orange he kind of stripped that stuff away and just focused on having really solid, strong tunes and letting those speak for themselves."
According to Weisman, the albums reflect the way his life has changed.
"When I did Spiritual Sci-Fi, I was going home every day and going into a studio in the bedroom and using that as a creative place where I could invent things and just go as far as I wanted with recording," he says. "The last couple years I've been living off the grid and haven't had a studio at all, so I wanted to figure out a way to do music that wasn't about that."
Weisman's life as a 21st-century hermit is featured in a short documentary called Field Guide to a New England LifeHis childhood friend Kalim Armstrong shot the doc as part of his MFA program at Hunter College. In the film, Weisman explains that he decided to live by himself so that he could focus on reading books and playing the guitar.
In an early scene, he says that people ask him how he can be comfortable spending so much time alone. His insight? "They're imagining how uncomfortable they would be just having to entertain themselves." He goes on to describe how uncomfortable he can be with people, and how, perhaps, he's simply avoiding his own fears by living alone. His self-awareness is a central theme of the film.
In another scene he admits it's easier to focus on songwriting when there's no electricity; otherwise he would be constantly distracted, checking to see if anyone sent him a message on his computer. Moments later, he's shown playing a type of harp he built using a wooden wine box. It has a floating bridge and is tuned to a Chinese scale. When he plays it, the sound is utterly foreign and beautiful.
When Weisman does get out, the results can be wildly different. Sometimes he plays small record stores or bars. But last year he was invited to play a benefit gig at a tiny performance space in New York City. The headliners were Dirty Projectors — and BjÖrk. Understandably, he describes the air that night as being "magic flavored."
For a guy who has made some impressive connections in whatever the music industry is these days — Banhart recently signed to Warner Brothers and Dirty Projectors are red hot right now — Weisman's attitude about self-promotion is appropriate for a farmer who rides a bike to work. He isn't on Facebook. He doesn't Twitter, offer free downloads, or send promos to blogs or music critics. And you've seen his press photo.
"I think partially because I don't make a living from music, I've never had the sense that I needed to be successful at it," Weisman says with characteristic — and refreshing — honesty. "I don't have any pressure to sell records, really. That's a wonderful thing, I think."
That philosophy could work out well for his next album, but Weisman is eternally optimistic. Right now he's working on a collection of 18 locked grooves. Picture the way a needle travels on a vinyl record: It starts out at the edge of the disc, and slowly winds its way inward. A locked groove is a concentric circle stamped into vinyl instead of a spiral. Each groove plays 1.8 seconds of music — over and over — until you lift the needle and move it to the next groove. Weisman says the project has a loose nature theme, "or something."
The inevitable question comes up: How many people are going to listen to a record of 1.8-second compositions?
"I think that it's a pretty big audience, in a weird way," says Weisman. "There are definitely people buying experimental records. I think it's fun to play music that a lot of different people will hear, and just continue to do things that are fun and interesting, and not worry about trying to stick to any one thing."