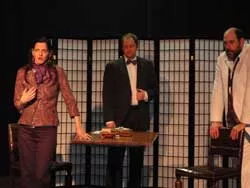 Irish-born playwright George Bernard Shaw (1856-1950) employed an acid-dipped pen to analyze society. In proper, prosperous Victorian England, he rejected what he called "romantic commonplaces of the stage" to tackle issues such as class and gender inequality. For the published editions of Shaw's plays, he often wrote impassioned introductions that explained the political theory behind his theater.
"Indictment of society is the thing that most needs saying," Shaw notes in the preface to Mrs. Warren's Profession. Why, he asked, "wast[e] my energies on 'pleasant plays' for the amusement of frivolous people, when I can build up such excellent stage sermons?" A play that preaches, however, risks alienating the audience, who must get engaged by the characters or story. To deliver his message, Shaw's most powerful weapon is irreverent wit. Unlike his waggish contemporary Oscar Wilde, Shaw's humor often emphasizes timely social critique over timeless human foibles.
And it is tough to make a dated plot feel fresh, as Theatre MosaicMond's current production of Mrs. Warren's Profession at Burlington's Off Center for the Dramatic Arts demonstrates. Director Georgette Garbès Putzel chooses not to stage the very British play in a period setting. The admirable attempt to shift focus — from Victorian hypocrisy to family tensions — ultimately doesn't work. Too much of the dialogue and plot hinge on period-specific issues. And flat direction of the ensemble deflates the energy of individual performances, never allowing the script's humor to take flight.
When Shaw first penned Mrs. Warren's Profession in 1893, the ensuing controversy got the script censored from public performance in London for 32 years. What was so risqué? Shaw portrays the title character, a madam who owns several legal "private hotels" overseas, as a confident mother and businesswoman, instead of a desperate wretch who pays dearly for her sins. The playwright, in fact, implies that society sins by giving a poor English girl no other viable career options.
The play opens with Mrs. Warren visiting her daughter Vivie in the English countryside. Math-whiz Viv, who just graduated from Cambridge, has no idea what her mom does for a living. She has spent her life at boarding school; Mrs. W. visits from continental Europe briefly every year. Two of Mrs. Warren's old friends accompany her on this trip, including wealthy geezer Sir George Crofts.
Vivie flirts casually with her neighbor, Frank, the aimless son of the local parson. But, as with her mother, Viv's true passion is business; she plans to become an accountant in London. "I like working and getting paid for it," she says. When Mrs. Warren confesses the painful path that led her to take up her profession, Vivie seems to understand. But daughters and mothers judge each other harshly, and a later revelation puts the future of their relationship in serious jeopardy.
Mrs. W. has a rough tale to tell her refined daughter: Prostitution was her only escape from poverty, or possibly death — the fate of her sister in a lead factory. She recognizes that there should be "better opportunities for women," but that "a girl must make the best of it."
Taking the play out of historical context devalues its dramatic impact, because this stark "either/or" for working-class women is, thankfully, no longer a reality.
Without the underlying Victorian moral peril of social condemnation, many long conversations drag or become pointless in the current production. Modern Vivie shops at Old Navy, so why would she spend two seconds entertaining skeezy Sir George's money- and status-centered marriage proposition? What might be quirky charm in 19th-century Frank becomes downright annoying, such as his incessant use of antiquated nicknames "Gov'nor" and "Vivvums."
Catherine Domareki portrays Vivie with polish and self-assurance. Mary Scripps blends brass and vulnerability as her mom, Mrs. Warren. But Garbès Putzel too often stages long portions of their scenes with one or both actresses facing the audience, gazing into the distance, instead of looking at each other. So much of acting is about reacting to other performers. With little movement and engagement between them, lengthy meditations by Vivie and Mrs. W become tiresome speeches that don't contribute to a developing dramatic arc.
Bob Carmody, as grumpy George, turns in the most engaging performance. He captures the eternal quality of Creepy Old Crank Who Wants to Rob the Cradle, tossing off Shavian sarcasm while dressed in pimptastic purple threads. He banters snappily with others, and sulks deliciously when dressed down by Scripps, the actor's real-life wife.
The set — also credited to Garbès-Putzel — is spare, emphasizing the Off Center's black-box bones. Heavy black curtains line the back and sides of the stage. For the four acts, stagehands reconfigure 12 sections of black-and-white folding screen and a small assortment of café chairs and tables. There is just one intermission; resetting the stage between the other acts, while the audience waits for the action to resume, takes a too-long five minutes each time.
For all of Shaw's noble intentions, characters have to be people, not just platforms for ideas. In Mrs. Warren's Profession, they feel more like vehicles for his convictions than fully realized individuals. When it comes to Victorian women crafted by playwrights, the more lasting characters seem to be the Girls Gone Wilde.